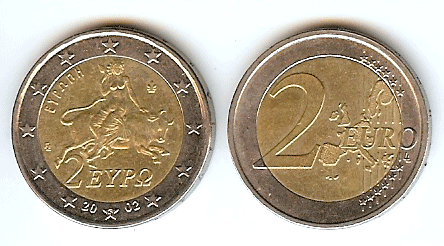 Europe is now considered to be the richest region in the world:
EUobserver – Sept 16, 2009

Europe has emerged as the richest region in the world, pushing North America, where wealth has declined by more than 20 percent due to the economic crisis, off the top spot, a study has shown.

The world's richest also feel the recession biting, especially in North America, where the financial crisis first unfolded a year ago, reveals a survey on global wealth carried out by the Boston Consulting Group, a global management consulting firm.

North America's wealth, measured in assets under management, plummeted by 21.8 percent, the steepest decline in the world. A lesser fall was registered in Europe, where assets shrunk by 5.8 percent compared to last year, down to €22.2 trillion – a quarter of the globe's total wealth. http://euobserver.com/9/28672
Americans in particular need to wake up and see what is happening.
The Babylon predicted by the Book of Revelation is starting to rise up.  Even though it has had serious issues, unlike the USA and the UK, the EU has not greatly increased its debt to deal with the world's financial crisis.
The EU will also have even more serious problems in the future (hence the value of the Euro will likely fluctuate), but ultimately, a European-based entity will be recognized as the key financial power of the world, until it falls (Revelation 18:9-19)–but the USA and its Anglo-allies will fall several years before that happens to Europe.
Some articles of possibly related interest include:
Europa, the Beast, and Revelation Where did Europe get its name? What might Europe have to do with the Book of Revelation? What about "the Beast"? What is ahead for Europe?
Anglo – America in Prophecy & the Lost Tribes of Israel Are the Americans, Canadians, British, Scottish, Welsh, Australians, Anglo-Southern Africans, and New Zealanders descendants of Joseph? Where are the lost ten-tribes of Israel? Who are the lost tribes of Israel? Will God punish the U.S.A., Canada, United Kingdom, and other Anglo nations? Why might God allow them to be punished first?
Prophecy Obama: Prophecies of Barack Obama? Eight reasons why Barack Obama is apocalyptic and eight reasons why Barack Obama is not the Antichrist. This article includes many biblical and non-biblical prophecies, from around the world, that seem to discuss Barack Obama. Did Nostradamus predict Barack Obama dealing with the Antichrist?  Might Barack Obama set the stage for the kings of the North and South as at least one Shiite prophecy suggests?  This is the longest and most complete article on this page on Barack Obama prophecies. Read it and decide for yourself if President Obama seems to be fulfilling various prophecies.
Barack Obama, Prophecy, and the Destruction of the United States Some claim that Barack Obama is the prophesied "son of Kenya", based up an early 20th century writing.