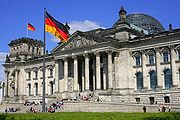 Berlin Reichstag
German economic growth is pulling Europe out of its long recession:
13 August 2013

German investor confidence increased more than economists expected in August as the recovery in Europe's largest economy helped pull the euro area out of its longest-ever recession…

Growth in Germany may have exceeded economists' forecasts in the second quarter, according to a government estimate, coaxing the 17-nation region out of a six-quarter slump…

The German economy probably expanded about 0.75 percent in the second quarter, the Economy Ministry estimates. Economists project growth of 0.6 percent, according to the median of 47 forecasts in a separate survey…

While parts of southern Europe remain mired in a slump and almost one in four young people in the euro area are without a job, German industrial production, factory orders and exports all rose in June…

European countries accounted for 69 percent of German exports last year, according to the Federal Statistics Office. About 16 percent of goods went to Asia and 12 percent to the U.S.

The Bundesbank predicts Germany's economy will grow 0.3 percent this year and 1.5 percent in 2014. That compares with a 0.6 percent contraction in the euro area in 2013 and growth of 1.1 percent next year, according to the latest ECB forecasts.

"The German economy has gained traction and continues to be a stable anchor in Europe," said Lothar Hessler, an economist at HSBC Trinkaus & Burkhardt AG in Dusseldorf.  http://www.bloomberg.com/news/2013-08-13/german-investor-confidence-rises-as-euro-economy-resumes-growth.html
Germany is dominating Europe's economy and it becoming the real power in Europe.
The Bible shows that certain descendants of ancient Assyria (many of which are German) are to dominate part of the world scene, do not wish to think they are militaristic, yet they will takeover certain descendants of Israel:
5 "Woe to Assyria, the rod of My anger
And the staff in whose hand is My indignation.
6 I will send him against an ungodly nation,
And against the people of My wrath
I will give him charge,
To seize the spoil, to take the prey,
And to tread them down like the mire of the streets.
7 Yet he does not mean so,
Nor does his heart think so;
But it is in his heart to destroy,
And cut off not a few nations.
8 For he says,
'Are not my princes altogether kings?
9 Is not Calno like Carchemish?
Is not Hamath like Arpad?
Is not Samaria like Damascus?
10 As my hand has found the kingdoms of the idols,
Whose carved images excelled those of Jerusalem and Samaria,
11 As I have done to Samaria and her idols,
Shall I not do also to Jerusalem and her idols?'" (Isaiah 10:5-11)
So, according to Bible prophecy, an Assyrian-descended power, who does not intend to take over various nations, will do so anyway. Various historical records suggest that at least some of the Germanic peoples have Assyrian ancestry.  It  is probable that the USA is considered to be Samaria in certain end time prophecies such as Isaiah 10:11, 9:9-21, and Hosea 7:1-7.
The reason this post starts with a photo of the Berlin Reichstag is that building was once the parliament of the German Empire. Additionally, it was reported back in October 2012 that Berlin may now be the de facto capital of the European Union (see Berlin is Europe's New Capital?).
The Bible tells of a European power (see also the YouTube video Can You Prove that the Beast to Come is European?) that will rise up and dominate the world economic scene (Revelation 13).
The Bible itself also shows that despite the differences between weak and strong nations in Europe (cf. Daniel 2:41-43), a European-based power is destined to temporarily be the most dominant force in the world, ultimately conquer the Anglo-descended nations (Daniel 11:39), and later come to its end (Daniel 11:45).
Germany's influence is becoming more apparent, to some at least. Those in that nation will help fulfill biblical prophecy in ways few imagine.
Some articles of possibly related interest may include:
Germany's Assyrian Roots Throughout History Are the Germanic peoples descended from Asshur of the Bible? Have there been real Christians in Germanic history? What about the "Holy Roman Empire"? There is also a You-Tube video sermon on this titled Germany's Biblical Origins.
Germany in Biblical and Catholic Prophecy Does Assyria in the Bible equate to an end time power inhabiting the area of the old Roman Empire? What does prophecy say Germany will do and what does it say will happen to most of the German people?
Europa, the Beast, and Revelation Where did Europe get its name? What might Europe have to do with the Book of Revelation? What about "the Beast"? Is an emerging European power "the daughter of Babylon"? What is ahead for Europe?
Can You Prove that the Beast to Come is European? The Book of Revelation tells of a beast power that will rise up. Some think that this must be Russia or could be Islamic, while others say that this power is European. The Book of Daniel tells of the rise of an end time King of the North that some think must be referring to a Russian leader, while others say that this power is European. How can you be sure? This YouTube video has all the scriptural proofs that you should need to prove that this power must be a European one.
Who is the King of the North? Is there one? Do biblical and Roman Catholic prophecies point to the same leader? Should he be followed? Who will be the King of the North discussed in Daniel 11? Is a nuclear attack prophesied to happen to the English-speaking peoples of the United States, Great Britain, Canada, Australia, and New Zealand? When do the 1335 days, 1290 days, and 1260 days (the time, times, and half a time) of Daniel 12 begin? What MUST happen BEFORE the Great Tribulation?
Might German Baron Karl-Theodor zu Guttenberg become the King of the North? Could He Become "the Beast"? What makes the German Defense Minister a candidate?
Anglo – America in Prophecy & the Lost Tribes of Israel Are the Americans, Canadians, English, Scottish, Welsh, Australians, Anglo (non-Dutch) Southern Africans, and New Zealanders descendants of Joseph? Where are the lost ten-tribes of Israel? Who are the lost tribes of Israel? What will happen to Jerusalem and the Jews in Israel? Will God punish the U.S.A., Canada, United Kingdom, and other Anglo nations? Why might God allow them to be punished first? A video of possible interest may be Will Will USA Spying Help the Beast Power?
Will the Anglo-Nations be Divided and Have People Taken as Slaves? Will the lands of the United States, United Kingdom, Canada, Australia, and New Zealand be divided? What about Jerusalem? What does Bible prophecy teach? Are there non-biblical prophecies that support this idea? Who will divide those lands? Who will end up with the lands and the people? Here is a link to a video titled Will the USA and other Anglo-nations be Divided and Their People Made Slaves?