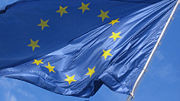 EU Flag
We in the Living Church of God have long taught that it was likely that there would be some type of economic crisis in Europe that would help unify it in order for it to take on its biblically-prophesied role as the final Beast power.
The following two news accounts suggest that this may happen soon:
Europe in deepest recession since War as Germany suffers

German economic policy is "bankrupt", economists have said.

By Edmund Conway and Angela Monaghan
Last Updated: 7:34PM BST 15 May 2009

The declaration was made as it emerged that Europe's biggest economy has now suffered a worse "lost decade" than Japan and is deeper in recession than any other major economy.

On a day of dismal news for the European economy, official figures also showed that Italy, Austria, Spain and the Netherlands are facing their biggest combined slump in post-war history, sparking warnings about the potential for social unrest throughout Europe.

Within hours, the managing director of the International Monetary Fund (IMF) warned that the global recession is far from over and that people must prepare themselves for more financial shocks. Dominique Strauss-Kahn said the world remains in the grips of a "Great Recession" and played down talk of "green shoots".

Thousands march in Brussels to defend jobs

Sat, 16 May 2009 09:11:25 GMT

More than 40,000 people have marched in Brussels calling for better job protection in Europe in the face of an unprecedented recession and mass lay-offs.

While police said 40,000 people participated in rallies in the Belgian capital, organizers put the number at 50,000.

The rally was the second of four European demonstrations which follows Thursday's protests in Madrid where 20,000 people took part. Two more protests are due in Berlin and Prague on Saturday…
Prophet events continue to line up.
Articles of possibly related interest may include:
Europa, the Beast, and Revelation Where did Europe get its name? What might Europe have to do with the Book of Revelation? What about "the Beast"? What is ahead for Europe?
Who is the King of the North? Is there one? Do biblical and Roman Catholic prophecies point to the same leader? Should he be followed? Who will be the King of the North discussed in Daniel 11?  Is a nuclear attack prophesied to happen to the English-speaking peoples of the United States, Great Britain, Canada, Australia, and New Zealand? When do the 1335 days, 1290 days, and 1260 days (the time, times, and half a time) of Daniel 12 begin? When does the Bible show that economic collapse will affect the Europeans and the Anglo-nations?
End of Mayan Calendar 2012–Might 2012 Mean Something? There is a Mayan calendar prediction for change in 2012. 2012 changes were also centuries ago predicted by the Hopi Native Americans (the Hindus may have some predictions for the next decade as well). Do these Mayan/Hindu/Hopi prophecies have any value? Why might Satan have inspired this date? Does the Dresden codex show destruction of the earth by flood? Can the great tribulation start before 2012?
Does God Have a 6,000 Year Plan? What Year Does the 6,000 Years End? Was a 6000 year time allowed for humans to rule followed by a literal thousand year reign of Christ on Earth taught by the early Christians? When does the six thousand years of human rule end?