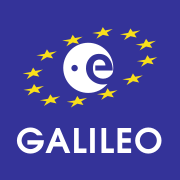 The Galileo Logo Contains 12 Stars That Come From an Icon of Mary

As reported previously (USA May Need EU's Galileo!), the US Global Positioning System is having problems.  However new problems may also be emerging:
GPS Satellite Glitches Fuel Concern on Next Generation

Wall Street Journal – June 17, 2009

Technical problems are degrading the accuracy of signals from the last GPS satellite launched by the Pentagon, sparking concerns among U.S. military and aerospace industry officials that the next generation of the widely used satellites could face similar troubles.

The Air Force's Southern California space acquisition center on Tuesday announced that a Global Positioning System satellite, manufactured by Lockheed Martin Corp. and launched in March, is experiencing performance problems in orbit. It hasn't become part of the "operational constellation" of more than two dozen other GPS satellites, and is slated to undergo a battery of tests expected to stretch through October to try to resolve the problems, according to an Air Force news release.

The GPS system, which serves both military and civilian users, provides precise time and location coordinates for everything from military missile launches and "smart" bombs to automated bank-teller machines to aircraft, ships and everyday vehicles. The Lockheed satellite is the first to include a new civilian frequency — dubbed L5 — designed for, among other things, use by future nationwide air-traffic control systems. But that signal, part of test package, apparently is interfering with other signals from the satellite and reducing their accuracy, according to industry and Air Force officials. The degraded signals are accurate only to about 20 feet, versus about two feet for typical GPS signals, industry officials said.

The issue is significant, according to these officials, because it could complicate deployment of a new family of Boeing Co. GPS satellites currently being built that also feature the L5 signal. Already years behind schedule and hundreds of millions of dollars over budget, the 12 satellites, which are scheduled to replace satellites currently in orbit, could face further testing and delays to ensure that they are free of interference problems. The Boeing satellites have a history of quality-control and manufacturing problems unrelated to the latest concerns.

…Air Force brass have begun examining whether Boeing versions of GPS satellites require additional tests and analysis to eliminate concerns, according to industry officials familiar with the details…


In its release, the Air Force said the routine in-orbit checkout of the suspect Lockheed satellite revealed that some signals "were inconsistent" with comparable GPS satellites. The Air Force also said upcoming tests will include simulations and "testing of real-life GPS receiver equipment to the greatest extent possible" to prevent "inadvertent impacts to GPS users."

The first of Boeing's GPS IIF satellites, incorporating the new civilian signal, is slated to launch late this year or early 2010, delayed from the summer.

In May 2008, Lockheed bested Boeing to win a contract worth at least $1.8 billion to build the most-advanced navigation satellites yet, dubbed GPS III, scheduled to go into operation around the middle of the next decade…

Concerns over signal quality come barely weeks after a Congressionally-ordered study raised a red flag about potential erosion of GPS accuracy in the next few years due to launch delays and other challenges. If certain launches get delayed up to two years, the General Accountability Office report predicted, the Pentagon could have trouble maintaining the desired fleet of 24 fully-functional GPS satellites in operation. http://online.wsj.com/article/SB124520702464422059.html
In 2013, the European Union is to have its competing system, called Galileo:
Contracts give impetus to Galileo

BBC – June 16, 2009

Europe's satellite-navigation system has taken a big step forward with the signing of new industrial contracts.

Satellite firms EADS Astrium and OHB have been asked to provide spacecraft components that will be needed for the forthcoming constellation.

And rocket company Arianespace has signed the deal which will loft the system's first operational platforms…

The European Commission, which is leading the endeavour, has set aside more than two billion euros to build 26 satellites (plus two spares), buy launch rockets and set up the ground control centres.

Its partner on the venture, the European Space Agency (Esa), is running a procurement contest with the aim of having Galileo up and running by 2013…

Galileo is expected to improve substantially the availability and accuracy of timing signals delivered from space…

A European Commission and European Space Agency project

30 satellites to be launched in batches by end of 2013

Will work alongside US GPS and Russian Glonass systems

Promises real-time positioning down to less than a metre

Guaranteed under all but most extreme circumstances

Suitable for safety-critical roles where lives depend on service
The EU went forward with Galileo in order to have the ability to have its own independent positioning system for military applications (EU Approves Galileo For Military Use).  This type of system is critically necessary for the guidance of complex and state of the art missile deployment.
Having a new, more accurate system that works, when the USA will have a less modern, possibly partially failing system, will give the rising European Beast power an edge in military matters.  And the Bible shows that the Beast will have powerful military abilities (Revelation 13:4); hence Galileo may be part of the reason why.
Since the USA and European Union are basically supposedly to be allies, it would not surprise me if the USA agrees to partially rely on some of Galileo's capabilities for a short time next decade until it gets the bugs worked out of its system.  However, should this come to pass, it is likely that the USA will regret giving a potential enemy the ability to attack it undetected as well as the ability to thwart some USA retaliatory strikes.
This GPS problem, combined with the EU's upcoming temporal Galileo superiority, may prove to be the final factor in persuading a European power who does not really intend to destroy the USA and its Anglo-powers at this time (cf. Isaiah 10:7a), to go for a rare, perhaps never again available opportunity, to become the world military power and cut-off nations (cf. Isaiah 10:7b).
USA financial problems and government debt will likely make temporary partial reliance on the EU's Galileo a tempting option for American officials.
While this is not yet certain that the USA must put itself in position for this to happen, it certainly may be a possibility next decade according to news reports and even indirect admissions from the US Air Force.
Some articles of possibly related interest may include:
Europa, the Beast, and Revelation Where did Europe get its name? What might Europe have to do with the Book of Revelation? What about "the Beast"?
Two Horned Beast of Revelation and 666 This article explains how the LCG views this, and compares this to Ellen White.
Who is the King of the North? Is there one? Do biblical and Roman Catholic prophecies point to the same leader? Should he be followed? Who will be the King of the North discussed in Daniel 11? Is a nuclear attack prophesied to happen to the English-speaking peoples of the United States, Great Britain, Canada, Australia, and New Zealand? When do the 1335 days, 1290 days, and 1260 days (the time, times, and half a time) of Daniel 12 begin? What MUST happen BEFORE the Great Tribulation?
End of Mayan Calendar 2012–Might 2012 Mean Something? There is a Mayan calendar prediction for change in 2012. 2012 changes were also centuries ago predicted by the Hopi Native Americans and the Hindu Indians (who were not even on the same continent). Do these Mayan/Hindu/Hopi prophecies have any value? Why might Satan have inspired this date? Does the Dresden codex show destruction of the earth by flood? Can the great tribulation start before 2012?
Anglo – America in Prophecy & the Lost Tribes of Israel Are the Americans, Canadians, British, Scottish, Welsh, Australians, Anglo-Southern Africans, and New Zealanders descendants of Joseph? Where are the lost ten-tribes of Israel? Who are the lost tribes of Israel? Will God punish the U.S.A., Canada, United Kingdom, and other Anglo nations? Why might God allow them to be punished first?
Prophecies of Barack Obama? Will Barack Obama lead to the Destruction of the USA? Are there biblical and non-biblical prophecies about Barack Obama. Did Nostradamus predict Barack Obama dealing with the Antichrist?  Might Barack Obama set the stage for the kings of the North and South as his timing and at least one Shiite prophecy suggests?  This is the longest and most detailed of the articles here at COGwriter related to prophecy and Barack Obama.