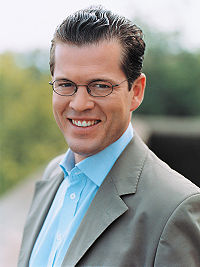 Karl-Theodor zu Guttenberg
Karl-Theodor zu Guttenberg wants to have more military information so he can make better military decisions:
Guttenberg to fly in Eurofighter jet

The Local – Feb 10, 2011

German Defence Minister Karl-Theodor zu Guttenberg on Thursday said he intended to take a training flight in a Eurofighter jet this year. He justified his plan by saying he may one day have to authorize a mission using the attack aircraft.

"You can have someone explain it to you in the abstract," said Guttenberg. "But at the end of the day, I have to decide. The commander has to experience what happens."

The conservative politician was speaking at an aviation conference in Bangalore, India, where he is supporting a bid by the European weapons giant EADS to sell 126 Eurofighters to the Indian government.  http://www.thelocal.de/politics/20110210-33027.html
Of course, we in the Living Church of God have long taught that a powerful army led by a "strongman" would ultimately arise in Europe. And this will be fulfilled by a single leader, known as the Beast in Revelation 13 & 17 and the final King of the North in Daniel 11. The Bible shows that the other leaders in Europe will give their power to him (Revelation 17:12-14) and that he will lead a military machine that will cause the rest of the world to marvel at (Revelation 13:3-4).
As regular readers of this page are aware, I have had my eye on Karl Guttenberg since late 2009. And he may be one to watch to rise up as the final "King of the North".
As I wrote before, if Karl-Theodor zu Guttenberg is part of a major Middle East peace deal, if he establishes armies (or a great army), and if he establishes something like a new religious order within his version of the "Catholic" faith, he likely will get more people's attention–and even more of mine. This move to increase military cooperation among the European nations is consistent with my written prediction that he may establish great armies (or a great army) some time ago. Thus, he is a person of interest.
On the other hand, Karl-Theodor zu Guttenberg could simply be a rising politician, like many others. And all his intentions could be fine. We will see. But Karl-Theodor zu Guttenberg does seem, to me at least, to be taking the types of steps that one who could possibly be the final King of the North would actually take.  The fact that he supports making a deal with India is of interest as I have long believed that a Hindu prophecy could have been pointing towards the acceptance of the final "European Beast power" (see 2012 and the Rise of the Secret Sect, pp. 62-66).
Much is happening in the world, and a leader known as the final King of the North (or Beast) in Bible prophecy, will ultimately become the leader of Europe.  And according to the Bible, he will have military abilities (Revelation 13:1-4).
Watch (cf. Mark 13:37).
Some articles of possibly related interest may include:
Europa, the Beast, and Revelation Where did Europe get its name? What might Europe have to do with the Book of Revelation? What about "the Beast"?
Who is the King of the North? Is there one? Do biblical and Roman Catholic prophecies point to the same leader? Should he be followed? Who will be the King of the North discussed in Daniel 11? Is a nuclear attack prophesied to happen to the English-speaking peoples of the United States, Great Britain, Canada, Australia, and New Zealand? When do the 1335 days, 1290 days, and 1260 days (the time, times, and half a time) of Daniel 12 begin? What MUST happen BEFORE the Great Tribulation?
Might German Baron Karl-Theodor zu Guttenberg become the King of the North? Is the German Defense Minister one to watch? What do Catholic, Byzantine, and biblical prophecies suggest?
2012 and the Rise of the Secret Sect This is a link related to a book by Bob Thiel (COGwriter). This link also has YouTube videos. This book documents and explains hundreds of prophecies. And since it was published, world events have aligned with at least 14 predictions in the book and many more will to come to pass.
2012 y el surgimiento de la secta secreta 2012 libro del Dr. Thiel en Español.
2012 und das Auftreten der geheimen Sekte (German Edition) 2012 Buch von Dr. Thiel in deutscher Sprache.
2012 e o Surgimento da Seita Secreta (Portuguese Edition) 2012 livro do Dr. Thiel em Português. Este livro documenta e explica centenas de profecias. E desde que foi publicado pela primeira vez, pelo menos 14 já começaram a acontecer.
India, Its Biblical Past and Future: Any Witness? The Bible discusses the origins of those of Indian heritage and discusses some of the witness to them (including those in Bangladesh, Pakistan, and Sri Lanka).
Asia in Prophecy What is Ahead for Asia? Who are the "Kings of the East"? What will happen to nearly all the Chinese, Russians, Indians, and others of Asia? China in prophecy, where? Who has the 200,000,000 man army related to Armageddon?