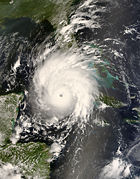 Hurricane Gustav
The following news item came from 12 minutes ago:
NEW ORLEANS (Sept. 1) — Hurricane Gustav is weakening slightly to a Category 2 storm as it nears landfall along the heavily evacuated Louisiana coast.
The National Hurricane Center says Gustav and its 110-mph winds should hit somewhere southwest of New Orleans by midday Monday. The center of the storm was about 80 miles from the city as of 8 a.m…
Forecasters had feared the storm would arrive as a devastating Category 4 with much more powerful winds as it approached the vulnerable city…
In all, nearly 2 million people left south Louisiana, as did tens of thousands from coastal Mississippi, Alabama and southeastern Texas…
Gustav was the seventh named storm in the Atlantic hurricane season. The eighth, Tropical Storm Hanna, was strengthening about 100 miles from the Bahamas. Though a storm's track and intensity are difficult to predict days in advance, long-term projections showed the storm could come ashore along the border of Georgia and South Carolina late in the week. http://news.aol.com/article/fearing-gustav-new-orleans-clears-out/152235?icid=200100397x1208459306x1200492827
Whether or not this mean less rain is hard to say, but it may mean less pressure on the levies.
LCG has long had a booklet of possibly related interest titled "Who Controls the Weather? " that is available for those interested in more on the weather and Bible prophecy.
Now there is good news as ultimately, God's kingdom will come.
Some articles of possibly related interest may include:
The Gospel of the Kingdom of God was the Emphasis of Jesus and the Early Church Did you know that? Do you even know what the gospel of the kingdom is all about? True religion should be based upon the true gospel.
Universal Offer of Salvation: There Are Hundreds of Verses in the Bible Supporting the Doctrine of True Apocatastasis Do you believe what the Bible actually teaches on this? Will all good things be restored? Does God's plan of salvation take rebellion and spiritual blindness into account?
Did The Early Church Teach Millenarianism? Was the millennium (sometimes called chiliasm) taught by early Christians? Who condemned it. Will Jesus literally reign for 1000 years on the earth? Is this time near?
Does God Have a 6,000 Year Plan? What Year Does the 6,000 Years End? Was a 6000 year time allowed for humans to rule followed by a literal thousand year reign of Christ on Earth taught by the early Christians? When does the six thousand years of human rule end?