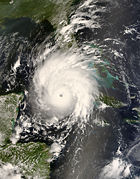 Hurricane Gustav
The Mayor of New Orleans called for an evacuation because of Hurricane Gustav:
NEW ORLEANS (Reuters) – New Orleans Mayor Ray Nagin ordered the city's more than 239,000 residents to evacuate on Sunday in the face of powerful Hurricane Gustav, which he called "the mother of all storms."…
Gustav crashed across the Cuban mainland on Saturday and could hit the U.S. Gulf Coast as a Category 4 storm, the second-highest on the five-stage Saffir-Simpson scale, the U.S. National Hurricane Center said.
SIGNIFICANT FLOODING EXPECTED…
All major Louisiana interstates will allow only one-way traffic away from the coast starting at 4 a.m. CDT (5 a.m. EDT) on Sunday. The last flight out of the New Orleans airport is scheduled to depart at 6 p.m. CDT (7 p.m.) on Sunday.
In all, 11.5 million people are in the path of Gustav, according to the U.S. Census Bureau.
The USA has had a lot of flooding and levy problems this year.
In a day or so, we should know how serious this storm really is.
A New Orleans newspaper reported:
Forecasters now expect Gustav to slam into the U.S. Gulf Coast, most likely in central Louisiana, around 2 p.m. Monday.
LCG has long had a booklet of possibly related interest titled "Who Controls the Weather? " that is available for those interested in more on the weather and Bible prophecy.
Now there is good news as ultimately, God's kingdom will come.
Some articles of possibly related interest may include:
The Gospel of the Kingdom of God was the Emphasis of Jesus and the Early Church Did you know that? Do you even know what the gospel of the kingdom is all about? True religion should be based upon the true gospel.
Universal Offer of Salvation: There Are Hundreds of Verses in the Bible Supporting the Doctrine of True Apocatastasis Do you believe what the Bible actually teaches on this? Will all good things be restored? Does God's plan of salvation take rebellion and spiritual blindness into account?
Did The Early Church Teach Millenarianism? Was the millennium (sometimes called chiliasm) taught by early Christians? Who condemned it. Will Jesus literally reign for 1000 years on the earth? Is this time near?
Does God Have a 6,000 Year Plan? What Year Does the 6,000 Years End? Was a 6000 year time allowed for humans to rule followed by a literal thousand year reign of Christ on Earth taught by the early Christians? When does the six thousand years of human rule end?