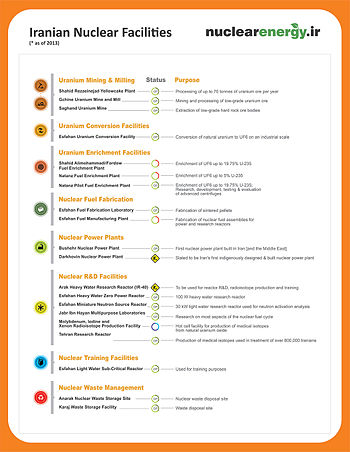 Nuclear facilities in Iran (Ta2aa)
Iran says reports coming out of the West about a new deal are not true:
January 3, 2015

TEHRAN, Jan. 3 (Xinhua) — Iran has not made any agreement with the United States on its nuclear issue, an Iranian Foreign Ministry spokeswoman said on Saturday, denying recent western reports that the two sides have agreed to ship part of its enriched uranium abroad.

"No agreement has been made on the topics of (nuclear) negotiations so far," the spokeswoman said.

"The news aims at certain political ends to spoil the climate of talks and to complicate the issue," she added, referring to western reports on Friday that "Washington and Tehran have allegedly come to a step closer to agreeing on shipping part of Iran's enriched uranium stockpile to Russia." …

Talks between Iran and the P5+1 group continued on Dec. 17, weeks after failing to meet a Nov. 24 deadline for a comprehensive nuclear deal.

On Wednesday, the spokeswoman said the next round of deputy-level talks will be held on Jan. 15.  http://news.xinhuanet.com/english/world/2015-01/03/c_133894004.htm
Iran has succeeded since 2013 in delaying the 'resolution' of this.
Notice something I warned about a type of 'deal' there on November 24, 2013:
What this deal really does is give Iran some economic relief and time to upgrade its technology, while it agrees to get rid of some of its underdeveloped nuclear waste and centrifuges. This, in theory at least, will give Iran more money and more time to work on its nuclear technology, (Iran makes nuclear deal that Obama praises: Israel and Saudi Arabia are not pleased)
A week later I posted:
An 'interim' deal is in place that apparently will allow Iran to tap into some of its foreign bank accounts and/or lift some of the economic sanctions against it. The deal will mean that Iran will give up some of its older nuclear centrifuges and enriched uranium. And if you believe Iran and the USA government, it also means that Iran will not be developing nuclear weapons at this time. In my view, this agreement will allow Iran to continue to perfect its technology so that it will be better able to produce nuclear weapons over time. (BibleNewsProphecy: Iran in Prophecy)
Iran has announced having more new nuclear centrifuges since the 'interim deal in 2013. Evidence has also come out that its nuclear intentions have not clearly been entirely peaceful (see Iranian report suggests Iran has wanted nuclear weapons because of the mystical 12th Imam).
Nuclear centrifuges, which Iran keeps trying to perfect (see Iran boasts of new nuclear centrifuges), basically help enrich uranium to the point that it can be used to develop nuclear energy or nuclear bombs. It is not necessary to substantially enrich uranium for peaceful nuclear power purposes. While Iran is publicly claiming their intentions are peaceful, many believe that its real goal is to produce nuclear weapons, hence improved centrifuges will give it a better ability to make weapons.  Israel remains highly concerned about this (see Feast of Purim and Israel is still concerned about those in the territory of Iran and Netanyahu in UN: Blasts Islamic State, Hamas, and Iran, but what will happen in Israel?).
Because Iran is an ally of Russia, many feel that Russia will need to be involved in a final deal.
Including Russia has got to be difficult for the USA.  The USA keeps sanctioning and encouraging others to sanction Russia, while it wants Russia to cooperate in the Iranian matter.
Politics in the world is often messy.
A new intended (by the West) deal may promise, but likely not insure, that Iran will not be able to use any to produce weapons grade uranium. It should be noted that Iran is NOT really south of Jerusalem and it will not be the final King of the South of Bible prophecy (cf. Daniel 11:40-43). Because of that, I have tended to believe that Iran may somehow get "neutralized" before this final king rises up. Using nuclear materials for nuclear or 'dirty bombs,' a serious attack by the USA and/or conflict with Israel may neutralize Iran and much of its influence–but Iran might hit hard first (Isaiah 22:1-14).
The top leadership of Iran has a Shi'ite Muslim agenda, which they have concluded includes causing chaos and war. I, for one, do not believe that Iran's leaders have given up on their goals of Islamic domination. We will see what kind of the 'deal' the USA will end up accepting here.  Iran has been able to delay the process, while presumably still working towards its nuclear objectives. Iran has learned that it can gain time by holding talks with the West and it continues to play that game–though the time may well come when it 'overplays its hand.' So far, Iran has been able to delay for a long time and keep its programs going.  But that may not last forever.
Irrespective of any agreement it may accept, Iran may end up doing something that its leadership will regret later (cf. Jeremiah 49:34-39).
Some items of possibly related interest may include:
Iran in Prophecy Is Iran in Bible prophecy? If so, what does the Bible teach? What names, other than Persia, may be used to describe Iran? There is also a YouTube video titled Iran in Prophecy. Here is a related video Iran In Prophecy.
Is the Future King of the South Rising Up? Some no longer believe there needs to be a future King of the South. Might Egypt, Islam, Iran, Arabs, or Ethiopia be involved? Might this King be called the Mahdi or Caliph? What does the Bible say? A YouTube video of related interest may be: The Future King of the South is Rising.
The Arab and Islamic World In the Bible, History, and Prophecy The Bible discusses the origins of the Arab world and discusses the Middle East in prophecy. What is ahead for the Middle East and those who follow Islam? What about the Imam Mahdi? What lies ahead for Turkey, Iran, and the other non-Arabic Muslims? An item of possibly related interest in the Spanish language would be: Líderes iraníes condenan la hipocresía de Occidente y declaran que ahora es tiempo para prepararse para el Armagedón, la guerra, y el Imán Mahdi. Another article related to Iran translated into the Spanish language is: Irán y líderes israelíes discuten las intenciones nucleares de Irán.
Russia and Ukraine: Their Origins and Prophesied Future Russia in prophecy. Where do the Russians come from? What about those in the Ukraine? What is prophesied for Russia and its allies? What will they do to the Europeans that supported the Beast in the end? There is also a video sermon available: Russia in the Bible and in Prophecy and a video sermonette available: Ukraine in Prophecy?
Is Russia the King of the North? Some claim it is. But what does the Bible teach? Here is a link to a video, also titled Is Russia the King of the North?
Ezekiel 38: For Russia & Iran in Our Day? Is Ezekiel 38 about to be fulfilled? A related video is available titled Ezekiel 38: For Russia, Ukraine, & Iran Now?
Anglo – America in Prophecy & the Lost Tribes of Israel Are the Americans, Canadians, English, Scottish, Welsh, Australians, Anglo (non-Dutch) Southern Africans, and New Zealanders descendants of Joseph? Where are the lost ten-tribes of Israel? Who are the lost tribes of Israel? What will happen to Jerusalem and the Jews in Israel? Will God punish the U.S.A., Canada, United Kingdom, and other Anglo nations? Why might God allow them to be punished first?
When Will the Great Tribulation Begin? 2015, 2016, or 2017? Can the Great Tribulation begin today? What happens before the Great Tribulation in the "beginning of sorrows"? What happens in the Great Tribulation and the Day of the Lord? Is this the time of the Gentiles? When is the earliest that the Great Tribulation can begin? What is the Day of the Lord? Who are the 144,000? Here is a version of the article in the Spanish language: ¿Puede comenzar la Gran Tribulación en 2014 o 2015? ¿Es el Tiempo de los Gentiles? You can also see the English language sermon video: The Great Tribulation from the Mount of Olives.
The 'Peace Deal' of Daniel 9:27 This prophecy could give up to 3 1/2 years advance notice of the coming Great Tribulation. Will most ignore or misunderstand its fulfillment? Here is a link to a related sermon video Daniel 9:27 and the Start of the Great Tribulation.
How Will Middle East Peace be Brought About? Can humans bring peace to the Middle East? Here is a link to a related video: Middle East Peace? When?
Prophecy Obama: Prophecies of Barack Obama? Reasons why Barack Obama is apocalyptic and reasons why Barack Obama is not the Antichrist. This article includes many biblical and non-biblical prophecies, from around the world, that seem to discuss Barack Obama. Did Nostradamus predict Barack Obama dealing with the Antichrist?  Might Barack Obama set the stage for the kings of the North and South as at least one Shiite prophecy suggests?  Read it and decide for yourself if President Obama seems to be fulfilling various prophecies. Watch also the YouTube Barack Obama and the State of the Apocalypse.