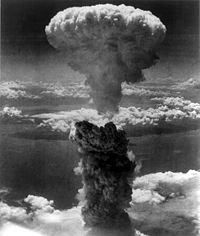 Nagasaki Nuclear Explosion (1945)

Israeli Prime Minister Benjamin Netanyahu is warned the US Congress that the current deal being negotiated with Iran will guarantee that Iran will acquire/develop nuclear weapons:
March 3, 2015

Israeli Prime Minister Benjamin Netanyahu said negotiations underway between the United States and Iran would "guarantee" that Tehran would get nuclear weapons, a threat not only to the Middle East but to the world.

In an appearance before the U.S. Congress that has drawn controversy, Netanyahu stressed to lawmakers the grave danger that a nuclear Iran poses to his country.

"If the deal now being negotiated is accepted by Iran, that deal will not prevent Iran from developing nuclear weapons – it will all but guarantee that Iran will get those nuclear weapons – lots of them," he said.

Iran is sponsoring terrorism around the world, Netanyahu said, adding that Tehran's regime was "as radical as ever," could not be trusted and the deal being worked out with the United States would not block Iran's way to a bomb "but paves its way to a bomb."

"We've been told that no deal is better than a bad deal. Well this is a bad deal, a very bad deal," he said. "We're better off without it."

Netanyahu was given a rousing standing ovation as he arrived on the floor of the U.S. House of Representatives Tuesday. http://www.voanews.com/content/israeli-prime-minister-to-make-case-against-irans-nuclear-ambitions-to-congress/2665829.html

March 3, 2015

The Israeli prime minister has warned that a deal under discussion on Iran's nuclear programme could "pave its way to the bomb", rather than block it.

In a speech to US Congress punctuated by standing ovations, Benjamin Netanyahu depicted Iran as a "threat to the entire world".

Talks on Iran's nuclear programme are nearing a critical late-March deadline for an outline agreement to be reached.  …

Netanyahu insisted the Israel-US relationship "must remain above politics" and that he was "grateful for the support of the American people".

But he quickly went on to the meat of his speech, saying Iran had proven time and time again that it could not be trusted.

The country was on a "march of conquest, subjugation and terror", he said.

"Iran's regime is as radical as ever, the ideology is deeply rooted in militant Islam… it will always be an enemy of US". http://www.bbc.com/news/world-middle-east-31716684
Iran has repeatedly claimed that it would destroy and eliminate the nation of Israel. Its delays and obstacles in negotiations related to its nuclear program are consistent with those of a nation that wants to develop nuclear weaponry secretly.
What the Obama Administration does not seem to wish to acknowledge publicly is that all the pressure on Iran has not stopped its ambitions nor goals.
In the past, Benjamin Netanyahu has indicated that Israel would take unilateral steps against Iranian nuclear-related facilities if it felt that this would prevent Iran from getting nuclear weapons.
The last 'deal' negotiated with Iran did not work well for the West, but did work out reasonably well for Iran.  Its financial assets in many countries were freed up, which gave Iran access to more money to finance itself, including its various governmental programs.
Notice something I warned about the earlier deal on November 24, 2013:
What this deal really does is give Iran some economic relief and time to upgrade its technology, while it agrees to get rid of some of its underdeveloped nuclear waste and centrifuges.  This, in theory at least, will give Iran more money and more time to work on its nuclear technology, (Iran makes nuclear deal that Obama praises: Israel and Saudi Arabia are not pleased)
A week later I posted:
An 'interim' deal is in place that apparently will allow Iran to tap into some of its foreign bank accounts and/or lift some of the economic sanctions against it.  The deal will mean that Iran will give up some of its older nuclear centrifuges and enriched uranium.  And if you believe Iran and the USA government, it also means that Iran will not be developing nuclear weapons at this time.  In my view, this agreement will allow Iran to continue to perfect its technology so that it will be better able to produce nuclear weapons over time.  (BibleNewsProphecy: Iran in Prophecy)
And not too long afterwards, Iran has announced that it had new and better nuclear centrifuges.
Nuclear centrifuges basically help enrich uranium to the point that it can be used to develop nuclear energy or nuclear bombs.  While Iran is publicly claiming the former, many believe that its real goal is to produce nuclear weapons, hence improved centrifuges will give it a better ability to make weapons.
As far as the current 'deal,' until I see details of it, there is little to state, other than Iran still wants to develop its nuclear capabilities and this deal will not change Iranian ambitions.  This could be a threat not only to Israel, but to places like the USA and Europe.  Even the production of 'dirty bombs' that could be used by terrorists could be highly disruptive.
Irrespective of one's views of Benjamin Netanyahu, I simply do not trust Iran.  The ambitions of its top leadership are contrary to peace.  The fact that the last 'interim' agreement has dragged out as it has is consistent with my views here.
As I have written before, it is possible that God will allow Iran to strike the nation of Israel, consistent with Isaiah 22:1-14. The reality is that Iran wants to be a threat to Israel and I believe Iran would be willing to use nuclear weapons against Israel if it had them and concluded that it would help it attain some of its improper goals.
Israel, however, may hit Iran with a preemptive strike (which it wanted to do before) or a massive retaliatory one.  There is truth in Benjamin Netanyahu's warning.  Iran does wish to be a military threat.
Several items of possibly related interest may include:
Jerusalem: Past, Present, and Future What does the Bible say about Jerusalem and its future? Is Jerusalem going to be divided and eliminated? Is Jesus returning to the area of Jerusalem? There is also a related YouTube video you can watch titled Jerusalem To be divided and eliminated.
Iran in Prophecy Is Iran in Bible prophecy? If so, what does the Bible teach? What names, other than Persia, may be used to describe Iran? There is also a YouTube video titled Iran in Prophecy. Here is a related video Iran In Prophecy.
The Arab and Islamic World In the Bible, History, and Prophecy The Bible discusses the origins of the Arab world and discusses the Middle East in prophecy. What is ahead for the Middle East and those who follow Islam? What about the Imam Mahdi? What lies ahead for Turkey, Iran, and the other non-Arabic Muslims? An item of possibly related interest in the Spanish language would be: Líderes iraníes condenan la hipocresía de Occidente y declaran que ahora es tiempo para prepararse para el Armagedón, la guerra, y el Imán Mahdi.
Is the Future King of the South Rising Up? Some no longer believe there needs to be a future King of the South. Might Egypt, Islam, Iran, Arabs, or Ethiopia be involved? Might this King be called the Mahdi or Caliph? What does the Bible say? A YouTube video of related interest may be: The Future King of the South is Rising.
The Prophesied 'Islamic' Confederation Where is an Islamic caliphate prophesied? Will one happen? Should you be concerned about it? A related video is Will an Arabic Calphiphate Destroy the West?
Obama Administration Pushing for an Islamic Empire? Because of the rise of groups such as the Islamic State, the Obama Administration and others are pushing for a coalition of Arab nations along with Turkey. Does this resemble the final King of the South of Bible prophecy? Is there an Islamic antichrist? Does the Bible teach that terrorism and the sword will affect the USA and some of its allies? What does the Bible teach in Ezekiel about a confederation involving Egypt? Will an Arabic confederation end in destruction for those who strongly support it? Are the 10 nations in the Arab coalition the ten kings of Revelation 17:12-13? Are the 10 nations including the USA and Turkey the ten nations of Revelation 17:12-13? Who is? Was the pushing of the Obama Administration to do this predicted by in 2009 in a writing by Dr. Thiel? What does the Bible show?
Iraq, the King of the South, Armageddon, and Prophecy What will happen to Iraq? Is it the prophesied Mystery Babylon? What is Armageddon and how does that have to do with Iraq? Here is a related video Iraq, Armageddon, & Prophecy.
How Will Middle East Peace be Brought About? Can humans bring peace to the Middle East? Here is a link to a related video: Middle East Peace? When?
The 'Peace Deal' of Daniel 9:27 This prophecy could give up to 3 1/2 years advance notice of the coming Great Tribulation. Will most ignore or misunderstand its fulfillment? Here is a link to a related sermon video Daniel 9:27 and the Start of the Great Tribulation.
Anglo – America in Prophecy & the Lost Tribes of Israel Are the Americans, Canadians, English, Scottish, Welsh, Australians, Anglo-Saxon (non-Dutch) Southern Africans, and New Zealanders descendants of Joseph? Where are the lost ten-tribes of Israel? Who are the lost tribes of Israel? What will happen to Jerusalem and the Jews in Israel? Will God punish the U.S.A., Canada, United Kingdom, and other Anglo-Saxon nations? Why might God allow them to be punished first? Here is a link to the Spanish version of this article: Anglo-América & las Tribus Perdidas de Israel. Information is also in the YouTube sermons titled Where are the Ten Lost Tribes? Why does it matter? and British are the Covenant People. A short YouTube of prophetic interest may be Barack Obama and the State of the Apocalypse.
When Will the Great Tribulation Begin? 2015, 2016, or 2017? Can the Great Tribulation begin today? What happens before the Great Tribulation in the "beginning of sorrows"? What happens in the Great Tribulation and the Day of the Lord? Is this the time of the Gentiles? When is the earliest that the Great Tribulation can begin? What is the Day of the Lord? Who are the 144,000? Here is a version of the article in the Spanish language: ¿Puede comenzar la Gran Tribulación en 2014 o 2015? ¿Es el Tiempo de los Gentiles? You can also see the English language sermon video: The Great Tribulation from the Mount of Olives.
Barack Obama, Prophecy, and the Destruction of the United States-Second Edition for Second Obama Term This is a 160 page book for people truly interested in prophecies related to Barack Obama and the United States, including learning about many that have already been fulfilled (which the book documents in detail) and those that will be fulfilled in the future. It also has a chapter about a Republican choice. This book is available to order at www.barackobamaprophecy.com. The physical book can also be purchased at Amazon from the following link: Barack Obama, Prophecy, and the Destruction of the United States: Is Barack Obama Fulfilling Biblical, Islamic Catholic, Kenyan, and other America-Related Prophecies? What About Republican Leaders? Second Edition for Second Obama Term.
Barack Obama, Prophecy, and the Destruction of the United States-Second Term-Amazon Kindle edition. This electronic version is available for only US$2.99. And you do not need an actual Kindle device to read it. Why? Amazon will allow you to download it to almost any device: Please click HERE to download one of Amazon s Free Reader Apps. After you go to for your free Kindle reader and then go to Barack Obama, Prophecy, and the Destruction of the United States-Second Term-Amazon Kindle edition.