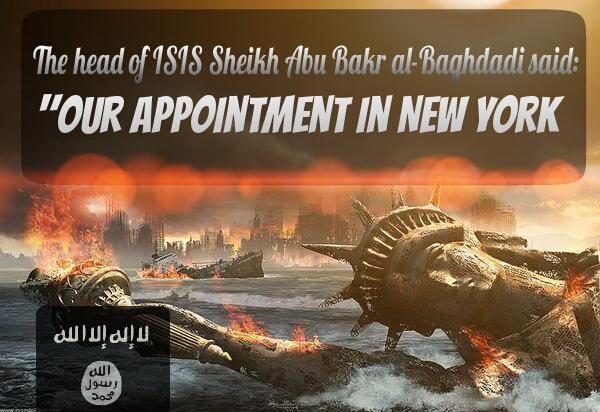 Islamic State supporters are sending a message of destruction.

Some associated with the group calling itself the Islamic State (also known as ISIL or ISIS) has posted information on thousands it wants to target in New York:
April 29, 2016
Some 3,000 New York City-area residents, most of them private citizens with no government ties, were targeted in an Islamic State"hit list," law enforcement said.The list, intended as a threat, contains as many as 3,600 names. It includes some employees with the State Department and Homeland Security, but mostly contains personal information from private citizens. It was posted on site accessible to only IS supporters and is being considered a scare campaign from the IS-related group Caliphate Cyber United.

Law enforcement authorities said there is no specific threat to any one person or group. The FBI and New York Police Department plan to visit the homes of those targeted. The FBI said it would not comment on the incident specifically, but "the FBI routinely notifies individuals and organizations of information collected during the course of an investigation that may be perceived as potentially threatening in nature."

"Potential threats may relate to individuals, institutions or organizations and are shared in order to sensitize potential victims to the observed threat, and to assist them in taking proper steps to ensure their safety," FBI spokeswoman Carol Cratty said. http://www.upi.com/Top_News/US/2016/04/29/Islamic-State-linked-hackers-target-thousands-of-New-Yorkers/1061461945640/

April 29, 2016

A group of hackers linked to Islamic State has posted online a list of thousands of New York residents and urged followers of the militant group to target them, according to a source with knowledge of the matter.

Federal agents and New York City police officers have been contacting the individuals on the list to inform them of the posting, but the source said law enforcement does not believe there is any credible threat. http://www.reuters.com/article/us-new-york-islamic-state-idUSKCN0XQ2AC
The Islamic State continues to kill and terrorize, despite U.S. and other efforts to try to thwart it. The fact the names and personal information was posted and the FBI wants to contact all those listed suggests that there this is a real threat, even if the Islamic State does not have a specific plan on how to kill them.  Even this release was an act of terror as I am fairly sure many of the people listed as well as their families felt terrorized by the release.
In terms of  USA politics, acts by the Islamic State have the potential to boost the presidential prospects for Donald Trump (it is also affecting European politics). All the polls I have seen suggest that Donald Trump benefits the most from terrorism as he is seen by many as the strongest one to deal with terrorism.
Currently, New Yorker Donald Trump is dealing with his own 'terrorism' as protesters in California have affected his schedule:
April 30, 2016

In San Francisco, hundreds of protesters demonstrated outside the venue where Trump was about to speak to the California GOP convention. The crowds forced him to leave his motorcade and even scale a small barricade to get in through the back.

Many of the protesters were angry over Trump's stance on immigration. Once inside, the GOP presidential front-runner told the convention his entrance was "like crossing the border." http://www.cbsnews.com/news/donald-trump-gop-unity-california-intense-backlash-election-2016/
As far as the Islamic State goes, here is something about Donald Trump's position this week on that:
April 28, 2016

Republican Presidential candidate frontrunner Donald Trump vowed ISIS would be wiped out, if he was elected President. http://www.tornosnews.gr/en/world-news/15825-donald-trump-promises-to-destroy-islamic-state-if-elected-us-president.html

April 28, 2016

GOP presidential front-runner Donald Trump on Thursday again refused to rule out using nuclear weapons in the fight against the Islamic State terrorist group, saying he will not be a "happy trigger" but that he wants to have an element of unpredictability.

"I don't want to rule out anything," Mr. Trumpsaid on NBC's "Today" program. "I will be the last to use nuclear weapons. It's a horror to use nuclear weapons. The power of weaponry today is the single greatest problem that our world has, and it's not global warming like our president said. It's the power of weapons, in particular nuclear."

"I will be the last to use it. I will not be a happy trigger like some people might be. I will be the last," he said. "But I will never, ever rule it out."

Mr. Trump said one of the tenets of his foreign policy speech Wednesday is that "we need unpredictability."

"If I get elected president, I don't want ISIS to know what I'm going to be doing," he said. http://www.washingtontimes.com/news/2016/apr/28/donald-trump-wont-rule-out-using-nuclear-weapons-a/
Whether or not Donald Trump gets into office, terrorism will not be eliminated.
Why?
The Bible tells of a time of terror. Notice the following prophecies, several of which will involve the USA:
14 'But if you do not obey Me, and do not observe all these commandments, 15 and if you despise My statutes, or if your soul abhors My judgments, so that you do not perform all My commandments, but break My covenant, 16 I also will do this to you: I will even appoint terror over you, wasting disease and fever which shall consume the eyes and cause sorrow of heart. And you shall sow your seed in vain, for your enemies shall eat it. 17 I will set My face against you, and you shall be defeated by your enemies. Those who hate you shall reign over you, and you shall flee when no one pursues you. (Leviticus 26:14-17)

25 The sword shall destroy outside; There shall be terror within (Deuteronomy 32:25)

12 "Cry and wail, son of man; For it will be against My people, Against all the princes of Israel. Terrors including the sword will be against My people; Therefore strike your thigh. (Ezekiel 21:12)

12 Behold, these are the ungodly,Who are always at ease; They increase in riches…19 Oh, how they are brought to desolation, as in a moment! They are utterly consumed with terrors. (Psalms 73:12,19)

25 Because you disdained all my counsel, And would have none of my rebuke, 26 I also will laugh at your calamity; I will mock when your terror comes, 27 When your terror comes like a storm, And your destruction comes like a whirlwind, When distress and anguish come upon you. (Proverbs 1:25-27)

5 Also they are afraid of height, And of terrors in the way (Ecclesiastes 12:5).
Although I believe that the group currently known as the Islamic State will not be as it has been, and a temporary peace will come for a time (Daniel 9:27; see also The 'Peace Deal' of Daniel 9:27), terrorism will not be eliminated (though it will appear that way to many).
The Islamic State, per se, will be defeated. Yet, ultimately, a confederation against the USA, its Anglo-Saxon allies, and Israel involving Arab and European forces is coming per Psalm 83. And I have long believed that terrorism will have to be part of this based not only upon the "terror" prophecies, but those that discuss an arrangement between what is now mainly Islamic dominated lands and Europe in Psalm 83. While the current Islamic State will not lead as it wishes, it very well may be involved in major terrorist actions around the world.
Because of actions by groups such as the Islamic State and the terror attacks in the USA and Europe, many in the West, as well as in many of the Islam-dominated countries, will decide that a coalition of nations in North Africa and the Middle East is what is needed for 'peace.'
Yet this, according to the Bible, will not truly bring lasting peace (Daniel 11:40-43), though it may well lead to a temporary one (Daniel 9:27). Instead of real peace, an Islamic confederation would be a prelude to the time of coming destruction (cf. 1 Thessalonians 5:3).
Some items of possibly related interest may include:
Donald Trump in Prophecy Prophecy, Donald Trump? Are there prophecies that Donald Trump may fulfill?  Are there any prophecies that he has already helped fulfill?  Could a Donald Trump presidency be apocalyptic?  A related video is titled Could Donald Trump be Apocalyptic?
Hillary Clinton in Prophecy  Prophecy, Hillary Clinton? Are there prophecies that Hillary Clinton may fulfill?  Are there any prophecies that she has already helped fulfill?  Could Hillary Clinton be apocalyptic?  Could Hillary Clinton be the final Antichrist? A video of related interest is titled Hillary Clinton and Bible Prophecy.
Iraq, the King of the South, Armageddon, and Prophecy What will happen to Iraq? Is it the prophesied Mystery Babylon? What is Armageddon and how does that have to do with Iraq? Here is a related video Iraq, Armageddon, & Prophecy.
The Prophesied 'Islamic' Confederation Where is an Islamic caliphate prophesied? Will one happen? Should you be concerned about it? Here is a link to a related video video: Will an Arabic Calphiphate Destroy the West?
The Arab and Islamic World In the Bible, History, and Prophecy The Bible discusses the origins of the Arab world and discusses the Middle East in prophecy. What is ahead for the Middle East and those who follow Islam? What about the Imam Mahdi? What lies ahead for Turkey, Iran, and the other non-Arabic Muslims? An item of possibly related interest in the Spanish language would be: Líderes iraníes condenan la hipocresía de Occidente y declaran que ahora es tiempo para prepararse para el Armagedón, la guerra, y el Imán Mahdi.
The 'Peace Deal' of Daniel 9:27 This prophecy could give up to 3 1/2 years advance notice of the coming Great Tribulation. Will most ignore or misunderstand its fulfillment? Here is a link to a related sermon video Daniel 9:27 and the Start of the Great Tribulation.
How Will Middle East Peace be Brought About? Can humans bring peace to the Middle East? Here is a link to a related video: Middle East Peace? When?
Is the Future King of the South Rising Up? Some no longer believe there needs to be a future King of the South. Might Egypt, Islam, Iran, Arabs, or Ethiopia be involved? Might this King be called the Mahdi or Caliph? What does the Bible say? A YouTube video of related interest may be: The Future King of the South is Rising. The Muslim Brotherhood and the Rise of the King of the South The Bible tells of the formation of a power of nations that are in the Middle East and North Africa that are part of the final "King of the South" (Daniel 11:40-43) The Muslim Brotherhood wishes to have an Islamic empire with basically the same nations. This YouTube video explains what to expect from such a confederation.
When Will the Great Tribulation Begin? 2016, 2017, or 2018? Can the Great Tribulation begin today? What happens before the Great Tribulation in the "beginning of sorrows"? What happens in the Great Tribulation and the Day of the Lord? Is this the time of the Gentiles? When is the earliest that the Great Tribulation can begin? What is the Day of the Lord? Who are the 144,000? Here is a version of the article in the Spanish language: ¿Puede comenzar la Gran Tribulación en 2016 o 2017? ¿Es el Tiempo de los Gentiles? You can also see the English language sermon video: The Great Tribulation from the Mount of Olives. A shorter video is: Can the Great Tribulation Start in 2016?
How Will Middle East Peace be Brought About? Can humans bring peace to the Middle East? Here is a link to a related video: Middle East Peace? When?
World War III: Steps in Progress Are there surprising actions going on now that are leading to WWIII? Might a nuclear attack be expected? Does the Bible promise protection to all or only some Christians? How can you be part of those that will be protected? A related video would be Is World War III About to Begin? Can You Escape?
Wars, rumors of wars, and the Apocalypse Jesus foretold a time before the end where there would be wars and rumors of wars. The Apocalypse (the Book of Revelation) warns of the red horseman of war. Now, even secular writers, like Larry Edelson, are worried that wars and rumors of war are the most menacing problem that now haunts the earth? Are they right? What is the solution? This is a sermonette-length video.
The Gospel of the Kingdom of God This free online pdf booklet has answers many questions people have about the Gospel of the Kingdom of God and explains why it is the solution to the issues the world is facing.
The Gospel of the Kingdom of God was the Emphasis of Jesus and the Early Church Did you know that? Do you even know what the gospel of the kingdom is all about? You can also see a YouTube video sermon The Gospel of the Kingdom.
Prophecy Obama: Prophecies of Barack Obama? Reasons why Barack Obama is apocalyptic and reasons why Barack Obama is not the Antichrist. This article includes many biblical and non-biblical prophecies, from around the world, that seem to discuss Barack Obama. Did Nostradamus predict Barack Obama dealing with the Antichrist? Might Barack Obama set the stage for the kings of the North and South as at least one Shiite prophecy suggests? Read it and decide for yourself if President Obama seems to be fulfilling various prophecies. Watch also the YouTube Barack Obama and the State of the Apocalypse.