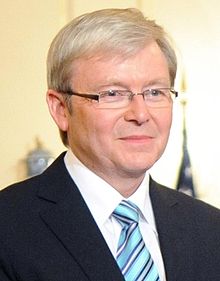 Australia's Kevin Rudd
For the second time, Kevin Rudd has become Prime Minister of Australia, replacing Julia Gillard:
June 27, 2013

Kevin Rudd has been sworn in as prime minister of Australia, a day after he ousted Julia Gillard as leader of the Labor Party.

Mr Rudd took the oath at Government House in front of Governor-General Quentin Bryce.

He then addressed parliament briefly, paying tribute to Ms Gillard, who is stepping down from politics…

Mr Rudd returned to lead Australia's government three years and three days after he was toppled in a similar Labor leadership contest by Ms Gillard, then his deputy.

He secured 57 votes to Ms Gillard's 45 in Wednesday's vote, which followed months of speculation and bitter infighting over who should lead Labor into the forthcoming election.  http://www.bbc.co.uk/news/world-asia-23076517

June 27, 2013

LEIGH SALES, PRESENTER: It's been the most tumultuous two days in federal politics since the day three years ago when Julia Gillard dethroned Kevin Rudd as Prime Minister.

After last night's dramatic counter-coup, the drama continued today with another ministerial resignation and a rowdy debate in Parliament as the Coalition moved to capitalise on Labor's turmoil.

Kevin Rudd's resurrection has reinvigorated the political contest…

KEVIN RUDD, INCOMING PRIME MINISTER: In 2007 the Australian people elected me to be their Prime Minister. That is a task that I resume today with humility, with honour and with an important sense of energy and purpose…

CHRIS UHLMANN: And so ends the 43rd Parliament and with it the political career of Australia's first female Prime Minister. She has much to be proud of and a lot to regret. Everyone will remember the hung parliament and few will mourn its passing.  http://www.abc.net.au/news/2013-06-27/rudds-return-revitalises-political-contest-and/4786338?section=act
So, just like there were quick changes in Australian politics three years ago when Julia Gillard replaced Kevin Rudd, a similar situation has arose as Kevin Rudd has replaced her.
From a religious perspective, Kevin Rudd sometimes raises eyebrows.  He was raised Roman Catholic, but began to attend the Anglican Church in the 1980s with his wife.  Wikipedia reports that his religion is Anglicanism and also reported the following:
Rudd and his family attend the Anglican church of St John the Baptist in Bulimba…In December 2009, Rudd was spotted at a Catholic Mass to commemorate the canonisation of Mary MacKillop, in which he was administered with the Holy Communion. Rudd's actions provoked criticism and debate among both among political and religious circles…A report by The Australian quoted that Rudd embraced Anglicanism but at the same time did not formally renounce his Catholic faith.

Rudd is the mainstay of the parliamentary prayer group in Parliament House, Canberra.   He is vocal about his Christianity and has given a number of prominent interviews to the Australian religious press on the topic.
In terms of end-time prophecy, by virtue of his timing, I believe that Kevin Rudd will take steps that will cause the Chinese to have even more interest in his country.
Regarding Australia's previous Prime Minister Julia Gillard, I believe that she helped fulfill the following prophecy:
12 As for My people, children are their oppressors, And women rule over them. O My people! Those who lead you cause you to err, And destroy the way of your paths. (Isaiah 3:12)
Prime Minister Gillard also fulfilled a prediction I made about her when she took office (Australia Now Has a Female Prime Minister: Prophetic Ramifications?) by taking to steps to get the Chinese interested in taking over Australia (Australia accepts US troops, China not pleased).
The Australians themselves generally hope that the USA will be able to protect them. Yet, since Bible prophecy shows that those in the end-time with the "strongest fortresses" (which currently would be the USA) will be taken over (Daniel 11:39), this does not bode well for any nation that truly needs protection from the USA.
Furthermore, the Bible shows that the land of the Anglo-descended peoples will be conquered and divided (Daniel 11:39; Lamentations 4:16; Joel 3:2-3; Amos 7:17; Ezekiel 5:1-2,12; 6:8; Ezekiel 22:13-15).
Because of his ties to Roman Catholicism, it is possible that once the USA is taken over, Kevin Rudd, like possibly someone like Britain's Tony Blair, might partially fulfill the following verses in the Bible in trying to get help from the Assyrians (modern Germany with its allies) after they have destroyed the U.S.A. and its Anglo-Allies:
1 "Ephraim also is like a silly dove, without sense–They call to Egypt, They go to Assyria. 12 Wherever they go, I will spread My net on them; I will bring them down like birds of the air;  I will chastise them According to what their congregation has heard (Hosea 7:11-12).

8 Israel is swallowed up; Now they are among the Gentiles Like a vessel in which is no pleasure. 9 For they have gone up to Assyria, Like a wild donkey alone by itself; Ephraim has hired lovers (Hosea 8:8-9).

1 Ephraim feeds on the wind, And pursues the east wind; He daily increases lies and desolation. Also they make a covenant with the Assyrians, And oil is carried to Egypt (Hosea 12:1).
It would seem that perhaps Kevin Rudd could try to use his contacts within Catholicism to try to improve the lot of the Australians at that time.
Since I tend to believe that these verses in Hosea will be fulfilled after the start of the Great Tribulation and before the return of Jesus Christ and the establishment of the Kingdom of God, if Kevin Rudd is involved in the above fulfillment, in that specific way he might personally also be Apocalyptic.  Time will tell.
Yet, without national repentance, the nation of Australia is doomed. Period.
And in his previous term as Prime Minister, I do not recall Kevin Rudd calling for the proper type of repentance needed then.  Nor now.
Some items of related interest may include:
Anglo – America in Prophecy & the Lost Tribes of Israel Are the Americans, Canadians, English, Scottish, Welsh, Australians, Anglo (non-Dutch) Southern Africans, and New Zealanders descendants of Joseph? Where are the lost ten-tribes of Israel? Who are the lost tribes of Israel? What will happen to Jerusalem and the Jews in Israel? Will God punish the U.S.A., Canada, United Kingdom, and other Anglo nations? Why might God allow them to be punished first?
Will the Anglo-Nations be Divided and Have People Taken as Slaves? Will the lands of the United States, United Kingdom, Canada, Australia, and New Zealand be divided? What about Jerusalem? What does Bible prophecy teach? Are there non-biblical prophecies that support this idea? Who will divide those lands? Who will end up with the lands and the people? Here is a link to a video titled Will the USA and other Anglo-nations be Divided and Their People Made Slaves?
Barack Obama, Prophecy, and the Destruction of the United States-Second Edition for Second Obama Term This is a 160 page book for people truly interested in prophecies related to Barack Obama and the United States, including learning about many that have already been fulfilled (which the book documents in detail) and those that will be fulfilled in the future. It also has a chapter about a Republican choice. This book is available to order at www.barackobamaprophecy.com. The physical book can also be purchased at Amazon from the following link: Barack Obama, Prophecy, and the Destruction of the United States: Is Barack Obama Fulfilling Biblical, Islamic Catholic, Kenyan, and other America-Related Prophecies? What About Republican Leaders? Second Edition for Second Obama Term.
Barack Obama, Prophecy, and the Destruction of the United States-Second Term-Amazon Kindle edition. This electronic version is available for only US$2.99. And you do not need an actual Kindle device to read it. Why? Amazon will allow you to download it to almost any device: Please click HERE to download one of Amazon s Free Reader Apps. After you go to for your free Kindle reader and then go to Barack Obama, Prophecy, and the Destruction of the United States-Second Term-Amazon Kindle edition.
China, Its Biblical Past and Future, Part 1: Genesis and Chinese Characters Where did the Chinese people come from? This article provides information showing that the Chinese peoples must have known about various accounts in the Book of Genesis up until their dispersion after the Tower of Babel.
China, Its Biblical Past and Future, Part 2: The Sabbath and Some of God's Witness in China When did Christianity first come to China? And is there early evidence that they observed the seventh day sabbath?
Asia in Prophecy What is Ahead for Asia? Who are the "Kings of the East"? What will happen to nearly all the Chinese, Russians, Indians, and others of Asia? China in prophecy, where? Who has the 200,000,000 man army related to Armageddon? A YouTube video of interest may be Is China THE Threat to the United States of America?
Germany's Assyrian Roots Throughout History Are the Germanic peoples descended from Asshur of the Bible? Have there been real Christians in Germanic history? What about the "Holy Roman Empire"? There is also a You-Tube video sermon on this titled Germany's Biblical Origins.
Germany in Biblical and Catholic Prophecy Does Assyria in the Bible equate to an end time power inhabiting the area of the old Roman Empire? What does prophecy say Germany will do and what does it say will happen to most of the German people?
When Will the Great Tribulation Begin? 2013, 2014, or 2015? Can the Great Tribulation begin today? What happens before the Great Tribulation in the "beginning of sorrows"? What happens in the Great Tribulation and the Day of the Lord? Is this the time of the Gentiles? When is the earliest that the Great Tribulation can begin? What is the Day of the Lord? Who are the 144,000? See also the video Can the Great Tribulation Begin in 2013?
Just What Do You Mean — Repentance? Do you know what repentance is? Have you truly repented? Repented of what? Herbert W. Armstrong wrote this as a booklet on this important subject.