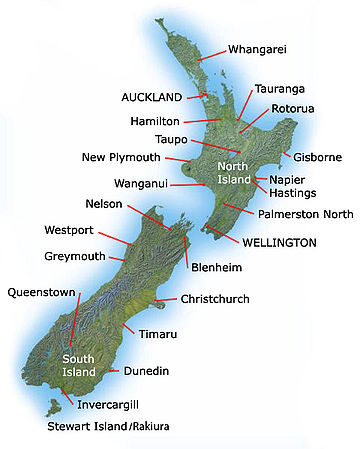 In today's announcements, LCG had the following:
"Half of Christchurch wants to leave," reads one Australian headline. In the wake of three powerful and devastating earthquakes in the last nine months, an unofficial poll of more than 40,000 Christchurch, New Zealand residents revealed that over 3,000 have emigrated to Australia so far. Twenty-one percent of residents plan to leave Christchurch at some point in the future, another 26% say they would leave if it were not for their jobs and their property, and 13% said they do not know what to do. Some residents who are remaining in Christchurch have condemned those leaving for "giving up on the city." These are certainly stressful times (www.news.com.au, July 5, 2011). Bible prophecy reveals that at the time of the end, one phenomenon that will affect different Israelite-descended nations is that their highways will become desolate and their cities will become waste (Leviticus 26:22, 31-33). How might these prophecies be fulfilled? Could it be that major natural disasters, like earthquakes, may be one tool God will use to fulfill His prophecy? This could be the case.
Northern New Zealand recently had a 7.6-7.9 earthquake.
Jesus, of course, warned about a time with such issues:
8 … And there will be earthquakes in various places, and there will be…troubles. These are the beginnings of sorrows. (Mark 13:8)
We may be at this prophetic point as all the earthquakes and other problems that have happened in the past year could be considered as "troubles".
And, perhaps I should mention that a recent news item suggested that parts of Australia may not be a safe place to go to:
Volcanic eruptions long overdue in SE Australia

Australian Geographic – July 7, 2011

New research has revealed the age of extinct volcanoes in western Victoria and South Australia, confirming that both regions are overdue for a potentially devastating eruption…

In related news a 4.4 magnitude earthquake struck the south of Victoria on Tuesday, showing the power that geological activity can exert in the region.
There will be other problems in New Zealand and Australia. The beginning of sorrows is not yet over, and the time of Jacob's trouble (Jeremiah 30:7), AKA the Great Tribulation, will follow it.
The following was also in today's announcements:
Dr. Douglas Winnail is Down Under, spending several days in the Australian office with Mr. Bruce Tyler and other leaders. Dr. Winnail will conduct Tomorrow's World Special Presentations in Adelaide and Perth this weekend. Dr. Scott Winnail travelled to Adelaide this week to meet with the Regional Office staff and LU students regarding Living University.

Update from Dr. Douglas Winnail in Australia

"I am in the Adelaide office right now. Just wanted to let you know the trip is going well, in spite of the fact that it is winter down here and it has been a bit chilly! The response to the TWSPs has been way beyond what was anticipated! It appears that in Auckland we had a record attendance (360 total) and a record response (301 guests)! The response in Brisbane and Melbourne resulted in standing-room only—which was very encouraging for the brethren here. Your prayers are appreciated for the trip and these presentations."

Tomorrow's World Special Presentations

Auckland, New Zealand: Dr. Douglas Winnail started his trip to the Southern Hemisphere by conducting a TWSP in Auckland. This was keenly anticipated by local members who had been preparing for it for several months.

Saturday, July 2, dawned with a beautiful clear blue sky (in the middle of winter) and we knew God was blessing the weather for travellers. An hour before the designated start time of 2:00 p.m., the first visitors started arriving.

Dr. Winnail started his presentation with nearly every seat occupied and many people standing around the perimeter and others sitting on the floor. Hotel staff continued to wheel in racks of chairs to fill free floor space and try to seat as many as possible. Finally, a total of 360 people were crammed into the ballroom. Of these, 301 were visitors with 59 excited members also in attendance. Our wildest hopes had been far exceeded. Of the subscribers who received invitations over 14% of them attended.

Dr. Winnail spoke on "What's Ahead for New Zealand?" and the audience returned after a refreshment interval of tea and coffee to attentively listen to his whole presentation. Many stayed and chatted with Dr. Winnail and members, and promised to return next Sabbath for my follow-up presentation, "Where Is God's Church Today?" Dr. Winnail was able to illustrate his PowerPoint presentation with recent photos of the earthquake devastation in Christchurch. The whole audience would have been keenly aware of how promised "earthquakes in diverse places" are already occurring in New Zealand. Interestingly, an earthquake was felt in parts of Auckland the day before the TWSP. Most Aucklanders would have never previously experienced an earthquake.

God has already favored the second presentation. We were faced with the possibility of asking members to not attend the follow-up because we expected too many people for the available space. Members were asked to pray for the situation and by Monday morning additional space had been freed and we will now have ample room.—Kinnear Penman

Brisbane, Australia: The Brisbane, Queensland, Australia, congregation excitedly welcomed Dr. Douglas Winnail as he delivered his "What's Ahead for Australia?" presentation on a mild winter's Sunday evening. We had 67 guests attend, as well as 42 local members, for a total of 109. Our hall was almost filled to capacity, and during the presentation there were many murmurs in agreement from many of the visitors when various points were mentioned by Dr. Winnail. Many of the visitors stayed afterwards for refreshments and asked questions of the members and ministry, and of course were eager to talk to Dr. Winnail. We extended invitations to our follow up presentation next Sabbath, on the subject of "Where Is God's Church Today?" and most visitors picked up the invitation and directions to the venue next week. We are eagerly hoping for a good turn out next Sabbath afternoon. The brethren have been highly energized by this opportunity to be involved directly in God's Work on the local level, as they learn to relate to individuals who are learning about true Christianity for the first time. It is daunting for us all, when we take stock and realize that our guests are, in all probability, coming into contact with true Christians for the very first time at these events. That is a sobering thought that carries a heavy responsibility.—Dayrell Tanner

Melbourne, Australia:What an incredible evening we experienced in Melbourne on Tuesday, July 5. In spite of, or perhaps encouraged by, an earlier earthquake tremor of 4.2 on the Richter scale, which occurred at 11:30 a.m. and a further tremor at 7:15 p.m., gale force winds and rain, an audience of 203 people attended the presentation delivered by Dr. Douglas Winnail. The invited audience consisted of 175 people, plus a contingent of 28 people from the Melbourne congregation. We had set up the Box Hill Town Hall venue for a maximum of 120 people, but with about 20 people registering by phone and webmail, we decided to increase the seating available to 140 people. Imagine our surprise when the 140 seats were taken up and still the people were pouring in at our start time of 7:30 p.m. Extra chairs were provided but we ended up with standing room only for about 20 people.

The audience was very attentive to Dr. Winnail's powerful delivery and, judging by the interest shown, we expect a good response to the invitation to attend my follow-up TWSP on July 16 at the Marwal Community Centre in Balwyn North. Many favourable comments were received during the serving of refreshments at the conclusion of the presentation. One person was heard to remark that, after years of study, this presentation had now answered all of his previous doubts.—Michael Gill
LCG is making specific attempts to reach Australia and New Zealand, and these presentations and visits are part of that attempt to fulfill Matthew 24:14 and other scriptures.

Some articles of possibly related interest may include:
Does God Have a 6,000 Year Plan? What Year Does the 6,000 Years End? Was a 6000 year time allowed for humans to rule followed by a literal thousand year reign of Christ on Earth taught by the early Christians? When does the six thousand years of human rule end?
Can the Great Tribulation Begin in 2011, 2012, or 2013? Can the Great Tribulation begin today? When is the earliest that the Great Tribulation can begin? What is the Day of the Lord? What is "the beginning of sorrows"? Have we begun or are we about ready for "the beginning of sorrows" to begin.
Will the Anglo-Nations be Divided? Will the lands of the United States, United Kingdom, Canada, Australia, and New Zealand be divided? What does Bible prophecy teach? Are there non-biblical prophecies that support this idea? Who will divide those lands? Who will end up with the lands and the people?
Anglo – America in Prophecy & the Lost Tribes of Israel Are the Americans, Canadians, British, Scottish, Welsh, Australians, Anglo-Southern Africans, and New Zealanders descendants of Joseph? Where are the lost ten-tribes of Israel? Who are the lost tribes of Israel? Will God punish the U.S.A., Canada, United Kingdom, and other Anglo nations? Why might God allow them to be punished first?
Earthquakes Today and Bible Prophecy Contains a cool up-to-the-hour update of earthquakes around the world from USGS. It also explains what did Jesus teach about earthquakes and how the Bible describes "the big one" (as well as when it is expected).