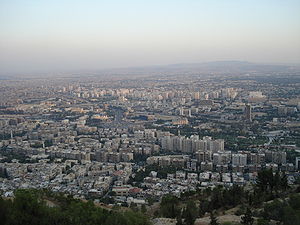 Damascus, Capital of Syria
A German leader is warning that Egypt is becoming an Islamic dictatorship:
17 December 2012

Berlin warns Egypt is sliding to dictatorship

German Development Minister Dirk Niebel expressed concern on Monday that Egypt's President Mohammed Morsi was leading the country toward dictatorship.

Morsi, backed by the Muslim Brotherhood, is currently trying to push through an Islamic constitution despite widespread opposition in the population. In a first round of voting marred by low turnout and irregularities, a narrow majority supported the new constitution this weekend.  http://www.thelocal.de/politics/20121217-46807.html
An Islamic confederation is starting to rise up.  And although it will have problems, Egypt will be part of an end-time confederation according to the Bible (Ezekiel 30:1-9).
A confederation that will include Syria.  Even though Syria's current President Bashar Assad is a Shi'ite Muslim, he will not be able to stop this from happening.  Most Arabs are Sunni Muslim, and that is the branch of Islam that the Muslim Brotherhood normally supports.
An Islamic leader has his eyes on both Syria's capital of Damascus and Israel:
December 16, 2012
The leader of the radical Salafist movement in Jordan, whose organization actively supports the Syrian rebels' efforts to topple President Bashar Assad's regime warned Sunday that once the Damascus opposition achieves its primary goal, it will set its sights on Israel.
"We tell Benjamin Netanyahu, the (Israeli) prime minister, get ready. The army of the Prophet Mohammad is coming your way."
The rebel forces made headway against Damascus today:
Dec 17, 2012 6:13pm EST

(Reuters) – Syrian rebels took full control of the Yarmouk Palestinian refugee camp on Monday after fighting raged for days in the district on the southern edge of President Bashar al-Assad's Damascus powerbase, rebel and Palestinian sources said.

The battle had pitted rebels, backed by some Palestinians, against Palestinian fighters of the pro-Assad Popular Front for the Liberation of Palestine-General Command (PFLP-GC). Many PFLP-GC fighters defected to the rebel side and their leader Ahmed Jibril left the camp two days ago, rebel sources said.  http://www.reuters.com/article/2012/12/17/us-syria-crisis-idUSBRE8AJ1FK20121217
While the Islamic world will not get Israel at this time, both biblical and Islamic prophecy tell of the destruction of Damascus. Here is some of what Bible prophecies teaches:
7 thus says the Lord God: "It shall not stand, Nor shall it come to pass. 8 For the head of Syria is Damascus (Isaiah 7:7-8)

3 Thus says the Lord: "For three transgressions of Damascus, and for four, I will not turn away its punishment, Because they have threshed Gilead with implements of iron. (Amos 1:3)

1 The burden against Damascus. "Behold, Damascus will cease from being a city, And it will be a ruinous heap. (Isaiah 17:1)

23 Against Damascus. "Hamath and Arpad are shamed, For they have heard bad news. They are fainthearted; There is trouble on the sea; It cannot be quiet. 24 Damascus has grown feeble; She turns to flee, And fear has seized her. Anguish and sorrows have taken her like a woman in labor. 25 Why is the city of praise not deserted, the city of My joy? 26 Therefore her young men shall fall in her streets, And all the men of war shall be cut off in that day," says the Lord of hosts. 27 "I will kindle a fire in the wall of Damascus, And it shall consume the palaces of Ben-Hadad." (Jeremiah 49:23-27)
While this destruction could come as the result of the current civil war (and that is likely to be a factor), the reality is that the Syrian rebel forces at this instant may not have the military ability to do so–but they are getting closer to possibly having that ability.  The Bible also suggests that Syria will be involved in a confederation of North African and Middle Eastern nations (Ezekiel 30:1-9; Psalm 83:4-8) who will support a leader that the Bible refers to as the final King of the South (Daniel 11:40-43). Since the Egyptian-based Muslim Brotherhood wants a similar confederation, I have long believed that Syria will align with it or a group like it–and since Syria's President is opposed to that, he will have to go or change his views.
But since he does not wish to do either, Syria's President Assad may decide to engage in an attack with Israel, which is more likely to result in the destruction of Damascus, as well as a change in the Islamic world to unite closer together behind a group like the Muslim Brotherhood.
The Muslim Brotherhood wants an Islamic confederation called a caliphate to rise up.  Notice that its official website teaches the following:
What is the Muslim Brotherhood?
The world's largest and most influential Islamist movement. Founded in Egypt in 1928, the group was originally focused on ridding the country of corrupting secular influences brought by British colonial rule. Over the years, it established branches and affiliates in many countries to promote traditional Sunni Islamic morals, social justice, and the eradication of poverty and corruption. "The Islamic nation," its charter states, "must be fully prepared to fight the tyrants and the enemies of Allah as a prelude to establishing an Islamic state"—ideally a re-established caliphate, stretching from Spain across the Middle East and Central Asia to Indonesia, to be governed according to Islamic sharia law. (Understanding the Muslim Brotherhood. February 14, 2011. © The Muslim Brotherhood. http://www.ikhwanweb.com/article.php?id=28019 viewed 11/21/2011)
The Muslim Brotherhood apparently wants as its top priority a pan-national Islamic caliphate ruled by an Imam. Many Muslims long for the rising up of a leader called the 12th Imam, often referred to as the Imam Mahdi. This power will not end up with Spain if I understand certain aspects of Bible prophecy correctly, but the confederation of the final King of the South may go from around Western Sahara and/or Mauritania to Oman (with possible involvement and/or coordination with Afghanistan, Iran, Pakistan and/or Indonesia).
The Muslim Brotherhood is active in many Islamic-dominated lands, including Syria. And in Syria, it is basically in opposition to the Assad regime there. But of itself, the Muslim Brotherhood in Syria is currently not strong enough to take over Syria (though it is getting some support from outside of Syria).
More trouble is coming to Damascus as it will be destroyed (Isaiah 17:1). An Islamic confederation that will include the land of Syria and Egypt is coming (Daniel 11:40-43; Ezekiel 30:1-9; Psalm 83:4-8) is coming.
A worsening situation in Syria and dictatorial situation in Egypt would seem to be factors in speeding up this occurrence.
"And what I say to you, I say to all: Watch!" (Mark 13:37).
Some articles of possibly related interest may include:
Is There A Future King of the South? Some no longer believe there needs to be. Might Egypt, Islam, Iran, Arabs, or Ethiopia be involved? Might this King be called the Mahdi? What does the Bible say?
The Arab and Islamic World In the Bible, History, and Prophecy The Bible discusses the origins of the Arab world and discusses the Middle East in prophecy. What is ahead for the Middle East and those who follow Islam? What about the Imam Mahdi? What lies ahead for Turkey, Iran, and the other non-Arabic Muslims?
Anglo – America in Prophecy & the Lost Tribes of Israel Are the Americans, Canadians, English, Scottish, Welsh, Australians, Anglo (non-Dutch) Southern Africans, and New Zealanders descendants of Joseph? Where are the lost ten-tribes of Israel? Who are the lost tribes of Israel? What will happen to Jerusalem and the Jews in Israel? Will God punish the U.S.A., Canada, United Kingdom, and other Anglo nations? Why might God allow them to be punished first?
Europa, the Beast, and Revelation Where did Europe get its name? What might Europe have to do with the Book of Revelation? What about "the Beast"? Is an emerging European power "the daughter of Babylon"? What is ahead for Europe?
Who is the King of the North? Is there one? Do biblical and Roman Catholic prophecies for the Great Monarch point to the same leader? Should he be followed? Who will be the King of the North discussed in Daniel 11? Is a nuclear attack prophesied to happen to the English-speaking peoples of the United States, Great Britain, Canada, Australia, and New Zealand? When do the 1335 days, 1290 days, and 1260 days (the time, times, and half a time) of Daniel 12 begin? When does the Bible show that economic collapse will affect the United States?