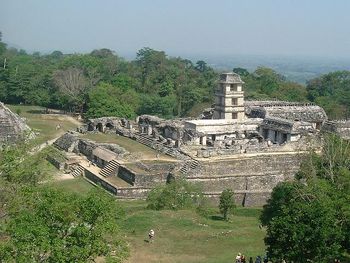 Maya Palenque Ruins

Voice of America reported the following:
December 21 marks the end of an age in a 5,125 year-old Maya calendar, an event that is variously interpreted as the end of days, the start of a new era or just a good excuse for a party.

Thousands of New Age mystics, spiritual adventurers and canny businessmen are converging on ancient ruins in southern Mexico and Guatemala to find out what will happen.

"No one knows what it will look like on the other side," said Michael DiMartino, 46, a long-haired American who is organizing one of the biggest December 21 celebrations at the Maya temple site of Chichen Itza on the Yucatan peninsula.

It is not the world but "the way we perceive it"  that will end, said DiMartino, who pledged his event at ground zero for 2012 acolytes will be a "distilling down of various perspectives into a unified intention for positive transformation, evolution and co-creation of a new way of being."

A mash-up of academic speculation and existential angst seasoned with elements from several world religions, the 2012 phenomenon has been fueled by Hollywood movies and computer  games, and relentlessly disseminated by Internet doom-mongers.

Mass hysteria in a Russian prison, a Chinese man building survival pods for doomsday and UFO lovers seeking refuge with aliens in a French mountain village are just some of the reports that have sprung up in the final countdown to December 21.

Robert Bast, a New Zealander living in Melbourne who wrote a book called "Survive 2012" on how to cope with the possible catastrophe, believes the Maya may have sent out a warning.

"The most likely thing for me is a solar storm, but that's not going to kill you straight away. It's more of a long term disaster," said Bast, 47, noting a flu pandemic could also strike the planet. "I feel the world isn't as safe as we think it is. The last couple of generations have had it very cosy."

When dawn breaks on Friday, according to the Maya Long Count calendar, it marks the end of the 13th bak'tun – an epoch lasting some 400 years – and the beginning of the 14th…

Nobody seems quite sure what to expect on Friday, but it has  not stopped people getting their hopes up.

"This is the Arab Spring of the spiritual movement," said Geoffrey Ocean Dreyer, a 52-year-old U.S. musician wearing a sombrero and mardi gras beads. "We're going to create world peace. We're going to Jerusalem and we're going to rebuild Solomon's temple."  http://www.voanews.com/content/reuters-mysticism-internet-fuel-mexicos-maya-armageddon-fears/1566696.html
Although there could be storms, earthquakes, civil demonstrations, violence, etc. this week (cf. Matthew 24:4-8), let me make it perfectly clear what will happen on December 21/22, 2012:
The world will continue and not end.  It cannot end in a flood this week (Genesis 9:11,15), like some Mayan predictions may point to.
Those who believe that the world was ending will react in different ways.  But no matter what they say or do, the world is not ending for at least another 8 years (though there could be countries that will be devastated years before then).
Some associated with the New Age movement will see the lack of the world ending as validation that humanity is getting closer to a  better age of peace (and they normally do not mean the millennium that Jesus Christ will usher in).  The report above about 2012 and "world peace" (cf. Ezekiel 13:1-10) is consistent with my long published view that the New Agers will point to the end of the Mayan calendar and somewhat related astronomical events as proof that they are right about what will happen for humanity.
There will also be scoffers about end of the world prophecy in general (2 Peter 3:3-7), and some may likely make the news then (and certainly some later).
How can I be sure?
The Bible teaches, "We have also a more sure word of prophecy; whereunto ye do well that ye take heed, as unto a light that shineth in a dark place, until the day dawn, and the day star arise in your hearts" (2 Peter 1:19 KJV).
My reports about 2012 this week are based upon biblical prophecy and world events, and are accurate.  As far as my track record related to 2012, world events have already aligned with at least 24 predictions in my 2009 book titled 2012 and the Rise of the Secret Sect, by the end of this month it will be at least 27.  The Bible is true and proper prophetic explanations of it will always be proven to be true.
Some items that might be of assistance in understanding end-time events may include:
End of Mayan Calendar 2012–Might 2012 Mean Something? Are there Mayan calendar predictions for change in 2012? Changes were centuries ago predicted by the Hopi Native Americans. Do Mayan/Hindu/Hopi/Buddhist/New Age/Nostradamus prophecies have any value here? Why might Satan have inspired this date? Does the Dresden codex show destruction of the earth by flood? Can the great tribulation start before 2012? How might Barack Obama and Julia Gillard be involved in 2012? Have predictions written by Bob Thiel related to Barack Obama and Julia Gillard began to come to pass?
Did The Early Church Teach Millenarianism? Was the millennium (sometimes called chiliasm) taught by early Christians? Who condemned it? Will Jesus literally reign for 1000 years on the earth? Is this time near?
Does God Have a 6,000 Year Plan? What Year Does the 6,000 Years End? Was a 6000 year time allowed for humans to rule followed by a literal thousand year reign of Christ on Earth taught by the early Christians? Does God have 7,000 year plan? What year may the six thousand years of human rule end? When will Jesus return? 2019 or 202x?
Can the Great Tribulation Begin in 2012 or 2013? Can the Great Tribulation begin today? What is the "beginning of sorrows"? When is the earliest that the Great Tribulation can begin? What is the Day of the Lord? When is the earliest Jesus can return?
2012 and the Rise of the Secret Sect This is a link related to a book by Bob Thiel (COGwriter). This link also has YouTube videos. This book documents and explains hundreds of prophecies. And since it was published, world events have aligned with at least 24 predictions in the book and many more will to come to pass. Those who purchase the book at the www.thesecretsect.com website receive a lengthy bonus report documenting world events that aligned with the book.
2012 and the Rise of the Secret Sect (English Kindle edition). This is the 2nd edition of the book, released in January 2012, and includes a summary of many of the predictions that world events have aligned with since the book originally came out in September 2009.
2012 y el surgimiento de la secta secreta 2012 libro del Dr. Thiel en Español.
2012 und das Auftreten der geheimen Sekte (German Edition) 2012 Buch von Dr. Thiel in deutscher Sprache. 2012 und das Auftreten der geheimen Sekte (German Kindle Edition)
2012 e o Surgimento da Seita Secreta (Portuguese Edition) 2012 livro do Dr. Thiel em português. Este livro documenta e explica centenas de profecias. E desde que foi publicado pela primeira vez, pelo menos 24 já começaram a acontecer.
2012 e o Surgimento da Seita Secreta (2 ª Edição em português do Brasil): Um Guia Revolucionário de Sobrevivência Espiritual e Física para 2012-2020 (Portuguese Edition) 2012 livro do Dr. Thiel. 2 ª edição em português do Brasil. Este livro documenta e explica centenas de profecias. E desde que foi publicado pela primeira vez, pelo menos 24 já começaram a acontecer.2012 e o Surgimento da Seita Secreta (KINDLE Edição em português do Brasil) 2 ª edição.-Kindle.
Barack Obama, Prophecy, and the Destruction of the United States This is a 160 page book for people truly interested in prophecies related to Barack Obama and the United States, including learning about many that have already been fulfilled (which the book documents in detail) and those that will be fulfilled in the future. It also has a chapter about a Republican choice. This book is available to order at www.barackobamaprophecy.com. The physical book can also be purchased at Amazon from the following link: Barack Obama, Prophecy, and the Destruction of the United States: Is Barack Obama Fulfilling Biblical, Islamic, Catholic, Kenyan, and other America-Related Prophecies?
Barack Obama, Prophecy, and the Destruction of the United States–Amazon Kindle edition. This electronic version is available for only US$2.99. And you do not need an actual Kindle device to read it. Why? Amazon will allow you to download it to almost any device: Please click HERE to download one of Amazon's Free Reader Apps. After you go to for your free Kindle reader and then go to Barack Obama, Prophecy, and the Destruction of the United States–Amazon Kindle edition.)