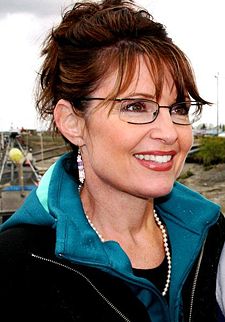 Sarah Palin, Vice Presidential Nominee
On August 29, 2008, John McCain announced that Alaska Governor Sarah Palin was his choice for Vice President. This is the first time that a woman has received that nomination from one in the Republican Party.
On the news, Sarah Palin was quoted from an earlier interview where she said something to the effect, "I'm just your ordinary hockey mom". She is the mother of five children.
Since those of us in groups like the Living Church of God do not vote in these elections, why am I mentioning the possibility of a woman president?
Because I believe that it John McCain wins (and especially if he dies in office), she will partially fulfill a prophecy in Isaiah 3:12:
As for My people, children are their oppressors, And women rule over them. O My people! Those who lead you cause you to err, And destroy the way of your paths…
Of course, women are influential in the English-speaking nations and it is not absolutely required that the USA itself have a woman president, but I do feel that if we do get one, that this will be a partial, but significant, fulfillment of that prophecy.
Both biblical and Roman Catholic prophecies indicate the destruction of the English-speaking peoples and I would not be surprised if a major attack by the European Beast power will occur during a female presidency (though if Sarah Palin was to be USA vice-president beginning in 2009, I tend to believe that this would more likely be in a second term–and it probably is not likely that Republicans would win four presidential elections in a row–but stranger things have happened).
Is Sarah Palin the Antichrist? According to the Bible, no she cannot be (the reasons and scriptures are given in my previous post Barack Obama is Not the Antichrist, nor is Joe Biden, Democratic vice presidential nominee–nor is John McCain).
9/04/04 Update: Notice some information on Sarah Palin's religious background:
In June, Mrs. Palin told ministry students at her former church that in going to war with Iraq, the United States is "on a task that is from God," the Associated Press reported.

Mrs. Palin's brand of evangelical Protestantism is especially well-disposed to the preservation of Israel for biblical reasons, said Merrill Matthews, an evangelical Christian and a Dallas-based health-policy specialist.
Mrs. Palin was baptized as a teenager at the Wasilla Assembly of God Church. She frequently attends the Juneau Christian Center, which is also part of the Pentecostal Assemblies of God. Her home church is the Church of the Rock, an independent congregation.

"Historically, the Assemblies of God have been dispensationalists, which means they believe in 'the rapture' of Christians that takes them out of the world," said Mr. Matthews. "Central to that position is a very strong support for Israel. It's integral to their view of both prophecy and politics. Denying Israel is almost like denying the faith." (
Evangelical faith drives Palin's pro-Israel view. Washington Times, September 4, 2008.
http://washingtontimes.com/news/2008/sep/04/palins-evangelical-faith-drives-pro-israel-view/
)

Her religious views most likely will affect her political decisions.  And since there is no pre-tribulation rapture (please see Is There A Secret Rapture for the Church? When and Where is the Church Protected?), she may make some decisions based upon biblical misinterpretation.
We seem to be in turbulent times.
Jesus said,
And what I say to you, I say to all: Watch! (Mark 13:37).
Several articles of possibly related interest may include:
Should a Christian Vote? This article gives some of the Biblical rationale on this subject.
Do Catholic Prophecies About Antichrist Warn Against Jesus? Will the final "Anti-Christ" be Jewish, insist on Saturday, be opposed to the trinity, and bring in the millennium? Catholic writings indicate this, but what does the Bible show?
Who is the King of the North? Is there one? Do biblical and Roman Catholic prophecies point to the same leader? Should he be followed? What is prophesied to occur to the USA and its English-speaking allies? Who will be the King of the North discussed in Daniel 11?