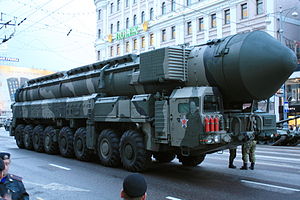 Russian ICBM on Mobile Launcher (Участник:Goodvint)
More Russian-speaking soldiers are in east Ukraine:
August 30, 2014

NOVOAZOVSK, Ukraine (AP) – Their tanks bearing the flag of their would-be state, Russian-backed separatists held control Friday over this coastal town on the new front in the Ukraine conflict and announced their intention to keep pushing west toward a major port city.

None of the half-dozen tanks seen by Associated Press reporters in the town of about 12,000 people bore Russian markings, but the packaging on their field rations said they were issued by the Russian army.

The Ukrainian government the day before accused Russia of sending tanks, artillery and troops across the border, and NATO estimated at least 1,000 Russian troops were in Ukraine.

As tensions rose, European Union foreign ministers called for heavier sanctions against Moscow ahead of Saturday's summit of EU leaders in Brussels. Ukrainian President Petro Poroshenko was invited to address the summit.

The rebels denied they are getting Russian military vehicles.

"We are fighting with the machinery the (Ukrainian forces) abandon. They just dump it and flee," said a rebel commander who identified himself by the nom de guerre Frantsuz, or the Frenchman.

Although such claims of using only confiscated Ukrainian equipment are common, top rebel leader Alexander Zakharchenko himself has said Russia was supplying equipment and fighters – something Moscow has steadfastly denied doing.  http://www.aol.com/article/2014/08/30/russian-backed-rebels-aim-to-push-west-along-coast/20954832/?icid=maing-grid7%7Chtmlws-main-bb%7Cdl1%7Csec1_lnk2%26pLid%3D522838

August 28, 2014

The United States told an emergency meeting of the U.N. Security Council on Thursday that Russia has "outright lied" over its military activity inside Ukraine, where Russian-backed separatists have been fighting Ukrainian armed forces.

The accusation came hours before President Obama said the United States "is not taking military action to solve the Ukrainian problem" but trying to mobilize international pressure on Moscow.

"Russian soldiers, tanks and air defense have supported and fight alongside separatists as they open a new front in a crisis manufactured and fueled by Russia," Samantha Power, U.S. ambassador to the United Nations, told the council. http://www.usatoday.com/story/news/world/2014/08/28/ukraine-town-under-rebel-control/14724767/
Russia's Vladimir Putin sent out condemnations and warnings:
President Vladimir Putin said on Friday Russia's armed forces, backed by its nuclear arsenal, were ready to meet any aggression…

Putin told the assembly, on the banks of a lake near Moscow, the Russian takeover of Crimea in March was essential to save a largely Russian-speaking population from Ukrainian government violence.

He said continued fighting in eastern Ukraine, where pro-Russian separatists launched an uprising in April, was the result of a refusal by Kiev to negotiate. …

"Russia's partners… should understand it's best not to mess with us," said Putin, dressed casually in a grey sweater and light blue jeans.

"Thank God, I think no one is thinking of unleashing a large-scale conflict with Russia. I want to remind you that Russia is one of the leading nuclear powers." …

His tone darkened when speaking on Ukraine, blaming the United States and the European Union for the "unconstitutional" removal of Kiev's former Moscow-backed president Viktor Yanukovich and replacement with a pro-European government.

He said eastern Ukraine did not agree with Yanukovich's removal and was now subjected to "crude military force" from government planes, tanks and artillery.

"If those are contemporary European values, then I'm simply disappointed in the highest degree," he said, comparing Ukraine's military operations in the east of the country with the Nazi siege of Leningrad in World War Two.

"Small villages and large cities surrounded by the Ukrainian army which is directly hitting residential areas with the aim of destroying the infrastructure… It sadly reminds me of the events of the Second World War, when German fascist… occupiers surrounded our cities."  http://news.yahoo.com/putin-says-russia-ready-respond-aggression-123956691.html
The European Union  is upset about all of this and is increasing sanctions:
August 30, 2104

European Union leaders meeting in Belgium on Saturday were preparing to hand down additional sanctions on Russia for its continual meddling in Ukraine.

"Sanctions are not an end in themselves," but are a way to discourage Russia from further destabilizing its neighbor, EU Commission President Jose Manuel Barroso said before an EU leaders' summit in Brussels. "Russia should not underestimate the European Union's will and resolve to stand by its principles and values."

Russia has repeatedly denied claims it is support rebels in Ukraine's east with weapons and expertise, despite NATO estimates that 1,000 Russian soldiers are in Ukraine.

"The opening of new fronts and the use of Russian regular forces (on Ukrainian soil) is not acceptable and represents a grave transgression," said Barroso, who provided no specifics on the sanctions being considered.

"No one's interest is served by new wars on our continent," he added.  http://www.usatoday.com/story/news/world/2014/08/30/russia-ukraine-nato-separatists/14855283/
Notice that EU Commission President Jose Manuel Barroso calls Europe "our continent." Meaning that he does not want Russia (or others) to interfere with the EU's plans for it.  The fact that he wants the entire continent is consistent with the message of the recommended sermon today in the Continuing Church of God that it is not wise to teach that the final European Beast power will be restricted to 10 or 11 nations (watch  Ten Kings of Revelation and the Great Tribulation and/or read the article Must the Ten Kings of Revelation 17:12 Rule over Ten Currently Existing Nations?).
Russia wants Ukraine. Much of Ukraine wants to be part of the European Union.  The European Union wants Ukraine, and the USA wants Ukraine to be part of the European Union.  But the USA has also said, via its President Obama, that it will not be directly involved militarily to defend Ukraine.
The Bible tells of the rise of a European power (see Europa, the Beast, and Revelation) and a Eurasian power (see The Eurasian Union, the Kings of the East, and Bible Prophecy). Ukraine is somewhat in the middle and as I wrote late last year, some type of split could come to Ukraine. The situation in Ukraine remains tense.
Some items of possibly related interest may include:
Russia and Ukraine: Origins and Prophesied Future Where do the Russians come from? What about those in the Ukraine? What is prophesied for Russia and its allies? What will they do to the Europeans that supported the Beast in the end? You can also watch the short video Ukraine in Prophecy?
Russia in the Bible and in Prophecy Is Russia mentioned in the Bible? It it is where is it? Is there any evidence of a people moving to the land that the Russians now occupy? What do Catholic and other prophecies say about Russia? What does the Bible teach? How are Protestants often in error on this? Is there more in biblical prophecy for Russia than war? Does God have a plan to save Russia and her allies? Does Russia have a history involving Sabbath keepers? Does scripture tie Russia in with Armageddon? Will Russia help defeat the end time Babylonian power? What did the Apostle John, and the prophets Isaiah, Jeremiah, and Daniel, write about Russia? This is a sermon-length video.
Ezekiel 38: For Russia & Iran in Our Day? Is Ezekiel 38 about to be fufilled? A related video is available titled Ezekiel 38: For Russia, Ukraine, & Iran Now?
Bible News Prophecy July-Sept. 2014: The Coming Eurasian Union Here is the latest magazine from the Continuing Church of God. The cover of which shows Vladimir Putin and features an article about the coming Eurasian Union.
Europa, the Beast, and Revelation Where did Europe get its name? What might Europe have to do with the Book of Revelation? What about "the Beast"? Is an emerging European power "the daughter of Babylon"? What is ahead for Europe? Here is a link to a video titled: Can You Prove that the Beast to Come is European?
European Technology and the Beast of Revelation Will the coming European Beast power would use and develop technology that will result in the taking over of the USA and its Anglo-Saxon allies? Is this possible? What does the Bible teach? Here is a related YouTube video: Military Technology and the Beast of Revelation.
Must the Ten Kings of Revelation 17:12 Rule over Ten Currently Existing Nations? Some claim that these passages refer to a gathering of 10 currently existing nations together, while one group teaches that this is referring to 11 nations getting together. Is that what Revelation 17:12-13 refers to? The ramifications of misunderstanding this are enormous. A related sermon is titled Ten Kings of Revelation and the Great Tribulation.
World War III: Steps in Progress Are there surprising actions going on now that are leading to WWIII? Might a nuclear attack be expected? Does the Bible promise protection to all or only some Christians? How can you be part of those that will be protected? A related video would be Is World War III About to Begin? Can You Escape?
Wars, rumors of wars, and the Apocalypse Jesus foretold a time before the end where there would be wars and rumors of wars. The Apocalypse (the Book of Revelation) warns of the red horseman of war. Now, even secular writers, like Larry Edelson, are worried that wars and rumors of war are the most menacing problem that now haunts the earth? Are they right? What is the solution? This is a sermonette-length video.
Is Russia the King of the North? Some claim it is. But what does the Bible teach? Here is a link to a video, also titled Is Russia the King of the North?
The Eurasian Union, the Kings of the East, and Bible Prophecy Is there a Eurasian union that will be formed? Is one being formed right now? Are any leaders working on that in the 21st century? Does the Bible teach that there will be a Eurasian union? If some type of Eurasian union is formed, who might it benefit and who will it destroy? A related video would be Is The Eurasian Union Rising?
Who is the King of the North? Is there one? Do biblical and Roman Catholic prophecies for the Great Monarch point to the same leader? Should he be followed? Who will be the King of the North discussed in Daniel 11? Is a nuclear attack prophesied to happen to the English-speaking peoples of the United States, Great Britain, Canada, Australia, and New Zealand? When do the 1335 days, 1290 days, and 1260 days (the time, times, and half a time) of Daniel 12 begin? When does the Bible show that economic collapse will affect the United States? In the Spanish language check out ¿Quién es el Rey del Norte? Here is a link to a video titled: The Future King of the North.
Prophecies of Barack Obama? Reasons why Barack Obama is apocalyptic and reasons why Barack Obama is not the Antichrist. This article includes many biblical and non-biblical prophecies, from around the world, that seem to discuss Barack Obama. Did Nostradamus predict Barack Obama dealing with the Antichrist?  Might Barack Obama set the stage for the kings of the North and South as at least one Shiite prophecy suggests?  Read it and decide for yourself if President Obama seems to be fulfilling various prophecies. Watch also the YouTube Barack Obama and the State of the Apocalypse.