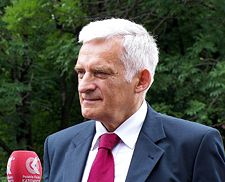 Jerzy Buzek
The former Prime Minister of Poland, Jerzy Buzek, was elected as the head of the EU's parliment:
JULY 14, 2009
EU Parliament Elects Ex-Polish PM Buzek As Pres

-By Carolyn Henson

BRUSSELS (Dow Jones)–The European Union's 736 members of parliament Tuesday elected former Polish prime minister Jerzy Buzek to be the new president of the European Parliament.

Buzek, a member of the conservative European People's Party received a resounding endorsement with 555 votes, compared with 89 vote for Eva-Britt Svensson from Sweden from the communist left.

The new president is the first from the former Communist eastern Europe. His election was "a tribute to the millions of people who didn't bow to a hostile system," he told MEPs in Strasbourg. "There is now no 'you' and 'us': we live in a shared Europe."

Buzek will serve a two-and-a-half year term – half of the new parliament's five-year mandate – before handing over to socialist bloc leader, Germany's Martin Schulz under a deal sealed between the parliament's two biggest factions.

The European Parliament is the only elected institution of the European Union, serving alongside the executive European Commission and the European Council of national governments, and it has joint decision-making with the European Council on key legislative proposals made by the European Commission.

The new Treaty of Lisbon, if voted through in a second Irish vote on Oct. 2, will increase parliament's powers by extending co-decision to virtually all areas of E.U. policy.

The Irish stalled the introduction of the new treaty by voting against it in a referendum last year. The Lisbon Treaty aims to streamline decision-making in the 27-nation E.U. and give Europe a longer-term president, ending a six-monthly nation-by-nation rotation. It would also create stronger E.U. foreign policy chief. http://online.wsj.com/article/BT-CO-20090714-705912.html
The EU is trying for stability, growth, a stronger military, and the appearance of broad representation.  Having a Polish leader who agrees appears helpful for that goal.
Of course, those in the EU generally do not know where all of this is heading.  But those who understand Bible prophecy can.
Two articles of possibly related interest include:
Europa, the Beast, and Revelation Where did Europe get its name? What might Europe have to do with the Book of Revelation? What about "the Beast"? What is ahead for Europe?
Who is the King of the North? Is there one? Do biblical and Roman Catholic prophecies point to the same leader? Should he be followed? Who will be the King of the North discussed in Daniel 11? Is a nuclear attack prophesied to happen to the English-speaking peoples of the United States, Great Britain, Canada, Australia, and New Zealand? When do the 1335 days, 1290 days, and 1260 days (the time, times, and half a time) of Daniel 12 begin?