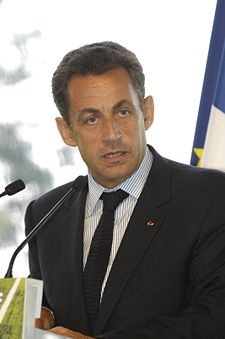 French President Sarkozy
The President of France caused some unrest when he suggested that more stores be  opened on Sunday:
President Sarkozy's move to 'abolish Sunday' sparks hostility

The Times – July 13, 2009 

Charles Bremner

Street markets, long family lunches, strolls in the park . . . For the French, Sunday is a great tradition, a time to enjoy the finer things in life while other silly countries such as Britain keep working. So President Sarkozy's plan to "abolish Sunday" and let the shops open is running into a hail of criticism.

Parliament is due to pass a Bill tomorrow to ease France's strict trading laws, but hostility to it is so widespread that some MPs in Mr Sarkozy's own centre-right camp predict that it could unravel before becoming law.

The President's plan to abolir le dimanche is being resisted by an unlikely coalition of interests, including the centre and left-wing Opposition, the Roman Catholic Church, the trade unions and small shopkeepers who fear losing their existing Sunday business to supermarkets. Up to 60 per cent of the public, according to polls, are also against a scheme that will reverse the century-old right to a day of rest.

The President has made Sunday shopping a personal crusade since he promised it in his 2007 election campaign under his slogan of "work more to earn more". He pillories France as a backward exception to the rest of Europe and has said that he was ashamed when Michelle Obama wanted to take her daughters shopping in Paris on a Sunday last month — he had to arrange a special opening for her at a Left Bank boutique.

"How are we supposed to explain to them that we are the only country where shops are closed on Sunday?" he asked. "We are a country that takes pride in having more tourists than any other, yet we believe the shops must be shut on the day there are the most visitors."

In reality, both sides are exaggerating. Although most shopping centres and non-food shops are closed, the French already work more on Sundays than most Europeans. Limited Sunday trading has been allowed in big French cities and tourist areas since 1993. Many other EU countries restrict Sunday shopping more or as much as France. Germany and Austria are only just getting used to the novelty of Saturday afternoon shopping. Belgium, which Mr Sarkozy has cited as a model, allows Sunday trading in only limited areas.

The only EU countries that allow unlimited Sunday opening are the Czech Republic, Sweden and Romania. Britain has restrictions but its citizens still manage to put in more work than in any other EU state.

Mr Sarkozy abandoned a first attempt to pass his law last December after a rebellion against it in his Union for a Popular Movement. http://www.timesonline.co.uk/tol/news/world/europe/article6695334.ece
The French President is taking a big chance in offending the Vatican over this.  Ultimately, it is probably more likely that the Europeans will accept more Sunday restrictions as opposed to less.
Three articles of possibly related interest may include:
Europa, the Beast, and Revelation Where did Europe get its name? What might Europe have to do with the Book of Revelation? What about "the Beast"? What is ahead for Europe?
Sunday and Christianity Was Sunday observed by the apostolic and true post-apostolic Christians? Who clearly endorsed Sunday?
The Sabbath in the Early Church and Abroad Was the seventh-day (Saturday) Sabbath observed by the apostolic and post-apostolic Church?