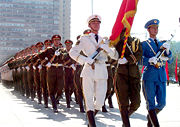 Chinese Soldiers
Russia and China signed 12 agreements today:
China, Russia sign 12 agreements during Putin's visit

BEIJING, Oct. 13 (Xinhua) — China and Russia signed 12 agreements, including agreements on natural gas and oil, as the government heads of the two countries held their 14th regular meeting in Beijing on Tuesday.

The signing ceremony was overseen by Chinese Premier Wen Jiabao and his Russian counterpart Vladimir Putin after their talks in the Great Hall of the People in downtown Beijing…

The level of political mutual trust, strategic and practical cooperation between the two countries has been improved continuously and yielded many achievements, which effectively advances the development of bilateral ties and positively influences world peace and development, he said. The Sino-Russian relations are role models of relations between neighboring countries and relations between big powers, said Wen, adding that China is willing to work with Russia to make greater achievements in the future. http://news.xinhuanet.com/english/2009-10/13/content_12225202.htm
The reality is that Russia and China are prophesied to cooperate more in the future.  Specifically, it appears that China will supply a lot of the troops for the prophesied 200 million man army when it, Russia, and their allies finally turn on the European Beast power that they will to a degree originally support.
Those interested in more details, should study the following:
Asia in Prophecy What is Ahead for China? Is it a "King of the East"? What will happen to nearly all the Chinese, Russians, Indians, and others of Asia? China in prophecy, where? Who has the 200,000,000 man army related to Armageddon?
Is Russia the King of the North? Some claim it is. But what does the Bible teach?
Russia: Its Origins and Prophesied Future Where do the Russians come from? What is prophesied for Russia? What will it do to the Europeans that supported the Beast in the end?
China, Its Biblical Past and Future, Part 1: Genesis and Chinese Characters This article provides information showing that the Chinese peoples must have known about various accounts in the Book of Genesis up until their dispersion after the Tower of Babel.
China, Its Biblical Past and Future, Part 2: The Sabbath and Some of God's Witness in China When did Christianity first come to China? And is there early evidence that they observed the seventh day sabbath?