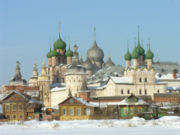 Rostov, Russia
The COGaIC website had the following story linked from its Vision website:
BEIJING, July 21 (Reuters) – China and Russia on Monday signed a pact that finally settled the demarcation of their 4,300-km (2,672-mile) border, the scene of armed clashes during the height of the Cold War.
The "additional protocol on the eastern part of borders" was signed by Chinese Foreign Minister Yang Jiechi and his Russian counterpart, Sergei Lavrov, Xinhua news agency said.
Russia is eager to boost exports of oil, gas and nuclear products to China, the world's second biggest consumer of oil and power, though China's growing world clout is watched with some anxiety by Moscow's elite.
Russia, whose $1.3 trillion economy is booming for a tenth straight year, has forged close ties with China on a number of world issues, including Iran and North Korea.
The fact is that since the Bible indicates that Russia and China will cooperate (Daniel 11:44 comes to immediate mind), it makes sense that these two major nations would resolve some of their longstanding disputes first.
Thus, another piece of the prophetic puzzle is coming together.
Some articles of possibly related interest may include:
Russia: Its Origins and Prophesied Future Where do the Russians come from? What is prophesied for Russia? What will it do to the Europeans that supported the Beast in the end?
China, Its Biblical Past and Future, Part 1: Genesis and Chinese Characters This article provides information showing that the Chinese peoples must have known about various accounts in the Book of Genesis up until their dispersion after the Tower of Babel.
China, Its Biblical Past and Future, Part 2: The Sabbath and Some of God's Witness in China When did Christianity first come to China? And is there early evidence that they observed the seventh day sabbath?
Asia in Prophecy What is Ahead for China? Is it a "King of the East"? What will happen to nearly all the Chinese, Russians, and others of Asia? China in prophecy, where?
Europa, the Beast, and Revelation Where did Europe get its name? What might Europe have to do with the Book of Revelation? What about "the Beast"?