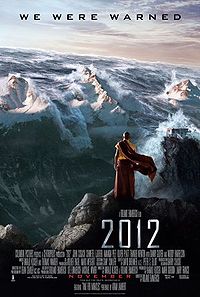 As those of us who have seen Sony's 2012 movie may have expected, many in China are very pleased with how China is portrayed in the movie:
Associated Press – Nov 20, 2009  By CHI-CHI ZHANG

BEIJING — When the apocalypse comes, China will save the world.

Or at least that's how Chinese audiences are interpreting "2012," Hollywood's latest blockbuster disaster movie.

"It's about time the world sees us as a dominant ally," said Liu Xinliang, 27, a Beijing-based computer programmer who watched the movie twice.

The movie, currently No. 1 in the U.S., is also No. 1 in China, grossing $17.2 million here since it opened Nov. 13.

Associated Press writer Niniek Karmini in Jakarta, Indonesia, contributed to this report.

http://www.google.com/hostednews/ap/article/ALeqM5gBYH6FvSiCoM9lMbs5bqu9WXsbKgD9C38RBO0
Now despite Hollywood hype, according to the Bible China is not expected to save the world in 2012.
However, the Bible does tell of a time when the Chinese will turn against the European Beast power and attempt to bring an end to that horrific system.
Muslims also believe in an end of the world scenario–but it, like the biblical version–differs from how Sony portrays it (Sony's is based upon a particular interpretation of Mayan prophecies).
But the end of the world as we know it will come.  And all nations, including China, the USA, and Indonesia will be affected.
More about China and prophecies concerning it from a biblical perspective (as well as how certain Chinese prophecies seem to line up with the Bible), please check out the following:
2012 and the Rise of the Secret Sect This is a link related to a book by Bob Thiel (COGwriter). This also has YouTube videos related to 2012.  The book contains documented prophecies as well as an end time sequence of events that Christians should study and understand.  Including the role of nations such as China and what Islam teach and where such line up with biblical prophecy.
China, Its Biblical Past and Future, Part 1: Genesis and Chinese Characters This article provides information showing that the Chinese peoples must have known about various accounts in the Book of Genesis up until their dispersion after the Tower of Babel.
China, Its Biblical Past and Future, Part 2: The Sabbath and Some of God's Witness in China When did Christianity first come to China? And is there early evidence that they observed the seventh day sabbath?
Asia in Prophecy What is Ahead for Asia? Who are the "Kings of the East"? What will happen to nearly all the Chinese, Russians, Indians, and others of Asia? China in prophecy, where? Who has the 200,000,000 man army related to Armageddon?