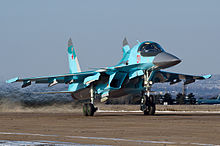 Russian Sukhoi Su-34 Strike Fighter (Alex Beltyukov)

Russia has been using a base in Iran to strike against forces opposed to Syria's Bashar al-Assad:
August 18, 2016

Russia has said its use of an Iranian airbase to carry out bombing missions in Syria does not violate a UN resolution that forbids supplying fighter jets to Tehran.

"There has been no supply, sale or transfer of combat jets to Iran," Russian Foreign Minister Sergei Lavrov said on Wednesday in comments reported by the Russian state news agency TASS.

"These jets are being used by Russian Air forces with Iranian consent within an anti-terrorist operation in Syria on the request of the legal Syrian government." …

The defence ministry in Moscow said on Wednesday that Russian Su-34 warplanes took off from an airbase in Iran and conducted a raid against ISIL in the Syrian province of Deir al-Zour.

The attack hit two ISIL command points and large training camps, "eliminating more than 150 militants", the ministry said in comments carried by TASS.

Al Jazeera's Reza Sayah, reporting from Gazientep on the Turkey-Syria border, said recent rebel victories, including the breaking of the siege of rebel-held Aleppo, may have been behind Russia's decision to use the air base.

"In recent weeks, the rebels have gained some momentum, including the breaking of the government's siege of Aleppo. The recent battlefield victories are another reason why some expect the Russian air campaign to intensify with the help from the air base in Iran."

On Tuesday, Russian fighter jets used an Iranian airbase for the first time for military actions in Syria, TASS reported.

Abdul Jabbar al-Okaidi, an opposition leader and spokesman for the Free Syrian Army in Aleppo told Al Jazeera that the Russian move was "not a surprise."

"Russia and Iran are partners in the killing of the Syrian people and partners in support of Assad. There is no reason to be surprised. This has become a game. First it was the Americans, then the Russians and now the Iranians. The only losers are the Syrian people who are being killed in the name of fighting terrorism." http://www.aljazeera.com/news/2016/08/russia-defends-iran-base-syria-airstrikes-160817150527953.html
An 'independent' who was once part of the same COG group I was, emailed me and wanted to tie Russia's use of an Iranian base and its current cooperation with China to Ezekiel 38 and Ezekiel 39.
Is it?
No. At least not in the sense he meant it.
He sent the following in two emails (blue color from him):
Ezekiel 38 is in our time (Ezekiel 39:22 proves that).

The only clue as to when this prophecy applies is 39:22.
I responded back by trying to have him look at the context with Ezekiel 39:21 as well as information related to Ezekiel 38. So, let's look at Ezekiel 39:21-22 to see if this is pointing to Ezekiel 38 being for 'our time' meaning prior to the start of the Great Tribulation, etc.:
21 "I will set My glory among the nations; all the nations shall see My judgment which I have executed, and My hand which I have laid on them. 22 So the house of Israel shall know that I am the Lord their God from that day forward. (Ezekiel 39:21-22)
Verse 22 does not prove that Ezekiel 38 is 'for our time.' The 'house of Israel' does NOT know who the real God is and will not know until after the Great Tribulation.
Notice the first 6 verses from Ezekiel 38:
1 Now the word of the Lord came to me, saying, 2 "Son of man, set your face against Gog, of the land of Magog, the prince of Rosh, Meshech, and Tubal, and prophesy against him, 3 and say, 'Thus says the Lord God: "Behold, I am against you, O Gog, the prince of Rosh, Meshech, and Tubal. 4 I will turn you around, put hooks into your jaws, and lead you out, with all your army, horses, and horsemen, all splendidly clothed, a great company with bucklers and shields, all of them handling swords. 5 Persia, Ethiopia, and Libya are with them, all of them with shield and helmet; 6 Gomer and all its troops; the house of Togarmah from the far north and all its troops — many people are with you.

7 "Prepare yourself and be ready, you and all your companies that are gathered about you; and be a guard for them.
Verses 1-7 talk about a group getting ready to battle. Various nations such as Russia, Iran, Asians, and others are included here.
But what does the Bible actually teach about the timing?
Notice the next two verses from Ezekiel 38:
8 After many days you will be visited. In the latter years you will come into the land of those brought back from the sword and gathered from many people on the mountains of Israel, which had long been desolate; they were brought out of the nations, and now all of them dwell safely. 9 You will ascend, coming like a storm, covering the land like a cloud, you and all your troops and many peoples with you."
Verses 8-9 refer to a regathering of Israel. Why do certain prophecy watchers say that it is for now?
Well, PCG's Gerald Flurry claimed to get some type of message (see PCG's Gerald Flurry somewhat calling himself the 'son of man' and claims to have God's message for Vladimir Putin), but his message does not trump the Bible.
The 'independent' individual who wrote me, in my view, has let his independence confuse him.
Ezekiel 38 is something various Protestants have also misunderstood in light of events over the past couple of years.
CBN, for example, reported:
Russia's New Alliance: Biblical Prophecy Coming to Life?

Rosenberg refers to the book of Ezekiel and prophecies that involve an alliance of Russia, Syria, and Iran all alligned against Israel.

He told CBN News that for the first time in 2,500 years that scenario is a reality. He is quick, however, to downplay whether biblical prophecy is in fact being fulfilled with these recent developments. http://www.cbn.com/cbnnews/insideisrael/2015/October/Russias-New-Alliance-Biblical-Prophecy-Coming-to-Life/
Some Protestant prophecy watchers believe that the addition of Russian forces to the region will lead to the relatively near term fulfillment of prophecies in Ezekiel 38 and 39. As far as Ezekiel 38 goes, it cannot be fulfilled for over a thousand years from now (see also Ezekiel 38: For Russia & Iran in Our Day?).
Why do certain Protestants have a different view?
Because various Protestants believe that the creation of the nation of Israel in 1948 fulfills verse 8. Notice one example:
GOD warns Iran (Persia), with Russia (Magog), and a coalition of allies (including Turkey, Libya, Sudan) will go to war and will invade Israel. In Ezekiel 38-39 the Bible warns this coming war between Iran (Persia) and Israel will take place sometime after Israel has been re-gathered into Her land as a nation (which was fulfilled on May 14, 1948) http://www.alphanewsdaily.com/Warning%206%20Russia%20Iran%20Invasion.html accessed 10/17/15
Yet, this is not really the fulfillment for several reasons (watch also the video Israel, 1948, and Prophecy).
One reason is that even today most Jews do not live in the nation of Israel. The Jewish diaspora is scattered throughout the world. But the other problem is that many do not realize that there are multiple millions of the descendants of Israel that are not of the tribe of Judah. The Bible shows that Israel split into the kingdoms of Judah and Israel after the reign of Solomon and that later the ten tribes that were part of Israel (cf. 1 Kings 11:31,35; 12:16-17; 12:20-23) were carried into captivity (2 Kings 17:21-23). Those tribes represent hundreds of millions of people currently alive, and as there are less than 6,000,000 Jews in Israel, most simply have not been regathered (more information on the tribes of Israel is in the article Anglo – America in Prophecy & the Lost Tribes of Israel).
Furthermore, pay close attention to the part of verse 8 about people dwelling safely. That is NOT the case in Israel today.
Additionally, notice verses 10-13:
10 'Thus says the Lord God: "On that day it shall come to pass that thoughts will arise in your mind, and you will make an evil plan: 11 You will say, 'I will go up against a land of unwalled villages; I will go to a peaceful people, who dwell safely, all of them dwelling without walls, and having neither bars nor gates' —  12 to take plunder and to take booty, to stretch out your hand against the waste places that are again inhabited, and against a people gathered from the nations, who have acquired livestock and goods, who dwell in the midst of the land. 13 Sheba, Dedan, the merchants of Tarshish, and all their young lions will say to you, 'Have you come to take plunder? Have you gathered your army to take booty, to carry away silver and gold, to take away livestock and goods, to take great plunder?'"'
The nation of Israel currently has its walls and "iron dome" and military weaponry.
Notice that it is against a 'peaceful people' in unarmed villages that the prince of Rosh is going against. This cannot happen until AFTER the return of Jesus.
Furthermore, there simply is not a plan to take a lot of gold and silver out of Israel right now by the power of the far north, nor does the current nation of Israel have enough of it to likely justify an attack for that purpose (unless perhaps some hidden gold/silver mines or remaining treasure of David).
Notice the following:
Israel holds no gold reserves at all, according to a Bank of Israel spokesman. (Kopf S. Jerusalem of Gold. Jerusalem Post, February 16, 2011. http://www.jpost.com/Jerusalem-Report/Israel/Jerusalem-of-Gold viewed 07/21/14)
According to Index Mundi, the nation of Israel was not amongst the top 48 producers of silver in the world, so its supply of this would also seem to be limited–it also confirmed that Israel does not have gold reserves (though there is some gold and silver in coins, etc. in Israel). Israel in the early 21st century is NOT the target of Ezekiel 38.
Ezekiel was further inspired to write:
14 "Therefore, son of man, prophesy and say to Gog, 'Thus says the Lord God: "On that day when My people Israel dwell safely, will you not know it?  15 Then you will come from your place out of the far north, you and many peoples with you, all of them riding on horses, a great company and a mighty army. 16 You will come up against My people Israel like a cloud, to cover the land. It will be in the latter days that I will bring you against My land, so that the nations may know Me, when I am hallowed in you, O Gog, before their eyes." (Ezekiel 38:1-17)
So, a power from the far north, which would seem to have to be Russian-led as it is the only major military power in the far north now, and may be the only one also in the future, will come. But again, notice that this happens when Israel is dwelling safely.
Notice the following observation by the old Worldwide Church of God:
The events of Ezekiel 38 and 39 are without question still future – for the "latter days" (38: 16) and "latter years" (38:8). Moreover, Ezekiel 38:14 describes the time setting as being "in that day when my people of Israel dwelleth safely." This is certainly not the situation in the State of Israel to- day! The Israel described by Ezekiel is a nation that dwells in security, in unwalled villages, totally unprepared for war (38:8, 11, 14). (Southeast Asia in Prophecy. Ambassador College Press, 1985)
And while Ezekiel 38 does mention Russia and Iran, the tiny nation of Israel is not now a "land of unwalled villages" with "a peaceful people who dwell safely" (Ezekiel 38:10-11). Can anyone seriously believe that it is?
We are not particularly close to the fulfillment of Ezekiel 38. Those who believe otherwise are in error.
There are, however, many Jewish, Protestant (see Dangerous Protestant Prophetic Errors), Catholic (e.g. Do Certain Catholic Prophecies About Antichrist Warn Against Jesus?), and even COG (watch Laodicean Errors in Prophecy) errors in prophecy. Believe what the Bible says above false traditions and interpretations of men. You may also wish to watch the video Russia, Iran, Syria, & the Bible (Code).
While few wish to believe it, the West or even Russia will not solve the problems in that region of the world. It will take the return of Jesus Christ and the establishment of the Kingdom of God to truly solve all of the conflicts in the world, including those in Syria and Iran. And more conflict is coming first.
Some items of possibly related interest may include:
Ezekiel 38: For Russia & Iran in Our Day? Is Ezekiel 38 about to be fulfilled? A related video is available titled Ezekiel 38: For Russia, Ukraine, & Iran Now? Another could be Russia, Iran, Syria, & the Bible (Code).
The Eurasian Union, the Kings of the East, and Bible Prophecy Is there a Eurasian union that will be formed? Is one being formed right now? Are any leaders working on that in the 21st century? Does the Bible teach that there will be a Eurasian union? If some type of Eurasian union is formed, who might it benefit and who will it destroy? A related video would be Is The Eurasian Union Rising?
When Will the Great Tribulation Begin? 2016, 2017, or 2018? Can the Great Tribulation begin today? What happens before the Great Tribulation in the "beginning of sorrows"? What happens in the Great Tribulation and the Day of the Lord? Is this the time of the Gentiles? When is the earliest that the Great Tribulation can begin? What is the Day of the Lord? Who are the 144,000? Here is a version of the article in the Spanish language: ¿Puede comenzar la Gran Tribulación en 2016 o 2017? ¿Es el Tiempo de los Gentiles? You can also see the English language sermon videos: The Great Tribulation from the Mount of Olives and Can the Great Tribulation begin before 2020? A shorter video is: Can the Great Tribulation Start in 2016?
Does God Have a 6,000 Year Plan? What Year Does the 6,000 Years End? Was a 6000 year time allowed for humans to rule followed by a literal thousand year reign of Christ on Earth taught by the early Christians? Does God have 7,000 year plan? What year may the six thousand years of human rule end? When will Jesus return? 2024 or 20xx? There is also a video titled The 6000 Year Plan: Is the end of humanity's reign almost up? Here is a link to the article in Spanish: ¿Tiene Dios un plan de 6,000 años?
Russia and Ukraine: Their Origins and Prophesied Future Russia in prophecy. Where do the Russians come from? What about those in the Ukraine? What is prophesied for Russia and its allies? What will they do to the Europeans that supported the Beast in the end? There is also a video sermon available: Russia in the Bible and in Prophecy and a video sermonette available: Ukraine in Prophecy?
Iran in Prophecy Is Iran in Bible prophecy? If so, what does the Bible teach? What names, other than Persia, may be used to describe Iran? There is also a YouTube video titled Iran In Prophecy.
Damascus and Syria in Prophecy Will Bashar Assad hold power as he has it? Does the Bible show that Damascus, the capital of Syria, will be destroyed? What will happen to Syria? Will the Syrians support the final King of the South that the Bible tells will rise up? Which scriptures discuss the rise and fall of an Arabic confederation? Does Islamic prophecy predict the destruction of Syria.
Is Russia the King of the North? Some claim it is. But what does the Bible teach? Here is a link to a video, also titled Is Russia the King of the North?
World War III: Steps in Progress Are there surprising actions going on now that are leading to WWIII? Might a nuclear attack be expected? Does the Bible promise protection to all or only some Christians? How can you be part of those that will be protected? A related video would be Is World War III About to Begin? Can You Escape?
The Gospel of the Kingdom of God This free online pdf booklet has answers many questions people have about the Gospel of the Kingdom of God and explains why it is the solution to the issues the world is facing.
The Gospel of the Kingdom of God was the Emphasis of Jesus and the Early Church Did you know that? Do you even know what the gospel of the kingdom is all about? You can also see a YouTube video sermons Why Teach the Kingdom of God? and The Gospel of the Kingdom.
Jerusalem: Past, Present, and Future What does the Bible say about Jerusalem and its future? Is Jerusalem going to be divided and eliminated? Is Jesus returning to the area of Jerusalem? There is also a related YouTube video you can watch titled Jerusalem To be divided and eliminated.
The Gospel of the Kingdom of God This free online pdf booklet has answers many questions people have about the Gospel of the Kingdom of God and explains why it is the solution to the issues the world is facing.
The 'Peace Deal' of Daniel 9:27 This prophecy could give up to 3 1/2 years advance notice of the coming Great Tribulation. Will most ignore or misunderstand its fulfillment? Here is a link to a related sermon video Daniel 9:27 and the Start of the Great Tribulation.
How Will Middle East Peace be Brought About? Can humans bring peace to the Middle East? Here is a link to a related video: Middle East Peace? When?
Anglo – America in Prophecy & the Lost Tribes of Israel Are the Americans, Canadians, English, Scottish, Welsh, Australians, Anglo-Saxon (non-Dutch) Southern Africans, and New Zealanders descendants of Joseph? Where are the lost ten-tribes of Israel? Who are the lost tribes of Israel? What will happen to Jerusalem and the Jews in Israel? Will God punish the U.S.A., Canada, United Kingdom, and other Anglo-Saxon nations? Why might God allow them to be punished first? Here is a link to the Spanish version of this article: Anglo-América & las Tribus Perdidas de Israel. Information is also in the YouTube sermons titled Where are the Ten Lost Tribes? Why does it matter? and British are the Covenant People. A short YouTube of prophetic interest may be Barack Obama and the State of the Apocalypse.