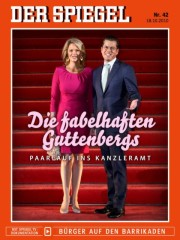 Stephanie and Karl zu Guttenberg visited the Ground Zero area in New York earlier this week (what follows is machine-translated from German):
The Bild newspaper has two Guttenberg draped front of the memorial to the victims of terrorist attacks at Ground Zero, in her short cocktail dress, he in jeans, open shirt and three-day beard…Learning from America means learning a new start. When it comes to image, the Guttenberg may also like to think politically…Every new beginning is a personal indulgence. (German language links throughout this post for news sources: http://www.sueddeutsche.de/bayern/ex-minister-in-new-york-guttenbergs-ground-zero-show-1.1142531)
While there, Baron Karl zu Guttenberg said, "Knowing that together are Germany and the United States must never separate the Atlantic" (http://www.stern.de/politik/deutschland/die-guttenbergs-in-der-bild-zeitung-comeback-am-ground-zero-1726942.html).  This may sound good to many, but it is possible that the former Defense Minister of Germany be part of a plan that will not end up so well for the USA.
As regular readers of this page are aware, I have had my eye on one-time German Defense Minister Baron Karl-Theodor zu Guttenberg since late 2009 as one who could possibly fulfill the role of the final King of the North.  He and his family recently temporarily exiled themselves from Germany and (about three weeks ago) moved to an expensive area in Connecticut (see also Baron Guttenberg's House May Fulfill a Prophecy (and is in a Celebrity Neighborhood) (the following is machine-translated and then with some of the English corrected by me:
Former Defence Minister Karl-Theodor zu Guttenberg, who left Germany in silence in late August, and moved…, along with his family to the U.S. State of Connecticut has moved.  He told Der Spiegel he has purchased an expensive property there for three million euros, and is less than an hour's drive from New York…

Since his resignation as Minister,  Guttenberg has withdrawn completely from public life. Shortly before moving to the U.S., however, he celebrated at the Berlin bar scene until the early morning hours with his friends farewell from Germany.What Guttenberg is doing exactly at the new home remains unclear…His wife Stephanie said, "We remain German, with all our heart. And we will come back. That's for sure." (http://www.spiegel.de/politik/deutschland/0,1518,785483,00.html)
The one-time Economics Minister for Germany resigned his Defense Minister post because of a plagiarism scandal related to his at least partially apparently copied doctoral dissertation.  And although the Guttenbergs left Germany, they intend to return.  Other than claiming he wanted to think and write a book, Karl Guttenberg has not stated why he is in the USA.
As I have mentioned before, Karl Guttenberg's scandal and exile appear to be consistent with certain Roman and Orthodox Catholic prophecies about a leader commonly referred to as the Great Monarch and possibly biblical prophecy concerning the Beast, the final King of the North see also Might German Baron Karl-Theodor zu Guttenberg become the King of the North?). Notice a passage from the Bible (three different translations shown) that seems somewhat supportive of that view:
21 And there shall stand up in his place one despised, and the kingly honour shall not be given him: and he shall come privately, and shall obtain the kingdom by fraud. (Daniel 11:21, Douay-Rheims)

21 "'His place will be taken by a reject, a man spurned and passed over for advancement. He'll surprise everyone, seemingly coming out of nowhere, and will seize the kingdom. (Daniel 11:21 from THE MESSAGE: The Bible in Contemporary Language © 2002 by Eugene H. Peterson. All rights reserved.)

21 And in his place shall stand up a contemptible person, to whom they had not given the honor of the kingdom: but he shall come in time of security, and shall obtain the kingdom by flatteries. (Daniel 11:21, ASV)
Here are a few other passages that related to the final Beast, the final King of the North, that indicates the Beast has certain corruption and planning tendencies:
23 "And in the latter time of their kingdom,
When the transgressors have reached their fullness,
A king shall arise,
Having fierce features,
Who understands sinister schemes.
24 His power shall be mighty, but not by his own power;
He shall destroy fearfully,
And shall prosper and thrive;
He shall destroy the mighty, and also the holy people.

25 "Through his cunning
He shall cause deceit to prosper under his rule;
And he shall exalt himself in his heart.
He shall destroy many in their prosperity. (Daniel 8:23-25)
The comment about "cunning" indicates that image is important to him, and parts of the German press indicated that image is the reason he and his wife visited Ground Zero (http://www.sueddeutsche.de/bayern/ex-minister-in-new-york-guttenbergs-ground-zero-show-1.1142531).  Learning more about the USA could be helpful for him if Baron Guttenberg returns to politics and/or becomes the final King of the North of biblical prophecy.
If Karl-Theodor zu Guttenberg eventually establishes a new religious order within Catholicism (cf. Daniel 11:38), promotes European unity (Revelation 17), promotes ecumenism, promotes peace in the Middle East (even if he simply makes a statement endorsing it when he is in another land, including possibly while in the USA, cf. Daniel 9:26-27), and/or otherwise rises up in European politics, he could be very interesting to watch. He now may have the time to do some of these things. If he is the one, his temporary exile in the USA will give him better insight into the USA and probably contacts that he may exploit later, perhaps as a subterfuge for an attack on the USA (cf. Daniel 11:39).  If he also ends up on very good terms with Cardinal Koch (see Kurt Koch Made a Cardinal: Might He Become the Antichrist?) or other ecumenical Catholic and/or Protestant leaders, this may also be an indicator–and could be a strong indicator–of a possible King of the North role for him.
On the other hand, Karl-Theodor zu Guttenberg could simply be a normal politician, with ups and downs like many others. We will see.
Much is happening in the world, and a leader known as the final King of the North (or Beast) in Bible prophecy, will ultimately become the leader of Europe. And according to the Bible, he will have military abilities (Revelation 13:1-4) and apparently be charismatic (cf. Daniel 7:20,11:21-24,31; Revelation 13:3-5). Karl zu Guttenberg seemingly fulfills these requirements.
We all should watch (cf. Mark 13:37).
Some articles of possibly related interest may include:
Europa, the Beast, and Revelation Where did Europe get its name? What might Europe have to do with the Book of Revelation? What about "the Beast"?
Who is the King of the North? Is there one? Do biblical and Roman Catholic prophecies point to the same leader? Should he be followed? Who will be the King of the North discussed in Daniel 11? Is a nuclear attack prophesied to happen to the English-speaking peoples of the United States, Great Britain, Canada, Australia, and New Zealand? When do the 1335 days, 1290 days, and 1260 days (the time, times, and half a time) of Daniel 12 begin? What MUST happen BEFORE the Great Tribulation?
Might German Baron Karl-Theodor zu Guttenberg become the King of the North? Is the German Defense Minister one to watch? What do Catholic, Byzantine, and biblical prophecies suggest?