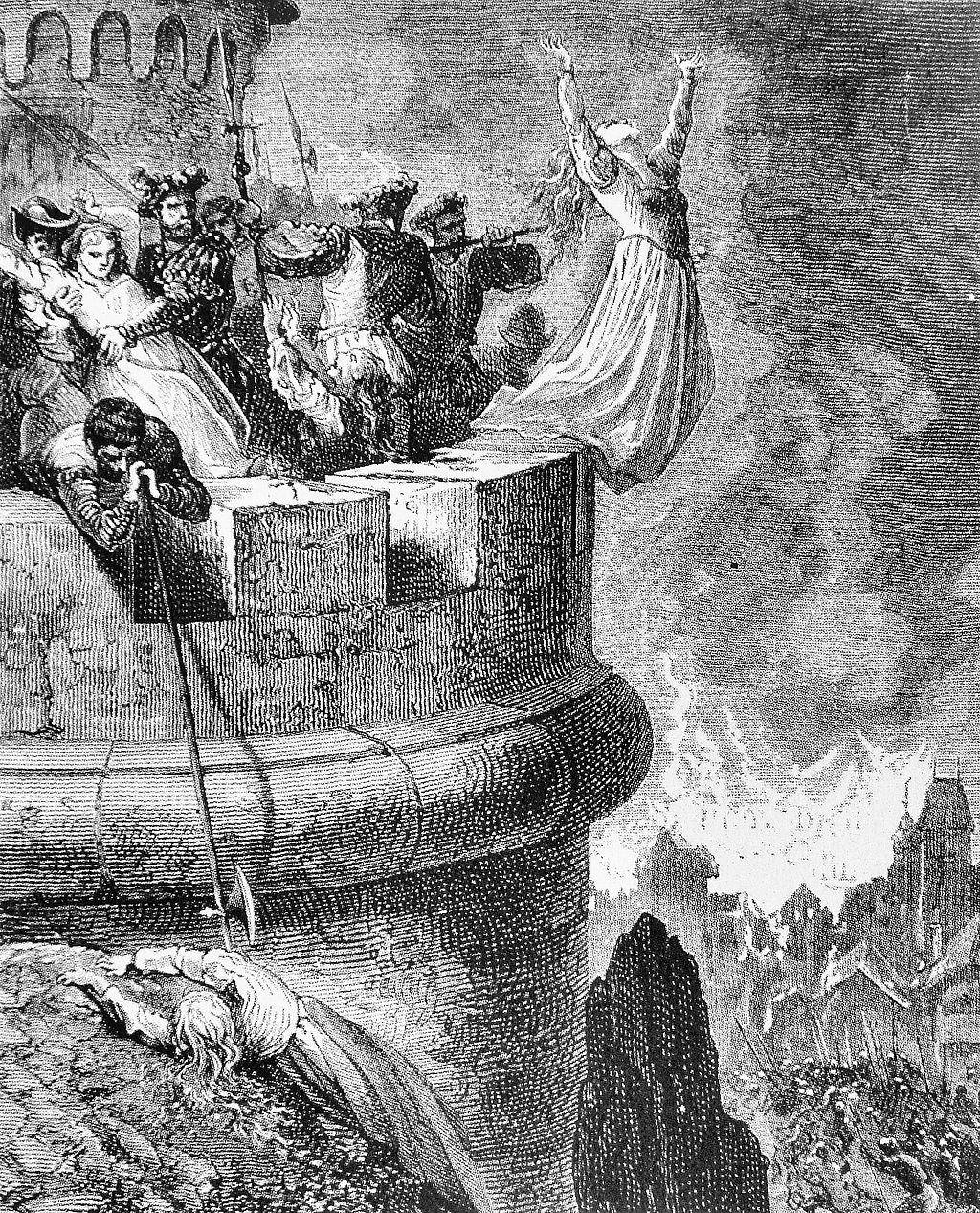 Artist depiction of Catholic Massacre of the Waldensians of Merindol in 1545
More and more, governments and 'media' companies are censoring (directly or indirectly) views they do not agree with.
But, of course, having problems for standing up for unpopular views, even when true, has always had risks.
In general, the 'woke' crowd, which normally includes most of the media, asserts the following are misinformation or otherwise wrong:
Life begins at conception.
LGBTQ people can change their sexual orientation, and should be helped if they want it to change.
People of all ethnic backgrounds can be hateful racists.
Spontaneous generation of life is impossible.
XX chromosomes make one a woman, whereas XY chromosomes make one a man.
Heterosexual intercourse is normal.
Acquired immunity to COVID is not inferior to vaccine immunity.
If masks are required for citizens, then protesters and those who wish to enter the USA illegally should also wear them.
Pornography harms society.
Yet, every statement above is true and 'follows the science.' Big Tech will banish people who make several of those statements.
Mike Gendron's lead article in a past newsletter was titled Telling the Truth May Get You Killed. Here is some of what it said:
Have you ever considered why religious people plotted to kill the Lord Jesus 2000 years ago? Why would devout Jews, who had a zeal for God, kill one of their prophets? It was not because He was so merciful (Luke 23:34). Nor was it because of His abundant grace and sacrificial love (John 15:13). So why did the religious leaders seek to have Jesus crucified? This may surprise you. It was because Jesus told them the truth (John 8:40). He proclaimed the truth about Himself and the truth about who they were (John 8:44). As the personification of truth, He declared His Word to be the truth (John 14:6; 17:3). He told them that He came from heaven to testify to the truth (John 18:37). He did not come to be a man-pleaser, but to do the will of God. This truth angered the Jews so much they plotted to have Him killed. The self-righteous Jews became incensed when Jesus said, "Unless you believe that I am He, you will die in your sins" (John 8:24). Their religious pride, a powerful tool of the devil, had blinded them from the truth (2 Cor. 4:4). It is no wonder the proud oppose God, and God opposes the proud (Jas. 4:6). In one of the Bible's curious paradoxes, people were put to death for telling the truth, but made alive for believing the truth (John 5:24). (August 2016)

Mike Gendron is a former Roman Catholic.
Let me add that Jesus made it clear that His true followers would face persecution:
12… they will lay their hands on you and persecute you, delivering you up to the synagogues and prisons. You will be brought before kings and rulers for My name's sake (Luke 21:12).

20 If they persecuted Me, they will also persecute you (John 15:20).

2… yes, the time is coming that whoever kills you will think that he offers God service. 3 And these things they will do to you because they have not known the Father nor Me. 4 But these things I have told you, that when the time comes, you may remember that I told you of them. And these things I did not say to you at the beginning, because I was with you (John 16:2-4).
Now, does this mean that in the end times, all who claim to be Christian will be killed?
No.
But all who are real Christians will be subject to persecution. And telling the truth can get you killed.
Notice the following prophecy:
25 He shall speak pompous words against the Most High, Shall persecute the saints of the Most High, And shall intend to change times and law. Then the saints shall be given into his hand For a time and times and half a time. (Daniel 7:25)
The "he" is the "Beast of the Sea" in Revelation 13:1-10, and is called the King of the North in Daniel 11. He will feign some CHANGED version of a religion he will call "Catholic" or "Christian." Saints will be subject to persecution before the Great Tribulation as well as during it as Daniel 9:25 and other parts of the Bible point out.
In the Book of Acts, we see many instances where Christians were killed, or otherwise subject to persecution for telling the truth (see the article The Book of Acts).
Persecutions are not simply a thing of the past.
In the past, Christians were persecuted because they:
The above were Beliefs of the Original Catholic Church.
In the future, according to Greco-Roman Catholic teachings, they also will be persecuted for:
These persecutions sometimes included economic problems (cf. Revelation 13:16-17), verbal harassment, torture, and/or threat of death, often causing them to flee. The same things face Christians in this 21st century.
In modern times, government officials in various lands have taken positions against the Bible, biblical morality, and speaking biblical truths.
More persecution is coming–and some of those will be for the very reasons they did before–that real Christians will tell the truth and 'contend for the faith once for all delivered to the saints' (Jude 3).
A message that Jesus warned would bring persecution.
Some items of related interest may include:
Persecutions by Church and State This article documents some that have occurred against those associated with the COGs and some prophesied to occur. Will those with the cross be the persecutors or the persecuted–this article has the shocking answer. There is also a YouTube video sermon you can watch: The Coming Persecution of the Church.
The Spanish Inquisition and Early Protestant Persecutions Was the Church of Rome really responsible for this? What happened? A video of related interest is titled: The Past and Future Inquisition.
Waldensian Treatise on Antichrist These are translated extracts from a likely 13th/14th century paper titled A Treatise concerning Antichrist, Purgatory, the Invocation of Saints, and the Sacraments.
The Thyatira Church Era was predominant circa 1050 A.D. to circa 1600 A.D. The Church during the Inquisition. It claimed succession from the apostles. Here is a link toa related sermon: Thyatira, Succession, and Jezebel.
Will the Interfaith Movement Lead to Peace or Sudden Destruction? Is the interfaith movement going to lead to lasting peace or is it warned against? A video sermon of related interest is: Will the Interfaith Movement lead to World War III? and a video sermon is also available: Do You Know That Babylon is Forming?
Beware: Protestants Going Towards Ecumenical Destruction! What is going on in the Protestant world? Are Protestants turning back to their 'mother church' in Rome? Does the Bible warn about this? What are Catholic plans and prophecies related to this? Is Protestantism doomed? See also World Council of Churches Peace Plan.
Why Should American Catholics Fear Unity with the Orthodox? Are the current ecumenical meetings a good thing or will they result in disaster? Is doctrinal compromise good? Here is a link to a related video Should you be concerned about the ecumenical movement?
Why Should American Catholics Fear Unity with the Orthodox? Are the current ecumenical meetings a good thing or will they result in disaster? Is doctrinal compromise good? Here is a link to a related video Should you be concerned about the ecumenical movement?
Orthodox Must Reject Unity with the Roman Catholics Unity between these groups will put them in position to be part of the final end time Babylon that the Bible warns against as well as require improper compromise.
Laudato Si: Pope's Agenda or Kingdom of God? Pope Francis' 2nd encyclical is titled 'Laudato Si.' In it, he goes over his views related to environmental, economic, social, moral, agricultural, and spiritual issues. He advocates international cooperation to solve various problems he believes are affecting humanity. Is that Pope's agenda the solution? What about the Kingdom of God? does the Bible teach? Two related articles include Laudato Si: Will Pope Francis' economic actions match his words? and Laudato Si: A call for a one-world government?
Early Church History: Who Were the Two Major Groups Professed Christ in the Second and Third Centuries? Did you know that many in the second and third centuries felt that there were two major, and separate, professing Christian groups in the second century, but that those in the majority churches tend to now blend the groups together and claim "saints" from both? "Saints" that condemn some of their current beliefs. Who are the two groups?
Beliefs of the Original Catholic Church. Did the original "catholic church" have doctrines held by the Continuing Church of God? Did Church of God leaders uses the term "catholic church" to ever describe the church they were part of? Here are links to related sermons: Original Catholic Church of God? , Original Catholic Doctrine: Creed, Liturgy, Baptism, Passover, and What Type of Catholic was Polycarp of Smyrna?, Tradition, Holy Days, Salvation, Dress, & Celibacy, and Early Heresies and Heretics, and Doctrines: 3 Days, Abortion, Ecumenism, Meats, Tithes, Crosses, Destiny, and more, and Saturday or Sunday?
Do You Practice Mithraism? Many practices and doctrines that mainstream so-called Christian groups have are the same or similar to those of the sun-god Mithras. December 25th was celebrated as his birthday. Do you follow Mithraism combined with the Bible or original Christianity? A sermon video from Vatican City is titled Church of Rome, Mithras, and Isis?
Where is the True Christian Church Today? This free online pdf booklet answers that question and includes 18 proofs, clues, and signs to identify the true vs. false Christian church. Plus 7 proofs, clues, and signs to help identify Laodicean churches. A related sermon is also available: Where is the True Christian Church? Here is a link to the booklet in the Spanish language: ¿Dónde está la verdadera Iglesia cristiana de hoy?
Continuing History of the Church of God This pdf booklet is a historical overview of the true Church of God and some of its main opponents from Acts 2 to the 21st century. Related sermon links include Continuing History of the Church of God: c. 31 to c. 300 A.D. and Continuing History of the Church of God: 4th-16th Centuries and Continuing History of the Church of God: 17th-20th Centuries. The booklet is available in Spanish: Continuación de la Historia de la Iglesia de Dios, German: Kontinuierliche Geschichte der Kirche Gottes, French: L'Histoire Continue de l'Église de Dieu and Ekegusii Omogano Bw'ekanisa Ya Nyasae Egendererete.
The History of Early Christianity Are you aware that what most people believe is not what truly happened to the true Christian church? Do you know where the early church was based? Do you know what were the doctrines of the early church? Is your faith really based upon the truth or compromise?