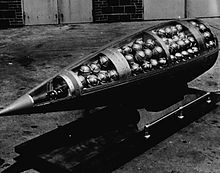 Old USA missile loaded with sarin gas cluster bombs
The USA and Russia seem to differ on who seems to have used chemical weapons in Syria yesterday:
Trump On Collision Course With Putin After Moscow Denies Syria Behind Chemical Attack

April 5, 2017

For the first time since his election, president Trump is set for a direct collision course with Vladimir Putin after Russia said on Wednesday it stands by Syrian President Bashar al-Assad despite widespread popular outrage over a chemical weapons attack which the media was quick to pin on the Syrian president, in a carbon-copy of events from 2013 which nearly launched a US invasion of the middle-eastern nation, when a YouTube clip – subsequently shown to be a hoax – served as proof that Assad had used sarin gas on rebels in a Damascus neighborhood.

As reported yesterday, Western countries including the US accused Assad's armed forces for the chemical attack, which choked scores of people to death in the town of Khan Sheikhoun in a rebel-held area of northern Syria hit by government air strikes. While Washington said it believed the deaths were caused by sarin nerve gas dropped by Syrian aircraft, Moscow offered an alternative explanation, claiming the poison gas had leaked from a rebel chemical weapons depot struck by Syrian bombs. …

The incident is the first time Washington has accused Assad of using sarin since 2013, when hundreds of people died in an attack on a Damascus suburb. At that time, Washington said Assad had crossed a "red line" set by then-President Barack Obama. Back then Obama threatened an air campaign to topple Assad but called it off at the last minute after the Syrian leader agreed to give up his chemical arsenal under a deal brokered by Moscow, a decision which Trump has long said proved Obama's weakness.

The latest incident, which comes at a very odd time – just days after the White House it will no longer pursue the ouster of Assad, cementing the Syrian leader's resolve not to do anything to infuriate the US administration – means Trump is faced with the same dilemma that faced his predecessor: whether to openly challenge Moscow and risk deep involvement in a Middle East war by seeking to punish Assad for using banned weapons, or compromise and accept the Syrian leader remaining in power at the risk of looking weak.

As reported last night, Trump described Tuesday's incident as "heinous actions by the Bashar al-Assad regime", but also faulted Obama for having failed to enforce the red line four years ago. Obama's spokesman declined to comment. Washington, Paris and London have drawn up a draft U.N. Security Council statement condemning the attack and demanding an investigation. Russia has the power to veto it, as it has done to block all previous resolutions that would harm Assad.

As a result, all eyes will now be on Trump's response.

As Reuters puts it, "Trump's response to a diplomatic confrontation with Moscow will be closely watched at home because of accusations by his political opponents that he is too supportive of Russian President Vladimir Putin. He has previously said the United States and Russia should work more closely in Syria to fight against Islamic State." http://www.zerohedge.com/news/2017-04-05/trump-collision-course-putin-after-moscow-denies-syria-behind-chemical-attack

April 5, 2017

(CNN) Russian claims that a Syrian airstrike on a "terrorist" ammunition depot caused the deaths of at least 70 people have been rejected, as condemnation mounts over what appears to be a targeted chemical attack.

At least 10 children died in Tuesday's attack on a rebel-held town in Idlib province, and dozens of people were treated for symptoms of chemical poisoning, including foaming at the mouth and suffocation.

Activists said the Syrian regime dropped a chemical bomb and was responsible for the killings. The British Foreign Secretary, Boris Johnson, said all evidence suggested that the Assad regime was behind a "barbaric act."

If the incident is confirmed to be a chemical weapons attack, it would be one of the deadliest of its kind since the Syrian war began six years ago.

Syria denies the accusations and Russia says it had no warplanes in the vicinity. …

But a chemical weapons expert, Col. Hamish de Bretton-Gordon, told the BBC's Radio 4 that all signs showed the chemical used was sarin gas and that Russia's versions of events was "completely unsustainable."

"I think this is pretty fanciful and no doubt the Russians trying to protect their allies. Axiomatically, if you blow up sarin you destroy it," he said.

Hours after the attack, several people were injured when an airstrike hit near a hospital in the same town, where victims from the earlier attack were being treated, the Aleppo Media center activist group reported. http://www.cnn.com/2017/04/05/middleeast/idlib-syria-attack/
Here is a link to additional information about the attack: Chemical weapons again used in Syria.
It is unclear, what, if anything, US President Donald Trump will do–beyond some rhetoric. Notice:
April 5, 2017

President Trump issued a remarkable statement following a Syrian gas attack U.S. officials say was leveled by that country's leader against his own people.

Some 40 words of the short, 78-word statement blamed former President Obama for inaction.

"These heinous actions by the Bashar al-Assad regime are a consequence of the past administration's weakness and irresolution," the statement read, in part. "President Obama said in 2012 that he would establish a 'red line' against the use of chemical weapons and then did nothing."

Obama declining to act when Syrian President Assad crossed the "red line" was arguably the low point of Obama's presidency when it came to his handling of foreign policy.

But it's not like Trump called for action back then; just the opposite, as NPR's Tamara Keith reports. And Trump is not calling for action now — even after an attack that killed dozens with horrific images emerging. The new American president is being tested on the world stage, as this attack comes just days after the White House said Assad's ouster is not its priority. It also raises questions about Trump's support for autocracies and authoritarian regimes — and whether he can lead the world with moral clarity and authority as U.S. presidents have done for decades.

On Wednesday, Trump meets with another key player in the Middle East — Jordan's King Abdullah, an ally that is more important than ever.

"Political reality"

White House press secretary Sean Spicer said Friday that Assad in power is a "political reality that we have to accept." U.N. Ambassador Nikki Haley said "been there, done that" when it comes to demanding Assad step aside. Secretary of State Rex Tillerson has said, the "long-term status of Assad will be determined by the Syrian people."

There are mixed messages, however, coming out of the administration. Spicer also said it wants to see a de-escalation of violence. That didn't happen. Instead, Syria upped the ante. …

But the question is — what does Trump do now that he's president? http://www.npr.org/2017/04/05/522704455/after-syria-gas-attack-world-awaits-what-kind-of-leader-trump-will-be
Donald Trump would like to eliminate the group calling itself the Islamic State. He has indicated in the past that Russia and perhaps Syria could assist in doing that.
But what Donald Trump will NOT do is to start World War III between the USA and Russia about this.
Notice something from the late Hebert Armstrong decades ago, during the time of the old Soviet Union, titled Why Russia Will Not Attack the United States:
For decades now, the prospect of war between Russia and the United States has continually heightened and lessened.

Many who claim to be authorities on prophecy assure people a war involving Russia and the United States, Canada and England is prophesied in Ezekiel 38.

The United States, Britain and other democracies of north-western Europe, they recognize, are nations descended from the lost Ten Tribes. Therefore, they conclude, the prophecy of Ezekiel 38 foretells a military invasion of the North American continent from the Soviet Union. But this is not what prophecy says…

But this very fact – that this invasion will not come until after the Second Coming of Christ – will seem preposterous to many, at first thought.

That is because we have been accustomed merely to assume things that are not true. (Armstrong HW. Why Russia Will Not Attack the United States, article).

Some Bible scholars assert falsely that these prophecies of Ezekiel were fulfilled anciently. They never were. Others believe they are about to occur but some years before Armageddon. Both views are erroneous. The events of Ezekiel 38 and 39 are without question still future – for the "latter days" (38: 16) and "latter years" (38:8). Moreover, Ezekiel 38:14 describes the time setting as being "in that day when my people of Israel dwelleth safely." This is certainly not the situation in the State of Israel to- day! The Israel described by Ezekiel is a nation that dwells in security, in unwalled villages, totally unprepared for war (38:8, 11, 14). Read it for yourself! (Why Russia Will Not Attack the United States. WCG booklet)
Ezekiel 38 is for the distant future–and right at/after the millennium (cf. Revelation 20:7-9; see also Ezekiel 38: For Russia & Iran in Our Day?; a related video is also available titled Ezekiel 38: For Russia, Ukraine, & Iran Now?).  But that does not mean that there cannot be military conflict between the USA and Russia now (and there may be some).
But both Donald Trump and Vladimir Putin would prefer to avoid it.
At this stage, there will apparently be a United Nations' investigation of the attack and some condemning statements will come out.
But let me make this clear–World War III will not be because the USA and Russia decide to go to war because of this.
Some items of possibly related interest may include:

World War III: Steps in Progress Are there surprising actions going on now that are leading to WWIII? Might a nuclear attack be expected? Does the Bible promise protection to all or only some Christians? How can you be part of those that will be protected? A related video would be Is World War III About to Begin? Can You Escape?
Russia and Ukraine: Their Origins and Prophesied Future Russia in prophecy. Where do the Russians come from? What about those in the Ukraine? What is prophesied for Russia and its allies? What will they do to the Europeans that supported the Beast in the end? There is also a video sermon available: Russia in the Bible and in Prophecy and a video sermonette available: Ukraine in Prophecy?
Is Russia the King of the North? Some claim it is. But what does the Bible teach? Here is a link to a video, also titled Is Russia the King of the North?
Ezekiel 38: For Russia & Iran in Our Day? Is Ezekiel 38 about to be fulfilled? A related video is available titled Ezekiel 38: For Russia, Ukraine, & Iran Now? Another could be Russia, Iran, Syria, & the Bible (Code).
Damascus and Syria in Prophecy Will Bashar Assad hold power as he has it? Does the Bible show that Damascus, the capital of Syria, will be destroyed? What will happen to Syria? Will the Syrians support the final King of the South that the Bible tells will rise up? Which scriptures discuss the rise and fall of an Arabic confederation? Does Islamic prophecy predict the destruction of Syria. This is a YouTube video.
The Arab and Islamic World In the Bible, History, and Prophecy The Bible discusses the origins of the Arab world and discusses the Middle East in prophecy. What is ahead for the Middle East and those who follow Islam? What about the Imam Mahdi? What lies ahead for Turkey, Iran, and the other non-Arabic Muslims? An item of possibly related interest in the Spanish language would be: Líderes iraníes condenan la hipocresía de Occidente y declaran que ahora es tiempo para prepararse para el Armagedón, la guerra, y el Imán Mahdi.
United Nations: Humankind's Last Hope or New World Order? Is the UN the last hope for humanity? Or might its goals end up with sinister results? Two related videos include UN's 'New Universal Agenda' is a False Gospel! and United Nations and Vatican Are Planning the New World Order.
When Will the Great Tribulation Begin? 2017, 2018, or 2019? Can the Great Tribulation begin today? What happens before the Great Tribulation in the "beginning of sorrows"? What happens in the Great Tribulation and the Day of the Lord? Is this the time of the Gentiles? When is the earliest that the Great Tribulation can begin? What is the Day of the Lord? Who are the 144,000? Here is a version of the article in the Spanish language: ¿Puede comenzar la Gran Tribulación en 2016 o 2017? ¿Es el Tiempo de los Gentiles? You can also see the English language sermon videos: The Great Tribulation from the Mount of Olives and Can the Great Tribulation begin before 2020? A shorter video is: Will the Great Tribulation Start in 2017?
Donald Trump in Prophecy Prophecy, Donald Trump? Are there prophecies that Donald Trump may fulfill? Are there any prophecies that he has already helped fulfill? Could a Donald Trump presidency be apocalyptic? A related video is titled: Donald: 'Trump of God' or Apocalyptic?
Donald Trump and America's Apocalypse This 188 page book is for people truly interested in prophecies related to Donald Trump and the United States, including learning about several that have already been fulfilled and those that will be fulfilled in the future. The physical book can be purchased at Amazon for $12.99 from the following link: Donald Trump and America's Apocalypse.
Donald Trump and America's Apocalypse-Kindle Edition This electronic version of the 188 page print edition is available for only US$3.99. And you do not need an actual Kindle device to read it. Why? Amazon will allow you to download it to almost any device: Please click HERE to download one of Amazon s Free Reader Apps. After you go to for your free Kindle reader and then go to Donald Trump and America's Apocalypse-Kindle Edition.