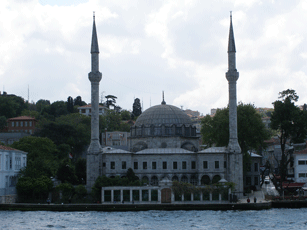 Mosque in Istanbul, Turkey
There have been a lot of protests in Turkey the past several days:
6 June 2013

ANKARA, Turkey (AP) — Turkey's prime minister was walking a political tightrope Thursday as he headed home from a four-day trip abroad to face massive anti-government protests that have mushroomed to dozens of cities across the country.

Speaking before leaving Tunisia to fly back to Istanbul, Recep Tayyip Erdogan attempted a balancing act. He appeared to soften his tone in an effort not to inflame protesters who see him as increasingly autocratic, while not conceding enough to appear weak to the base that has helped him win three landslide elections.

Thousands of supporters thronged the airport for his arrival, chanting ''We are with you, Erdogan,'' in the first major public show of backing for the prime minister. Hundreds marched among the cars of traffic-clogged streets towards the airport, waving Turkish flags and chanting ''Istanbul don't sleep, defend your leader.''

Erdogan's reaction will be decisive in determining whether the demonstrations fizzle out or rage on. So far, a police officer and two protesters have died and thousands have been injured in nearly a week of clashes with the police.

His comments don't appear to have swayed many of the thousands of protesters who thronged central Istanbul's Taksim Square for a sixth day Thursday. More than 10,000 others filled a busy street in a middle class area of Ankara…Over the past week the demonstrations have spread to 78 cities, growing into public venting of what protesters perceive to be Erdogan's increasing arrogance. That includes attempts to impose what many say are restrictive mores on their personal lives, such as how many children to have or whether to drink alcohol.  http://www.boston.com/news/world/europe/2013/06/06/erdogan-returns-face-protests-turkey/mPrTj7dwecv6Ts78vDaIgL/story.html

June 6, 2013

STATE DEPARTMENT — Turkey is central to U.S. and European efforts to get opponents of Syrian President Bashar al-Assad to possibly come to the peace table. But growing domestic unrest in Turkey could complicate Ankara's efforts at Middle East diplomacy…

But now Turkey's attention to the Syrian conflict is being diverted by days of anti-government political unrest inside Turkey.

U.S. Secretary of State John Kerry said the domestic backlash will not deter Ankara from its role in Syrian diplomacy. "It's not the first time any government has faced this kind of challenge," he said. "And I do expect Foreign Minister Davutoglu and the prime minister to remain engaged in the effort to try to resolve what is happening in Syria."

Prime Minister Recep Tayyip Erdogan has been a leading critic of the Syrian regime.

But analyst Heydemann said the longer the war continues, the tougher it is for Turkey to keep backing the opposition.

"Turkey is going through a period in which I think they're feeling a bit of buyer's remorse about the level of support they've provided to the opposition of the past couple of years," he said. "They're beginning to rethink whether their antagonism toward the Assad regime is really paying off for them or not."

Erdogan said there is no going back on Turkey's involvement in inter-connected Mideast crises. "In this region, the issue of Syria, the issue of Palestine and Israel are the problem that need to be resolved, in order to have perpetual peace in the Middle East," he said.

Israeli-Turkish relations suffered three years ago when Israel assaulted a Turkish boat with peace activists taking food and other staples to the Gaza Strip.

Recently Erdogan has criticized Israeli airstrikes on Hezbollah supply routes in Syria, complicating U.S. efforts to improve ties between Turkey and Israel.  http://www.voanews.com/content/turkey-unrest-may-impact-syria-peace-talks/1676252.html
Turkey apparently will be, at least tangentially, involved in a coming peace deal, a peace deal (cf. Daniel 9:27; 8:25)–and that deal will be broken (Daniel 9:27; 11:23-24).
The Bible indicates that Turkey will actually align with Syria and the European power for a while, before that deal also falls apart.  Notice the following:
"They have said, Come, and let us cut them off from being a nation; that the name of Israel may be no more in remembrance. For they have consulted together with one consent: they are confederate against thee: The tabernacles of Edom [Esau or modern-day Turkey, a non-Arab but Islamic nation], and the Ishmaelites [Saudi Arabia]; of Moab [part of Jordan], and the Hagarenes [anciently these peoples dwelt in the area known as Syria today]; Gebal [Lebanon], and Ammon [modern Jordan], and Amalek [part of the Turks]; the Philistines [the modern Palestinians] with the inhabitants of Tyre [Lebanon]; Assur [whose descendants, the Assyrians, migrated to Germany] also is joined with them: they have holpen the children of Lot [Jordan and Western Iraq]" (Psalm 83:4-8) (Stump K. The Arab World in Prophecy. Plain Truth, December 1979)
Hence, I believe that Turkey will temporarily align with an Arabic and European power.  As I mentioned a couple of days ago, Turkey seems prophesied to betray the Islamic world, and align with the European power (Turkish protests: What's ahead for Turkey?).
However, prophecy also suggests that it will be part of the destruction of Jerusalem.
Notice the following:
7 Remember, O Lord, against the sons of Edom
The day of Jerusalem,
Who said, "Raze it, raze it,
To its very foundation!"

8 O daughter of Babylon, who are to be destroyed,
Happy the one who repays you as you have served us!
9 Happy the one who takes and dashes
Your little ones against the rock! (Psalms 137:7-9)
Notice that Edom wants Jerusalem destroyed (consistent with its desires in Psalm 83) and that it is considered part of the "daughter of Babylon", which is also a term that seems to also represent the compromised religious Beast power (cf. Isaiah 47:1,8; Revelation 18:1-8; Zechariah 2:6-7).  And Turkey apparently will help with and encourage the destruction of Jerusalem/Judea (also captives from that area will apparently be sent to Turkey per Amos 1:6,9).  And while it could do that from an Islamic perspective, since the Bible tells of the King of the North entering Jerusalem and causing abominations (Daniel 11:31), it may be more supporting the King of North with its attitude and not just the King of the South.
The Bible indicates that Turkey will suffer mightily for some of its actions, including apparently how it will help destroy the Jewish nation of Israel (perhaps as venegance for what Israel might do if Iran attacks it–which is something that I have suspected in the past):
12 'Thus says the Lord God: "Because of what Edom did against the house of Judah by taking vengeance, and has greatly offended by avenging itself on them," 13 therefore thus says the Lord God: "I will also stretch out My hand against Edom, cut off man and beast from it, and make it desolate from Teman; Dedan shall fall by the sword. 14 I will lay My vengeance on Edom by the hand of My people Israel, that they may do in Edom according to My anger and according to My fury; and they shall know My vengeance," says the Lord God. (Ezekiel 25:12-14)

15 As you rejoiced because the inheritance of the house of Israel was desolate, so I will do to you; you shall be desolate, O Mount Seir, as well as all of Edom — all of it! Then they shall know that I am the Lord. (Ezekiel 35:15)

19 "Egypt shall be a desolation,
And Edom a desolate wilderness,
Because of violence against the people of Judah,
For they have shed innocent blood in their land. (Joel 3:19)

11 Thus says the Lord: "For three transgressions of Edom, and for four,
I will not turn away its punishment,
Because he pursued his brother with the sword,
And cast off all pity;
His anger tore perpetually,
And he kept his wrath forever. (Amos 1:11)

8 "Will I not in that day," says the Lord,"Even destroy the wise men from Edom, And understanding from the mountains of Esau? 9 Then your mighty men, O Teman, shall be dismayed, To the end that everyone from the mountains of Esau
May be cut off by slaughter.
10 "For violence against your brother Jacob, Shame shall cover you, And you shall be cut off forever. 11 In the day that you stood on the other side— In the day that strangers carried captive his forces, When foreigners entered his gates
And cast lots for Jerusalem— Even you were as one of them. (Obadiah 8-11)

17 "Edom also shall be an astonishment;
Everyone who goes by it will be astonished
And will hiss at all its plagues.
18 As in the overthrow of Sodom and Gomorrah
And their neighbors," says the Lord,
"No one shall remain there,
Nor shall a son of man dwell in it. (Jeremiah 49:17-18)
Though, like others, salvation will be available to the Turks. But apparently because of how the Turks are expected to betray Israel, God has a special punishment first.
The current stirrings in Turkey show a conflict between the Islamists and the secularists.  And while in a while it will appear that the Islamists will win, ultimately Turkey will align with the European Beast power (Revelation 13:4,8).  But it will not go unpunished.
Of course, if you are a Turk, or even if not, this does not mean that you personally have to be part of the punished.  All should turn to God and not support either the coming Arabic King of the South or the coming European King of the North.
Some items of possibly related interest may include:
What Should You Know About Turkey in Prophecy Do you know the Turkish people descended from? Did the Ottoman Empire possibly fulfill a promise in Genesis? Will Turkey support the European King of the North or Arabic King of the South? Will it betray one of them? Will Turkey be involved in the encouraging the destruction of Israel? Is Turkey going to become Catholic? Is Turkey mentioned in Psalm 83, Daniel 11, and elsewhere in the Bible? This video provides answers.
The Arab World In the Bible, History, and Prophecy The Bible discusses the origins of the Arab world and discusses the Middle East in prophecy. What is ahead for the Middle East and those who follow Islam? What about the Imam Mahdi?
Is the Future King of the South Rising Up? Some no longer believe there needs to be a future King of the South. Might Egypt, Islam, Iran, Arabs, or Ethiopia be involved? Might this King be called the Mahdi or Caliph? What does the Bible say?
The Muslim Brotherhood and the Rise of the King of the South The Bible tells of the formation of a power of nations that are in the Middle East and North Africa that are part of the final "King of the South" (Daniel 11:40-43) The Muslim Brotherhood wishes to have an Islamic empire with basically the same nations. This YouTube video explains what to expect from such a confederation.
Who is the King of the North? Is there one? Do biblical and Roman Catholic prophecies point to the same leader? Should he be followed? Who will be the King of the North discussed in Daniel 11? Is a nuclear attack prophesied to happen to the English-speaking peoples of the United States, Great Britain, Canada, Australia, and New Zealand? When do the 1335 days, 1290 days, and 1260 days (the time, times, and half a time) of Daniel 12 begin? When does the Bible show that economic collapse will affect the United States?
Europa, the Beast, and Revelation Where did Europe get its name? What might Europe have to do with the Book of Revelation? What about "the Beast"? Is an emerging European power "the daughter of Babylon"? What is ahead for Europe?
Catholic Prophecies: Do They Mirror, Highlight, or Contradict Biblical Prophecies? People of all faiths may be surprised to see what various Roman and Orthodox Catholic prophets have been predicting as many of their predictions will be looked to in the 21st century.
Can You Prove that the Beast to Come is European? The Book of Revelation tells of a beast power that will rise up. Some think that this must be Russia or could be Islamic, while others say that this power is European. The Book of Daniel tells of the rise of an end time King of the North that some think must be referring to a Russian leader, while others say that this power is European. How can you be sure? This YouTube video has all the scriptural proofs that you should need to prove that this power must be a European one.
Universal Offer of Salvation: There Are Hundreds of Verses in the Bible Supporting the Doctrine of True Apocatastasis Do you believe what the Bible actually teaches on this? Will all good things be restored? Will God call everyone? Will everyone have an opportunity for salvation? Does God's plan of salvation take rebellion and spiritual blindness into account?
Just What Do You Mean — Repentance? Do you know what repentance is? Have you truly repented? Repented of what? Herbert W. Armstrong wrote this as a booklet on this important subject.
Just What Do You Mean Conversion? Many think that they are converted Christians. But are they? Would you like to know more about conversion. Herbert W. Armstrong wrote this as a booklet on this important subject.
False Conversion Have you really been converted? Herbert W. Armstrong wrote this article on this important subject.
All About Water Baptism What is baptism? Would you like to know more about it. Herbert W. Armstrong wrote this as a booklet on this important subject. As far as early history, see also Baptism and the Early Church.
God's Grace is For All Is being Jewish a hindrance to salvation? What about not being a descendant of Israel? What does the Bible really teach?