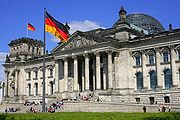 Berlin Reichstag
In the latest TW News & Prophecy of the Living Church of God has the following:
Germany's new president.

A special assembly of the German parliament just elected a new president to replace Christian Wulff, who recently resigned amid scandal. The 72-year-old Joachim Gauck, a former Lutheran pastor, commented on the news of his appointment, "What a glorious Sunday!" Angela Merkel is the daughter of a Lutheran pastor. Both also hail from the former East Germany. Mr. Gauck has four children and is divorced. His partner (not his wife), will take on the responsibilities of "first lady" (BBC.com, March 18, 2012).

The Scriptures clearly state that God removes and sets up kings and leaders, and gives power to whomever He will (Daniel 2:21; 4:17). Bible prophecies reveal that at the end of the age, a German-led Beast power will arise in Europe and will be promoted by a prominent religious leader (Revelation 13).

Will Germany's new, outspoken and more religious president be more likely to work with the religiously motivated ambitions of the Church of Rome? Time will tell.

For more information on this coming Beast power, review our free reprint article: "Resurgent Germany: A Fourth Reich?"
It is my position that most of the Lutherans will end up supporting a compromised religion that will call itself Catholic in Europe.  Having more Lutheran leaders in Germany is supportive of that view.  The wife of former German Defense Minister Karl-Theodor zu Guttenberg is also Lutheran.
The latest TW News & Prophecy also has the following:
"Ten nations" plus Germany.

A Spanish newspaper reported, "Gathered around Germany, ten nations have formed the 'Berlin Club' to revive the European project" (presseurop.eu, March 21, 2012).

At a meeting in Berlin, German Foreign Minister Guido Westerwelle invited nations considered "the most Europhile" to discuss how to "revive the ideal of a united Europe… stabilize growth and the euro… as well as border controls… [and reopen] the discussion on the need for a European Constitution." The German Foreign Minister "received qualified support" from France and other countries including Austria, Belgium, Denmark, Italy, Luxemburg, the Netherlands, Poland, Portugal and Spain (presseurop.eu, March 15, 2012).

Bible prophecy has long foretold that "ten kings… will give their power and authority [surrender their sovereignty] to the beast" (Revelation 17:12-13)–a German-led power that will arise in Europe and which has links to the ancient Roman Empire (Daniel 2:42-44)–see our booklet, The Beast of Revelation.
While the current ten nations plus Germany are not the final reorganization that Revelation 17:12-13 speaks of, it is interesting how often configurations involving 10 powers have been popping up in Europe the past year or so.  Revelation 17:12-13 will be fulfilled.
But it is not just what is going on in Europe that needs to be looked at from a prophetic perspective.   Probably prior to the reorganization of Revelation 17:12-13, the Bible tells of one or more deals (Psalm 83:4-8; Daniel 9:27; Daniel 11:27) that will involve Germany and the Arab world.
According to Bible prophecy, a European power, despite its fragility, is destined to temporarily be the most dominant force in the world, ultimately conquer the Anglo-descended nations (Daniel 11:39), and later come to its end (Daniel 11:45).
We in the Living Church of God have long taught that Germany (Assyria in end time prophecy) would be the driving force in the end-time European Beast power as well as having a future role in God's kingdom. Germany has been the main economic engine behind the EU (the Netherlands is also a major, but sometimes overlooked, major economic power there as well).
We believe that over time, Germany will get more and more powerful and that an even stronger union will form in Europe as well as be part of a horrible deal with the Arabs. Germany keeps taking steps that confirm those beliefs.
Some articles of possibly related interest may include:
Europa, the Beast, and Revelation Where did Europe get its name? What might Europe have to do with the Book of Revelation? What about "the Beast"?
Who is the King of the North? Is there one? Do biblical and Roman Catholic prophecies point to the same leader? Should he be followed? Who will be the King of the North discussed in Daniel 11? Is a nuclear attack prophesied to happen to the English-speaking peoples of the United States, Great Britain, Canada, Australia, and New Zealand? When do the 1335 days, 1290 days, and 1260 days (the time, times, and half a time) of Daniel 12 begin? What MUST happen BEFORE the Great Tribulation?
Might German Baron Karl-Theodor zu Guttenberg become the King of the North? Could He Become "the Beast"? What makes the German Defense Minister a candidate?
End of Mayan Calendar 2012–Might 2012 Mean Something? Are there Mayan calendar predictions for change in 2012? Changes were centuries ago predicted by the Hopi Native Americans. Do Mayan/Hindu/Hopi/Buddhist/New Age/Nostradamus prophecies have any value here? Why might Satan have inspired this date? Does the Dresden codex show destruction of the earth by flood? Can the great tribulation start before 2012? How might Barack Obama and Julia Gillard be involved in 2012? Have predictions written by Bob Thiel related to Barack Obama and Julia Gillard began to come to pass?
Resurgent Germany: A Fourth Reich? Who are the German peoples and where did they come from? What is Germany's role in end time prophecy?