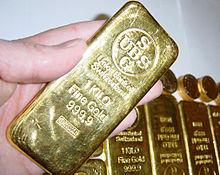 For years, Germany made it clear that it wanted more of its gold back. Now, this is happening:
Bundesbank Repatriates Gold From New York, Paris "Faster Than Planned"

December 26, 2016

In January of 2016, the Bundesbank announced that three years after commencing the transfer of some of its offshore-held gold from vaults located at the Banque de France in Paris and the NY Fed in New York, it had repatriated a total of 366.3 tonnes, bringing the German central bank's gold reserves held in Frankfurt to 1,402 tonnes, or 41.5% of Germany's total gold of 3,381 tonnes, for the first time greater than the 1.347 thousand tonnes located at the New York Fed, which as of January 27, 2016 held 39.9% of Germany's official gold.

"With approximately 1,403 tonnes of gold, Frankfurt has been our largest storage location, ahead of New York, since the end of last year," said Carl-Ludwig Thiele, Member of the Executive Board of the Deutsche Bundesbank. "The transfers are proceeding smoothly. We have succeeded in once again significantly increasing the transport volume compared with 2014. This means that operations are running very much according to schedule," added Thiele last January. …

last Friday, Germany's Bild reported that in 2016 the Bundesbank has repatriated "more of its gold than planned", as it moves toward relocating half of the world's second-largest reserve at home.

"We brought back significantly more gold to Germany in 2016 again than initially planned. By now, almost half of the gold reserves are in Germany," Bube president Jens Weidmann told the German publication. http://www.zerohedge.com/news/2016-12-26/bundesbank-repatriates-gold-new-york-paris-faster-planned
In 2013, Germany essentially claimed that it wanted the gold back in case it had to deal with some type of financial crisis (see Germany wants its gold back). Perhaps a crisis involving the Euro, perhaps a crisis involving the USA dollar.
It has long been my view that the King of the North will conclude that it should have a type of gold-backed/implied currency. This will restore confidence in the final European currency once the US dollar is of no value.
Biblical (Daniel 11:40-44) and non-biblical prophecies point out that the final leader that the Bible calls the King of the North, who will likely have Germanic/Assyrian heritage (cf. Daniel 11:30 with Numbers 24:24), will value gold. The fact that many in Germany are getting more interest in their national stock piles of gold is consistent with proper understanding of end time biblical prophecy.
The time will come when the USA will wish it had more gold as its practice of electronically printing and borrowing its own money will create a massive problem for it (Habakkuk 2:6-8).
Some items of possibly related interest may include:
The Plain Truth About Gold in Prophecy. How Should a Christian View Gold? What do economists and the Bible teach about gold? Gold and silver may drop in value. Inflation/deflation? What do Christians need to know about gold?
Might German Baron Karl-Theodor zu Guttenberg become the King of the North? Is the former German Defense Minister (who is also the former German Minister for Economics and Technology) one to watch? What do Catholic, Byzantine, and biblical prophecies suggest? A video of related interest would be: Karl-Theodor zu Guttenberg and Europe's Future.
Germany's Assyrian Roots Throughout History Are the Germanic peoples descended from Asshur of the Bible? Have there been real Christians in Germanic history? What about the "Holy Roman Empire"? There is also a You-Tube video sermon on this titled Germany's Biblical Origins.
Germany in Biblical Prophecy Does Assyria in the Bible equate to an end time power inhabiting the area of the old Roman Empire? What does prophecy say Germany will do and what does it say will happen to most of the German people? Here are links to two sermon videos Germany in Bible Prophecy and The Rise of the Germanic Beast Power of Prophecy.
Europa, the Beast, and Revelation Where did Europe get its name? What might Europe have to do with the Book of Revelation? What about "the Beast"? Is an emerging European power "the daughter of Babylon"? What is ahead for Europe? Here is a link to a video titled: Can You Prove that the Beast to Come is European?