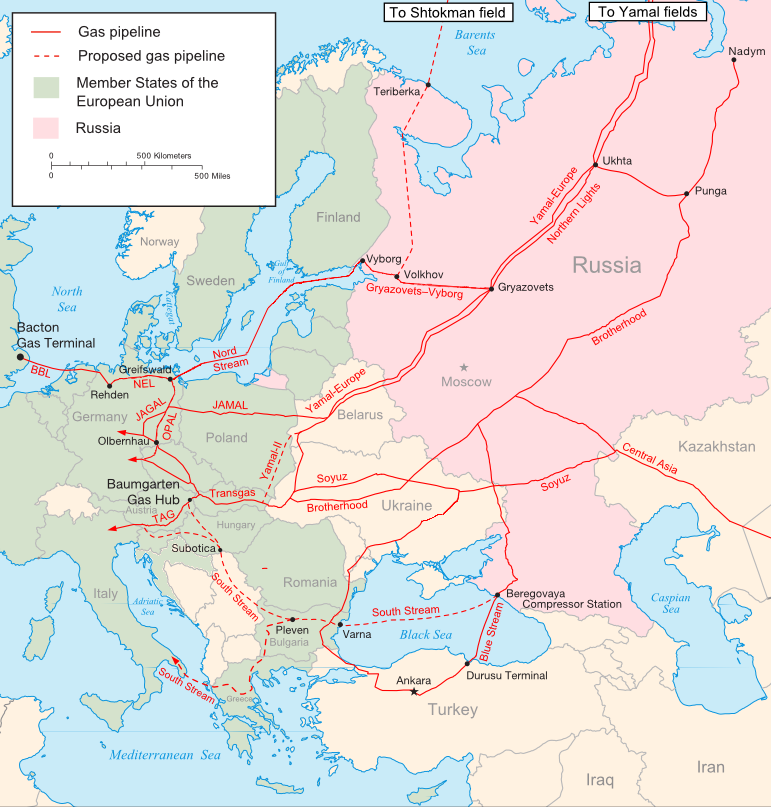 Current and proposed Russian gas pipelines to Europe
(by Samuel Bailey)
Ukraine's Presidnt Zelensky is concerned about Nord Stream 2:
Ukraine's Zelensky: Biden Has Handed Russia 'Bullets' by Waiving Nord Stream 2 Sanctions

June 7, 2021

Ukrainian President Volodymyr Zelensky on June 4 said that he is "disappointed" by U.S. President Joe Biden's decision to lift sanctions on Russia's Nord Stream 2 pipeline, saying that the leader of the democratic world has essentially provided Russia with "bullets" in doing so.

"We [Ukraine] were very surprised," Zelensky told Axios of the Biden administration's decision last month to waive sanctions on the company and CEO overseeing the construction of Russia's Nord Stream 2 natural gas pipeline project.

The pipeline, which is roughly 95 percent complete, would double the capacity of the existing Nord Stream duct to deliver gas from Russia to Europe via Germany under the Baltic Sea, weakening European energy security. It's expected to be completed by this year, with Russian President Vladimir Putin announcing on June 3 that the first of the two lines is now complete and that Russia's majority state energy company Gazprom is "ready to start filling Nord Stream 2 with gas."

"Nord Stream 2 according to our understanding—according to the security understanding of not only Europe, I am sure, but also of the United States of America as our strategic partner—we understand that this is a weapon, a real weapon…in the hands of the Russian Federation," Zelensky said. https://www.theepochtimes.com/ukraines-zelensky-biden-has-handed-russia-bullets-by-waiving-nord-stream-2-sanctions_3847372.html?utm_source=partner&utm_campaign=ZeroHedge

Europe doesn't appear likely to reduce its dependency on Russian energy any time soon. The much-discussed, much-debated construction of the Nord Stream 2 natural gas pipeline, linking Russia with Germany via the Baltic Sea, is now almost completed. And there are signs suggesting Moscow and Washington won't allow the issue to disrupt the scheduled summit between Russian President Vladimir Putin and his US counterpart Joe Biden.

The US leader evidently decided to waive sanctions against the company behind the Nord Stream 2 gas pipeline because the project was "almost completely finished". …

Even though Germany is a US ally and still hosts some 38,000 American troops, its has chosen stronger energy ties with Moscow, even at the risk of a serious deterioration in relations with Washington. The Kremlin is assumed to be the main winner once the Nord Stream 2 pipeline is built. https://www.maritime-executive.com/editorials/nord-stream-2-assessing-russia-s-serious-geopolitical-victory
The USA had wanted to supply Germany the natural gas instead, and at a higher cost to Germany. Germany not only did not want to pay more, it did not feel safer going towards US energy than Russia. Nord Stream 2 increases Russian influence over Europe.
There were also other reasons that the Europeans were interested in Nord Stream 2. Consider the following from 2021 and 2019:
June 7, 2021

On Monday a flurry of bombshell statements came out of Russia after at the end of last week Putin blasted the United States for using the dollar as a tool for waging "economic & political war" in an address before the St. Petersburg International Economic Forum. Amid a tightening US and EU sanctions noose, most recently surrounding the Nord Stream 2 pipeline, Putin also suggested a more "acceptable" scenario of European nations paying for Russian gas in euros, amid what alarmingly appears a broader de-dollarization effort which includes Russia's sovereign wealth fund deciding to dump all of its dollars and dollar-denominated assets in favor of those denominated in euros, yuan – or further buying precious metals like gold. "The euro is completely acceptable for us in terms of gas payments. This can be done, of course, and probably should be done," Putin calmly said Thursday.

And now Russia's Finance Minister has announced …: "Russia will rely on economic means to encourage companies to shift from dollar to euro …," https://www.zerohedge.com/economics/russia-may-order-state-firms-switch-euro-preparing-possible-disconnect-swift

October 7, 2019
One of the world's top oil producers and exporters, Russia's Rosneft, is ditching the U.S. dollar for euros when it comes to all future deals. … The switch to euros is said to limit the company's vulnerability to potential future sanctions by the U.S., Reuters reported on Thursday. "Rosneft has recently adjusted all the new contracts for export supplies to euros. We've been notified," a trader from a company that regularly buys from Rosneft told Reuters. Three more traders confirmed that Rosneft has chosen the euro as the default currency going forward.
Since the benchmark oil prices are quoted in U.S. dollars, Rosneft is now asking traders to use Bloomberg's euro/dollar exchange rate when calculating the final payment. "Rosneft used to have the euro as one of the options, but since last month it's the main option. We've been notified, but still, it's a visible change," one trader said. Rosneft is Russia's largest oil company, exporting about 120 million tonnes of oil a year. https://www.kitco.com/news/2019-10-07/Russia-dumps-U-S-dollar-Country-s-top-oil-producer-chooses-euro-for-all-future-deals.html
Europe wants the Euro to be more widely used and prefers to make payments in it, as opposed to the US dollar, which it would have to do to more of if it did not go through with the Nord Stream 2 project. It has long been my view that the Germans (and other Europeans) would make a deal with Russia against the US. We are seeing deals starting to take place.
A decade or so after I came to the conclusion that the Germans/Europeans would make a deal with Russia against the US, I saw for the first time the following items from the old Radio Church of God:
Modern Europe is counseling and making treaties and alliances and agreements to conquer this earth! … Germany, those living in Germany, even the German government, may not yet know that they are going to join in a treaty with the Russians to destroy the United States and bring it to its knees-it is not in his "heart" to think so, but on the other hand it IS in his "heart" to destroy-the very characteristic of the Assyrian, the modern German, is a harsh, cruel, iron, dedication to militarism and destruction! …
MAN'S ONLY HOPE LIES IN TURNING TO HIS CREATOR GOD! "At what instant I shall speak concerning a nation, and concerning a kingdom. to pluck up, and to pull down, and to destroy it; If that nation, against whom I have pronounced, TURN FROM THEIR EVIL, I will repent of the evil that I thought to do unto them… Behold, I frame evil against YOU, and devise a device against YOU: return ye now EVERY ONE from his evil way and make your ways and your doings good!" (Jer. 18:7, 8, 11). The case of America and Great Britain is hopeless! The case of America and Great Britain is hopeless! (Hill DJ, God's Destiny for Germany. Plain Truth, March 1962, pp. 28-29)
The German people are now asking themselves: "Can we rely on the Americans and British?" … These questions lead to the logical conclusion that maybe the only people the Germans can rely on are themselves. They are now thinking: "Perhaps we can strike a better bargain with the Russians ourselves." … Once a German-dominated Europe is fully established, Germany will be ready to negotiate and bargain with Russia- and behind the backs of the Western Allies if necessary. …
When will a Russo-German deal be made?
Here is a quotation from a circular letter issued in September, 1950 by the Nazi Geo-political Center in Madrid: "However long we may continue to milk the Americans of millions of dollars, there must come the inevitable moment when we shall have to make it crystal clear to them that we are not willing to join the fight against Russia for American interests … (Germany Plots with the Kremlin by T H. Terens, p. 15). …
Most Americans and Britons are not aware of what Germany and Europe are planning against them. This is partly due to the cunning of German. politics. …
World events are moving swiftly toward the climax when Great Britain and the United. States will be attacked, conquered and DESTROYED! (Boraker R. Are the Germans Secretly Dealing with Moscow? Plain Truth, May 1962, pp. 45-47)
The deal Russia will later make with the Europeans will not end well for the US (cf. Daniel 11:39). While Nord Stream 2, per se, is not the deal I am referring to, it helps set the stage for a deal that could take place in just a relatively few years. It should be noted that this Beast leader is NOT Russian (see also Is Russia the King of the North?), but European (watch also Can You Prove that the Beast to Come is European?). Despite claims from Protestant Joel Richardson, this Beast leader also is NOT Islamic (see also Is There an Islamic Antichrist?).
Now consider that a while back, a Russian Professor predicted that Russia would end up with Alaska:
MOSCOW — For a decade, Russian academic Igor Panarin has been predicting the U.S. will fall apart … Prof. Panarin, 50 years old, is not a fringe figure. A former KGB analyst, he is dean of the Russian Foreign Ministry's academy for future diplomats …

When the going gets tough, he says, wealthier states will withhold funds from the federal government and effectively secede from the union. Social unrest up to and including a civil war will follow. The U.S. will then split along ethnic lines, and foreign powers will move in…

"It would be reasonable for Russia to lay claim to Alaska; it was part of the Russian Empire for a long time." A framed satellite image of the Bering Strait that separates Alaska from Russia like a thread hangs from his office wall. "It's not there for no reason," he says with a sly grin. (Osborn A. As if Things Weren't Bad Enough, Russian Professor Predicts End of U.S. Wall Street Journal, Dec 29, 2008 http://online.wsj.com/article/SB123051100709638419.html).
The idea that Russia will end up with at least part of Alaska, and probably part of Canada, is not far fetched.
Notice the following prophecy:
39 Thus he shall act against the strongest fortresses with a foreign god, which he shall acknowledge, and advance its glory; and he shall cause them to rule over many, and divide the land for gain (Daniel 11:39).
The "he" is the European King of the North (cf. Daniel 11:40) and the "strongest fortresses" currently belong to the USA–this shows the defeat of the US by Europe. Since Bible prophecy points to Anglo-lands being divided in various scriptures (for more than Daniel 11:39, see Will the Anglo-Nations be Divided?), Russia may well end up with some of all of Alaska and maybe even parts of Canada. People do not realize how perturbed the Germans are getting with the USA. And this will not end well for the USA (Daniel 11:39) nor Germany (cf. Isaiah 10:12-19). Policies and statements from the USA have been pushing the Europeans away from the US and more towards Russia.
During the Trump presidency, we made a couple of videos related to this:
A recent headline was "Is Trump Pushing Germany to Russia?" There have been comments by German and Russian leaders that they have aligned interests that Donald Trump opposes and need to take financial, military, and other steps to assist Europe. Russia and the EU (European Union) still support the Iran nuclear deal, Paris Climate accords, and the World Trade Organization, despite Donald Trump's actions against them. Have there been comments to replace the USA's SWIFT system by the Russians and Germans? What is Russia's MIR payment system? What about talks for the EU to have trade and other arrangements with the EAEU (Eurasian Economic Union)? Did the old Radio Church of God foretell of the development of a Russian and German plan to eliminate the USA? Has Russia indicated that it wants Alaska back? Is the giving of USA territories to Russia by a coming European leader consistent with a prophecy in the Book of Daniel? Here is a link to our video: Is Donald Trump pushing Europe to Russia?
Russian Prime Minister Dmitry Medvedev said new US sanctions would be a declaration of economic war. Iran, North Korea, China, Europe, and Turkey are also upset about USA sanctions and tariffs. A Turk asserted "Somebody must find a solution and stop the USA." The BRICS nations see US sanctions and tariffs as helpful to their objectives to trade without the USA. Are "unintended consequences" of USA policies threatening the current Anglo-American world order and leading to a New World Order? What has 'Lord' Jacob Rothschild and Russian President Vladimir Putin stated? Does Bible prophecy show that a confederation of Turks, Arabs, and Europeans pose a real threat to the USA and UK? Is the final time of the Gentiles coming? Will it be worse than people imagine? Dr. Thiel addresses these issues and more.

Here is a link to our video:

US Sanctions and Tariffs leading to New World Order?
Joe Biden hopes to repair some of the issues with the Europeans, but he will NOT be able to stop the fulfillment of biblical prophecies.
Joe Biden was involved in espionage matters that have upset the Europeans (see SC: US Spying On "Allies" Spoils Biden's Set-Piece Visit To Europe). Even after he came in office, various ones in Europe believe that the USA is too damaged to lead (see Nord Stream 2 and other European moves away from the USA: USA too damaged to lead?). That view seems to be one reason that Joe Biden conceded on the Nord Stream 2 project–which he did a couple of weeks ago (see DW: Nord Stream 2: Biden says sanctions 'counterproductive' to US-European ties).
Now, the time will come when a deal will be made with Russia by the Europeans that will not end well for the US. Germany has been signalling that it is working towards dominance. Notice, for example, the following video on our Bible News Prophecy YouTube channel:
16:29

Are German leaders serious about putting together a new world order that is dominated by Germany? At least ten statements made by Germany's current Foreign Minister Heiko Maas point to this. Does Germany want Europe to have a military which is independent of the United States? Have German elites concluded that Germany is too small to have a sufficiently dominate influence in the world without European nations to align with it? Are steps being taken to dethrone the US dollar as the world's primary reserve currency? Are statements by US President Donald Trump helping push Germany and Europe together? Is there an 'Alliance for Multilateralism'? Is there any United Nations' connection? Could a German-dominated Europe be the Beast of Bible prophecy? Does Isaiah 10 point to Germany being used by God against powers such as the United States? Dr. Thiel addresses these issues and more.
Here is a link to our uploaded video: 10 German 'New World Order' Moves.
Joe Biden's willingness to drop Nord Stream 2 related sanctions to placate the Europeans has upset Ukraine and will not truly endear the USA to Europe.
The moves by the Biden Administration will not stop prophecies from being fulfilled.
Some items of possibly related interest may include:
Who is the King of the North? Is there one? Do biblical and Roman Catholic prophecies for the Great Monarch point to the same leader? Should he be followed? Who will be the King of the North discussed in Daniel 11? Is a nuclear attack prophesied to happen to the English-speaking peoples of the United States, Great Britain, Canada, Australia, and New Zealand? When do the 1335 days, 1290 days, and 1260 days (the time, times, and half a time) of Daniel 12 begin? When does the Bible show that economic collapse will affect the United States? In the Spanish language check out ¿Quién es el Rey del Norte? Here is a link to a video titled: The Future King of the North. The Great Monarch: Biblical and Catholic Prophecies Is the 'Great Monarch' of Catholic prophecies endorsed or condemned by the Bible? Two sermons of related interest are also available: Great Monarch: Messiah or False Christ? and Great Monarch in 50+ Beast Prophecies. The End of US Dollar Dominance Is the USA losing its economic status? What about the petro-gold-yuan? A related video is also available: US Dollar being challenged by Gold-Petro-Yuan.
Europa, the Beast, and Revelation Where did Europe get its name? What might Europe have to do with the Book of Revelation? What about "the Beast"? Is an emerging European power "the daughter of Babylon"? What is ahead for Europe? Here is a link to a video titled: Can You Prove that the Beast to Come is European?
European Technology and the Beast of Revelation Will the coming European Beast power would use and develop technology that will result in the taking over of the USA and its Anglo-Saxon allies? Is this possible? What does the Bible teach? Here is a related YouTube video: Military Technology and the Beast of Revelation. Must the Ten Kings of Revelation 17:12 Rule over Ten Currently Existing Nations? Some claim that these passages refer to a gathering of 10 currently existing nations together, while one group teaches that this is referring to 11 nations getting together. Is that what Revelation 17:12-13 refers to? The ramifications of misunderstanding this are enormous. A related sermon is titled Ten Kings of Revelation and the Great Tribulation. WTO/TTIP and the Babylonian Beast Will international trade agreements like WTO/TTIP/CETA lead to the fulfillment of end time prophecies concerning the Babylonian Beast power that the Book of Revelation warns against? What does the Bible teach? A related video would be WTO Trade Deal and the Rise of the European Beast Power.
Spiritual Samaritans: Old and New Who were the Samaritans? Do the represent true Christianity or something else? Here is a link to a related sermon: USA in Prophecy: Samaria. Anglo – America in Prophecy & the Lost Tribes of Israel Are the Americans, Canadians, English, Scottish, Welsh, Australians, Anglo-Saxon (non-Dutch) Southern Africans, and New Zealanders descendants of Joseph? Where are the lost ten-tribes of Israel? Who are the lost tribes of Israel? What will happen to Jerusalem and the Jews in Israel? Will God punish the U.S.A., Canada, United Kingdom, and other Anglo-Saxon nations? Why might God allow them to be punished first? Here is a link to the Spanish version of this article: Anglo-América & las Tribus Perdidas de Israel. Information is also in the YouTube sermons titled Where are the Ten Lost Tribes? Why does it matter? and British are the Covenant People. A short YouTube of prophetic interest may be: Are Chinese threats against Australia for real?
Will the Anglo-Saxon-Celtic Nations be Divided and Have People Taken as Slaves? Will the lands of the United States, United Kingdom, Canada, Australia, and New Zealand be divided? What about Jerusalem? What does Bible prophecy teach? Are there non-biblical prophecies that support this idea? Who will divide those lands? Who will end up with the lands and the people? Here is a link to a video titled Will the USA and other Anglo-nations be Divided and Their People Made Slaves? Here is a related item in the Spanish language ¿Serán divididas las naciones anglosajonas?
British are the Covenant People What do 'British' and 'Britain' mean in Hebrew? Are the descendants of the Anglo-Saxons people of the covenant? Does the British royal family connect to the throne of David? What does the Bible teach? What does history show us? Is there any DNA evidence related to British-Israelism? When did Christianity make it to the British Isles? Could Jeremiah have made it to the British Isles? What type of Christians made it to the British Isles? Did the last King of England believe in British Israelism?
Who is the King of the West? Why is there no Final End-Time King of the West in Bible Prophecy? Is the United States the King of the West? Here is a version in the Spanish language: ¿Quién es el Rey del Occidente? ¿Por qué no hay un Rey del Occidente en la profecía del tiempo del fin? A related sermon is also available: The Bible, the USA, and the King of the West. Russia and Ukraine: Their Origins and Prophesied Future Russia in prophecy. Where do the Russians come from? What about those in the Ukraine? What is prophesied for Russia and its allies? What will they do to the Europeans that supported the Beast in the end? There is also a video sermon available: Russia in the Bible and in Prophecy and a video sermonette available: Ukraine in Prophecy? Is Russia the King of the North? Some claim it is. But what does the Bible teach? Here is a link to a video, also titled Is Russia the King of the North? Ezekiel 38: For Russia & Iran in Our Day? Is Ezekiel 38 about to be fulfilled? Are we close to the battle with Gog and Magog? Three related videos are available: Ezekiel 38 Gog and Magog War: Is it Soon?, Ezekiel 38: For Russia, Ukraine, & Iran Now?, and Russia, Iran, Syria, & the Bible (Code).
Germany in Biblical and Catholic Prophecy Does Assyria in the Bible equate to an end time power inhabiting the area of the old Roman Empire? What does prophecy say Germany will do and what does it say will happen to most of the German people? Here is a version of the article in the Spanish language: Alemania en la profecía bíblic. Here are links to two English language sermon videos Germany in Bible Prophecy and The Rise of the Germanic Beast Power of Prophecy.
Germany's Assyrian Roots Throughout History Are the Germanic peoples descended from Asshur of the Bible? Have there been real Christians in Germanic history? What about the "Holy Roman Empire"? There is also a You-Tube video sermon on this titled Germany's Biblical Origins.
The Great Monarch: Biblical and Catholic Prophecies Is the 'Great Monarch' of Catholic prophecies endorsed or condemned by the Bible? Two sermons of related interest are also available: Great Monarch: Messiah or False Christ? and Great Monarch in 50+ Beast Prophecies.
Why Terrorism? Is Terrorism Prophesied? What does the Bible teach? Which nations may be affected? Here is a link to a related sermon: Terrorism, Christianity, and Islam.
The Prophesied 'Islamic' Confederation Where is an Islamic caliphate prophesied? Will one happen? Should you be concerned about it? A related video is Will an Arabic Calphiphate Destroy the West?
Might the U.S.A. Be Gone by 2028? Are there prophetic reasons to believe that the USA will not last two complete presidential terms? Yes. There is a tradition attributed to the Hebrew prophet Elijah that humanity had 6,000 years to live before being replaced by God's Kingdom. There are scriptures, writings in the Talmud, early Christian teachings that support this. Also, even certain Hindu writings support it. Here is a link to a related video: Is the USA prophesied to be destroyed by 2028?
Biden-Harris: Prophecies and Destruction Can the USA survive two full presidential terms? In what ways are Joe Biden and Kamala Harris apocalyptic? This book has hundreds of prophecies and scriptures to provide details.  A Kindle version is also available and you do not need an actual Kindle device to read it. Why? Amazon will allow you to download it to almost any device: Please click HERE to download one of Amazon s Free Reader Apps. After you go to your free Kindle reader app (or if you already have one or a Kindle),  you can go to: Biden-Harris: Prophecies and Destruction (Kindle) to get the book in seconds.