The cultural-political divide in #Ukraine is significant. The US is egging on a civil war and knows it. Russians will offer protection to those Ukrainians who ask for it. The US cannot win any way you look at this. pic.twitter.com/nlb3Y1sE40

— Sharmine Narwani (@snarwani) February 23, 2022
The situation with Russia and Ukraine has many concerned:
Europe braces for further strife as Ukraine crisis escalates

February 23, 2022

KYIV, Ukraine (AP) — Russia began evacuating its embassy in Kyiv, and Ukraine urged its citizens to leave Russia on Wednesday as the region braced for further confrontation after President Vladimir Putin received authorization to use military force outside his country and the West responded with sanctions.

Hopes for a diplomatic way out of a new, potentially devastating war appeared all but sunk as the U.S. and key European allies accused Moscow on Tuesday of crossing a red line in rolling over Ukraine's border into separatist regions — with some calling it an invasion.

Russia began pulling personnel from its diplomatic posts in Ukraine, state news agency Tass reported, a day after the Foreign Ministry announced a plan to evacuate, citing threats.

By Wednesday afternoon, the Russian flag was no longer flying over the embassy in Kyiv, according to an Associated Press photographer. Police surrounded the building.

After weeks of trying to project calm, Ukrainian authorities signaled increasing concern on Wednesday. The Foreign Ministry advised against travel to Russia and recommended anyone there leave immediately, saying Moscow's "aggression" could lead to a significant reduction in consular services. …

German Foreign Minister Annalena Baerbock on Wednesday called European Union sanctions agreed a day before just "a first step" and also said further measures could follow. Sanctions are key because the West has ruled out taking on Russia militarily. …

Russian ambassador in the U.S. Anatoly Antonov retorted that "sanctions cannot solve a thing" in a statement on Facebook. "It is hard to imagine that there is a person in Washington who expects Russia to revise its foreign policy under a threat of restrictions." https://apnews.com/article/russia-ukraine-europe-russia-moscow-kyiv-626a8c5ec22217bacb24ece60fac4fe1
As far as sanctions go, on March 18, 2019, I posted:
It remains my view that Crimea and at least parts of eastern Ukraine will ultimately align with Russia.

International sanctions will not stop biblical prophecies from being fulfilled. (Thiel B. 'Putin in Crimea as Russia Marks Five Years Since Annexation' the 'Kings of the Medes' will arise. COGwriter, March 18, 2019)
And the events of the past several days confirmed my view that sanctions and threats of sanctions would not stop Russia from having territories align with it. The sanctions recently announced by the USA and the Europeans look to be announced as political punishment, as opposed to being announced by those who seriously believe that they will get Russia to cede the Donbas back to Ukrainian control.
Furthermore, US sanctions are not real popular with Europe and are one of many reasons that Europe wants more power of its own.
That being said, Russia is now officially in with troops in the far eastern portion of Ukrainian claimed territory called the Donbas.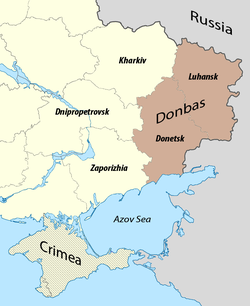 Donbas consists of Luhansk and Donetsk
(Picture by RGloucester)
But there is still a lot of Ukrainian territory with Russian speakers. If Russia feels that the West is pushing too hard with sanctions, it may very well decide to move further west in Ukraine (look at the map in the tweet at the beginning of this post regarding where Russian speakers are the majority in Ukraine). Furthermore, it could be the Russia may go even further west, over all of Ukraine, if provoked.
Current pressures from Ukraine and the USA as well as certain European nations has put Germany in a difficult political spot.
Notice the following report from the German Deutsche Welle newsite:
Germany's Russia policy dealt a blow by Kremlin's escalation

Germany's historic Russia policy, which has been focused on "special relationship" diplomacy and economic ties rather than confrontation, has been struck a blow by Russia's escalation. What now for Berlin?

22 February 2022

Russia's dramatic escalation in eastern Ukraine on Monday has had major consequences for Germany's foreign policy. Chancellor Olaf Scholz's immediate reaction — to put Nord Stream 2 on hold — was itself an awkward U-turn for a chancellor who has not yet been in office for three months.

At the start of his tenure in December, Scholz was still describing the gas pipeline in the Baltic Sea — recently completed but not yet online — as a purely private economic project, even though it is owned by a company that the Russian state has a controlling stake in. On Tuesday morning, Nord Stream 2 proved to be very much the political tool that many of Germany's geopolitical partners, especially the US government, had always seen it as.

The Kremlin's move also leaves the policies of Scholz's predecessor Angela Merkel in ruins. https://www.dw.com/en/germanys-russia-policy-dealt-a-blow-by-kremlins-escalation/a-60874697
Germany did NOT want to stop Nord Stream 2, but did so mainly because of pressure from the USA and to a lessor degree Ukraine, Poland, and Lithuania.
The reality is that many in Germany do believe that Vladimir Putin has a legal basis for his position against NATO in Ukraine. Even a report from the German publication Der Spiegel was titled: Nato's Eastward Expansion: Is Vladimir Putin Right? https://www.spiegel.de/international/world/nato-s-eastward-expansion-is-vladimir-putin-right-a-bf318d2c-7aeb-4b59-8d5f-1d8c94e1964d
To answer Deutsche Welle's question, "What now for Berlin?," the reality is that it makes economic sense for Germany to continue to buy natural gas and oil from Russia. It is still doing so with Nord Stream 1.
Now, I suspect, if Germany had its way here, and did not feel it needed to be concerned about the USA, that it may have proposed something to the effect of western Ukraine being in the EU, ceding the Donbas, Crimea, & perhaps a little more territory to Russia or its Eurasian Union, Russia to still ship oil through Ukrainian pipelines, and not allowing Ukraine to join NATO, and approving Nord Stream 2.
So, since that did not happen, what will?
As I have posted before, back in 1962 the old Radio Church of God published the following items:
United within the ancient boundaries of the Holy Roman Empire; united by the common spiritual bond of universal Catholicism; united in a burgeoning and booming industrial economy that dominates today's world; united geographically in the most productive and industrial complex of all the earth — at least TEN NATIONS OF MODERN EUROPE WILL MARCH ONTO THE SCENE OF WORLD HISTORY AS THE GREATEST SINGLE HUMAN FORCE EVER SEEN BY MAN! This United Europe will form a nonaggression pact or political alignment of some sort with the Soviet East. …

Modern Europe is counseling and making treaties and alliances and agreements to conquer this earth! … Germany, those living in Germany, even the German government, may not yet know that they are going to join in a treaty with the Russians to destroy the United States and bring it to its knees-it is not in his "heart" to think so, but on the other hand it IS in his "heart" to destroy-the very characteristic of the Assyrian, the modern German, is a harsh, cruel, iron, dedication to militarism and destruction! …

MAN'S ONLY HOPE LIES IN TURNING TO HIS CREATOR GOD!

"At what instant I shall speak concerning a nation, and concerning a kingdom. to pluck up, and to pull down, and to destroy it; If that nation, against whom I have pronounced, TURN FROM THEIR EVIL, I will repent of the evil that I thought to do unto them… Behold, I frame evil against YOU, and devise a device against YOU: return ye now EVERY ONE from his evil way and make your ways and your doings good!" (Jer. 18:7, 8, 11).

The case of America and Great Britain is hopeless! (Hill DJ,What is Germany's Destiny? Plain Truth, March 1962, pp. 28-29)

The German people are now asking themselves: "Can we rely on the Americans and British?" … These questions lead to the logical conclusion that maybe the only people the Germans can rely on themselves. They are now thinking: "Perhaps we can strike a better bargain with the Russians ourselves." …

Once a German-dominated Europe is fully established, Germany will be ready to negotiate and bargain with Russia- and behind the backs of the Western Allies if necessary. …

When will a Russo-German deal be made? Here is a quotation from a circular letter issued in September, 1950 by the Nazi Geo-political Center in Madrid:

"However long we may continue to milk the Americans of millions of dollars, there must come the inevitable moment when we shall have to make it crystal clear to them that we are not willing to join the fight against Russia for American interests … (Germany Plots with the Kremlin by T H. Terens, p. 15). …

Most Americans and Britons are not aware of what Germany and Europe are planning against them. This is partly due to the cunning of German. politics. …

World events are moving swiftly toward the climax when Great Britain and the United. States will be attacked, conquered and DESTROYED! (Boraker R. Are the Germans Secretly Dealing with Moscow? Plain Truth, May 1962, pp. 45-47)
Yes, I, too, expect that Russia will make a deal with the Europeans. And, as Der Spiegel asked, some the Europeans accept that Russia did feel it had legal justification for its position on Ukraine–irrespective of what the Europeans may do in the near term.
What many fail to see is that Germany, as well as much of Europe, has not been pleased with USA 'leadership' on this matter.
Regarding leadership, notice the following:
In a leaderless world, men like Russian President Vladimir Putin have free rein, warned former German Defense Minister Karl-Theodor zu Guttenberg. On January 27, Guttenberg addressed around 1,000 guests at the digital annual kick-off event of the private bank Merck Finck. He was introduced as chairman of the investment firm Spitzberg Partners, but rather than give investment advice, the main topic of his talk was "the political world order of the future," Wirtschafts Woche wrote (Trumpet translation throughout). …

Due to America's inward focus and China's struggle with its zero-covid policy, Putin is able to exploit the "leadership vacuum," according to Guttenberg. He criticized Germany's recent involvement in the crisis. "What we are currently delivering is unfortunately a remarkable egg dance," he said about the German government's Ukraine response. Instead of sending 5,000 helmets to Ukraine, one might as well have sent towels, Guttenberg mocked.

In 2014, he wrote "Putin Is Basking in an 'Astonishing Leadership Vacuum.'" Since then, the vacuum has grown, and Guttenberg apparently feels drawn to it.

He also pointed out that the leadership vacuum in the German government is leading to the increase of tech companies' power—a trend he calls the development from "government to googlement." 02/01/22 https://www.thetrumpet.com/25185-former-german-defense-minister-speaks-out
Herr Guttenberg's answer to googlement is European dominance of Big Tech (watch Karl-Theodor zu Guttenberg and Europe's Future). Furthermore, he is interested in filling the leadership void in Europe (see also Might German Baron Karl-Theodor zu Guttenberg become the King of the North?).
Europe will move to strengthen its military and political power because of many factors, including Russia and a disdain for American leadership.
This will not end well for the USA (cf. Daniel 11:39; see also Karl-Theodor zu Guttenberg and Europe's Future) nor Europe itself (cf. Daniel 11:44-45; Jeremiah 51)
As far as Russia, Ukraine, and Europe go, you may wish to watch our recent video:  Russia, Ukraine, Babylonian Europe, and Prophecy.
In the relatively near future, Germany will make a deal with Russia that will not end well for the USA.
Some items of possibly related interest may include:
Russia and Ukraine: Their Origins and Prophesied Future Russia in prophecy. Where do the Russians come from? What about those in the Ukraine? What is prophesied for Russia and its allies? What will they do to the Europeans that supported the Beast in the end? There is also a video sermon available: Russia in the Bible and in Prophecy as are two video sermonettes Russia, Ukraine, Babylonian Europe, and Prophecy and Ukraine in Prophecy?
Is Russia the King of the North? Some claim it is. But what does the Bible teach? Here is a link to a video, also titled Is Russia the King of the North?
Might German Baron Karl-Theodor zu Guttenberg become the King of the North? Is the former German Defense Minister (who is also the former German Minister for Economics and Technology) one to watch? What do Roman Catholic, Byzantine, and biblical prophecies suggest? A video of related interest would be: Karl-Theodor zu Guttenberg and Europe's Future.
Germany's Assyrian Roots Throughout History Are the Germanic peoples descended from Asshur of the Bible? Have there been real Christians in Germanic history? What about the "Holy Roman Empire"? There is also a You-Tube video sermon on this titled Germany's Biblical Origins.
Germany in Biblical and Roman Catholic Prophecy Does Assyria in the Bible equate to an end time power inhabiting the area of the old Roman Empire? What does prophecy say Germany will do and what does it say will happen to most of the German people? Here is a version of the article in the Spanish language: Alemania en la profecía bíblic. Here are links to two English language sermon videos Germany in Bible Prophecy and The Rise of the Germanic Beast Power of Prophecy.
Europa, the Beast, and Revelation Where did Europe get its name? What might Europe have to do with the Book of Revelation? What about "the Beast"? Is an emerging European power "the daughter of Babylon"? What is ahead for Europe? Here is a link to a video titled: Can You Prove that the Beast to Come is European?
European Technology and the Beast of Revelation Will the coming European Beast power would use and develop technology that will result in the taking over of the USA and its Anglo-Saxon allies? Is this possible? What does the Bible teach? Here is a related YouTube video: Military Technology and the Beast of Revelation.
Must the Ten Kings of Revelation 17:12 Rule over Ten Currently Existing Nations? Some claim that these passages refer to a gathering of 10 currently existing nations together, while one group teaches that this is referring to 11 nations getting together. Is that what Revelation 17:12-13 refers to? The ramifications of misunderstanding this are enormous. A related sermon is titled Ten Kings of Revelation and the Great Tribulation.
Who is the King of the North? Is there one? Do biblical and Roman Catholic prophecies for the Great Monarch point to the same leader? Should he be followed? Who will be the King of the North discussed in Daniel 11? Is a nuclear attack prophesied to happen to the English-speaking peoples of the United States, Great Britain, Canada, Australia, and New Zealand? When do the 1335 days, 1290 days, and 1260 days (the time, times, and half a time) of Daniel 12 begin? When does the Bible show that economic collapse will affect the United States? In the Spanish language check out ¿Quién es el Rey del Norte? Here are links to two related videos: The King of the North is Alive: What to Look Out For and The Future King of the North.
Anglo – America in Prophecy & the Lost Tribes of Israel Are the Americans, Canadians, English, Scottish, Welsh, Australians, Anglo-Saxon (non-Dutch) Southern Africans, and New Zealanders descendants of Joseph? Where are the lost ten-tribes of Israel? Who are the lost tribes of Israel? What will happen to Jerusalem and the Jews in Israel? Will God punish the U.S.A., Canada, United Kingdom, and other Anglo-Saxon nations? Why might God allow them to be punished first? Here is a link to the Spanish version of this article: Anglo-América & las Tribus Perdidas de Israel. Information is also in the YouTube sermons titled Where are the Ten Lost Tribes? Why does it matter? and British are the Covenant People. A short YouTube of prophetic interest may be: Are Chinese threats against Australia for real?
Will the Anglo-Saxon-Celtic Nations be Divided and Have People Taken as Slaves? Will the lands of the United States, United Kingdom, Canada, Australia, and New Zealand be divided? What about Jerusalem? What does Bible prophecy teach? Are there non-biblical prophecies that support this idea? Who will divide those lands? Who will end up with the lands and the people? Here is a link to a video titled Will the USA and other Anglo-nations be Divided and Their People Made Slaves? Here is a related item in the Spanish language ¿Serán divididas las naciones anglosajonas?
British are the Covenant People What do 'British' and 'Britain' mean in Hebrew? Are the descendants of the Anglo-Saxons people of the covenant? Does the British royal family connect to the throne of David? What does the Bible teach? What does history show us? Is there any DNA evidence related to British-Israelism? When did Christianity make it to the British Isles? Could Jeremiah have made it to the British Isles? What type of Christians made it to the British Isles? Did the last King of England believe in British Israelism?
The Great Monarch: Biblical and Catholic Prophecies Is the 'Great Monarch' of Catholic prophecies endorsed or condemned by the Bible? Two sermons of related interest are also available: Great Monarch: Messiah or False Christ? and Great Monarch in 50+ Beast Prophecies.
When Will the Great Tribulation Begin? 2022, 2023, or 2024? Can the Great Tribulation begin today? What happens before the Great Tribulation in the "beginning of sorrows"? What happens in the Great Tribulation and the Day of the Lord? Is this the time of the Gentiles? When is the earliest that the Great Tribulation can begin? What is the Day of the Lord? Who are the 144,000? Here is a version of the article in the Spanish language: ¿Puede la Gran Tribulación comenzar en el 2020 o 2021? ¿Es el Tiempo de los Gentiles? A related video is: Great Tribulation: 2026 or 2027? A shorter video is: Can the Great Tribulation start in 2022 or 2023? Here is a video in the Spanish language: Es El 2021 el año de La Gran Tribulación o el Grande Reseteo Financiero.