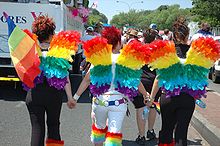 End of South African Pride Parade' (Diricia De Wet)
Not satisfied with reversing US law (DOMA) on marriage, USA government officials are encouraging homosexual pride parades internationally according to the following report':
US embassies abroad are preparing to celebrate Gay Pride Month in June, even in countries where homosexual behavior is outlawed.

Author Robert Reilly notes that in many countries, the American diplomatic pressure for recognition of homosexual partnerships could easily be seen as an attempt to influence internal political affairs—traditionally a taboo in the world of diplomacy. The embassies are also risking the hostility of nations that regard the US as a corrosive cultural influence.

http://www.catholicculture.org/news/headlines/index.cfm?storyid=17868
Of course, the Bible condemns pride.  Here are some examples from scripture:
X11 And bring them down,
O Lord our shield.
12 For the sin of their mouth and the words of their lips,
Let them even be taken in their pride,(Psalms 59:11-12)

13 The fear of the Lord is to hate evil;
Pride and arrogance and the evil way
And the perverse mouth I hate.  (Proverbs 8:13)

18 Pride goes before destruction,
And a haughty spirit before a fall.  (Proverbs 16:18)
As far as "gay pride" goes, notice the following:
9 The look on their countenance witnesses against them,
And they declare their sin as Sodom;
They do not hide it.
Woe to their soul!
For they have brought evil upon themselves.   (Isaiah 3:9)

49 Look, this was the iniquity of your sister Sodom: She and her daughter had pride, fullness of food, and abundance of idleness; neither did she strengthen the hand of the poor and needy. 50 And they were haughty and committed abomination before Me; therefore I took them away as I saw fit.  (Ezekiel 16:49-50)
Homosexuality, itself, is not something that God does approves of:
7 as Sodom and Gomorrah, and the cities around them in a similar manner to these, having given themselves over to sexual immorality and gone after strange flesh, are set forth as an example, suffering the vengeance of eternal fire. (Jude 7)
6…the cities of Sodom and Gomorrah into ashes, condemned them to destruction, making them an example to those who afterward would live ungodly (2 Peter 2:6)
God had the example of Sodom and Gomorrah recorded in the Bible so that people would realize that promoting homosexuality is not appropriate and is dangerous.
The Bible also warns that leaders can lead people to err:
12…Those who lead you cause you to err, And destroy the way of your paths. (Isaiah 3:12)

16 For the leaders of this people cause them to err, And those who are led by them are destroyed (Isaiah 9:16).
Notice something else from the Bible:
18 For the wrath of God is revealed from heaven against all ungodliness and unrighteousness of men, who suppress the truth in unrighteousness, 19 because what may be known of God is manifest in them, for God has shown it to them. 20 For since the creation of the world His invisible attributes are clearly seen, being understood by the things that are made, even His eternal power and Godhead, so that they are without excuse, 21 because, although they knew God, they did not glorify Him as God, nor were thankful, but became futile in their thoughts, and their foolish hearts were darkened. 22 Professing to be wise, they became fools, 23 and changed the glory of the incorruptible God into an image made like corruptible man — and birds and four-footed animals and creeping things.

24 Therefore God also gave them up to uncleanness, in the lusts of their hearts, to dishonor their bodies among themselves, 25 who exchanged the truth of God for the lie, and worshiped and served the creature rather than the Creator, who is blessed forever. Amen.

26 For this reason God gave them up to vile passions. For even their women exchanged the natural use for what is against nature. 27 Likewise also the men, leaving the natural use of the woman, burned in their lust for one another, men with men committing what is shameful, and receiving in themselves the penalty of their error which was due.

28 And even as they did not like to retain God in their knowledge, God gave them over to a debased mind, to do those things which are not fitting; 29 being filled with all unrighteousness, sexual immorality, wickedness, covetousness, maliciousness; full of envy, murder, strife, deceit, evil-mindedness; they are whisperers, 30 backbiters, haters of God, violent, proud, boasters, inventors of evil things, disobedient to parents, 31 undiscerning, untrustworthy, unloving, unforgiving, unmerciful; 32 who, knowing the righteous judgment of God, that those who practice such things are deserving of death, not only do the same but also approve of those who practice them. (Romans 1:18-32)
Keeping the Ten Commandments reflects love. Breaking them and/or condoning those that do is evil. This should be clear to those who believe the God of the Bible.
More problems are coming to the world as more and more accept homosexual unions and otherwise promote homosexuality. I expect to see more weather-related problems as homosexual unions of various types gain more acceptance by those who do not wish to accept what the Bible teaches about marriage as well as what it teaches about homosexuality.
Some items of possibly related interest may include:
The Bible Condemns Homosexuality "Same-sex marriage" for "gays" and lesbians is becoming more acceptable to many. What does the Bible teach about homosexuality? Can homosexuals change?
Love, Marriage, and Sex It is important to get them in the right order.
What is the Meaning of Life? Who does God say is happy? What is your ultimate destiny? Do you really know? Does God actually have a plan for YOU personally?
What Did Jesus Teach About the Ten Commandments? This article quotes what Jesus actually said about them (His words are in red).
The Ten Commandments Reflect Love, Breaking them is Evil Some feel that the ten commandments are a burden. Is that what Jesus, Paul, Peter, James, and John taught?
The Ten Commandments and the Early Church Did Jesus and the Early Church keep the ten commandments? What order were they in? Here are quotes from the Bible and early writings.
Anglo – America in Prophecy & the Lost Tribes of Israel Are the Americans, Canadians, English, Scottish, Welsh, Australians, Anglo (non-Dutch) Southern Africans, and New Zealanders descendants of Joseph? Where are the lost ten-tribes of Israel? Who are the lost tribes of Israel? What will happen to Jerusalem and the Jews in Israel? Will God punish the U.S.A., Canada, United Kingdom, and other Anglo nations? Why might God allow them to be punished first?
Will the Anglo-Nations be Divided and Have People Taken as Slaves? Will the lands of the United States, United Kingdom, Canada, Australia, and New Zealand be divided? What about Jerusalem? What does Bible prophecy teach? Are there non-biblical prophecies that support this idea? Who will divide those lands? Who will end up with the lands and the people?
Barack Obama, Prophecy, and the Destruction of the United States-Second Edition for Second Obama Term This is a 160 page book for people truly interested in prophecies related to Barack Obama and the United States, including learning about many that have already been fulfilled (which the book documents in detail) and those that will be fulfilled in the future. It also has a chapter about a Republican choice. This book is available to order at www.barackobamaprophecy.com. The physical book can also be purchased at Amazon from the following link: Barack Obama, Prophecy, and the Destruction of the United States: Is Barack Obama Fulfilling Biblical, Islamic, Catholic, Kenyan, and other America-Related Prophecies? What About Republican Leaders? Second Edition for Second Obama Term.
Barack Obama, Prophecy, and the Destruction of the United States-Second Term-Amazon Kindle edition. This electronic version is available for only US$2.99. And you do not need an actual Kindle device to read it. Why? Amazon will allow you to download it to almost any device: Please click HERE to download one of Amazon s Free Reader Apps. After you go to for your free Kindle reader and then go to Barack Obama, Prophecy, and the Destruction of the United States-Second Term-Amazon Kindle edition.