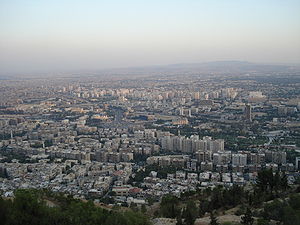 Damascus, Capital of Syria
An Israeli official apparently has told the Russians that Israel will eliminate the Syrian Assad Regime if it attacks Israel:
May 15, 2013

Israel has warned Damascus that if President Assad chooses to hit back at Israel for any further Israeli military strikes, Israel will bring down his regime. An Israeli official confirmed Wednesday night that a dramatic and unprecedented message to this effect had been conveyed to Damascus

May 15, 2013

The report said that Israel's position to this effect also came up during Prime Minister Benjamin Netanyahu's emergency meeting in Russia on Tuesday with President Vladimir Putin, during which Netanyahu also told Putin of Israel's profound opposition to Russia's sale of sophisticated S-300 missile defense batteries to Assad.

The warning came hours after mortar shells hit the Mount Hermon areafor the first time in the two-year Syrian civil war, and as Arabic newspapers reported talk of Hezbollah opening "a new front" against Israel on the Golan Heights.

Syria vowed last week to respond "immediately and harshly" to any further Israeli airstrikes, after Israel carried out two early morning attacks earlier this month on weapons consignments being stored in and around Damascus en route from Iran to Hezbollah in Lebanon. The shipments contained highly sophisticated Fateh-110 missiles.

Confirmation of Israel's warning to Assad came soon after the New York Times quoted an Israeli official issuing the same threat.  http://www.nowtheendbegins.com/blog/?p=13971

May 15, 2013

'If Assad reacts to Syria strike, Israel will retaliate'

The Prime Minister's Office would not comment Wednesday evening on the report.

Meanwhile, Putin – at a press conference with Netanyahu following their meeting – said the two countries would continue to maintain contact regarding the Syrian situation.  http://www.jpost.com/Defense/If-Assad-reacts-to-Syria-strike-Israel-will-retaliate-313265
Israel really does not want Syria to engage in a full scale war with it, but is apparently wondering if it might have to.
This apparent position by Israel could be very significant as the Bible shows that the time is coming relatively soon that Damascus will be destroyed (Isaiah 17:1). And if Israel does the destruction to fulfill Isaiah 17:1, I have long felt that it may be because Syria (and/or its ally Iran) will have used chemical, biological, emp, airstrikes, and/or nuclear/dirty bomb weapons against Israel.
I have long been expecting more conflict involving Syria and two months ago, I put together a video for the BibleNewsProphecy channel titled Damascus and Syria in Prophecy .  Notice some prophecies about Damascus:
7 thus says the Lord God: "It shall not stand, Nor shall it come to pass. 8 For the head of Syria is Damascus (Isaiah 7:7-8).

3 Thus says the Lord: "For three transgressions of Damascus, and for four, I will not turn away its punishment, Because they have threshed Gilead with implements of iron. (Amos 1:3)

1 The burden against Damascus. "Behold, Damascus will cease from being a city, And it will be a ruinous heap. (Isaiah 17:1)

23 Against Damascus. "Hamath and Arpad are shamed, For they have heard bad news. They are fainthearted; There is trouble on the sea; It cannot be quiet. 24 Damascus has grown feeble; She turns to flee, And fear has seized her. Anguish and sorrows have taken her like a woman in labor. 25 Why is the city of praise not deserted, the city of My joy? 26 Therefore her young men shall fall in her streets, And all the men of war shall be cut off in that day," says the Lord of hosts. 27 "I will kindle a fire in the wall of Damascus, And it shall consume the palaces of Ben-Hadad." (Jeremiah 49:23-27)
More trouble is coming to Damascus as it will be destroyed (Isaiah 17:1).  Israel may have suggested that it possibly do it.
Syria will change.  An Islamic confederation that will include the land of Syria is coming (Daniel 11:40-43; Ezekiel 30:1-8; Psalm 83:4-8) is coming.  President Assad will change to ultimately support it or he be absolutely will be replaced.
There will be other troubles for Israel. And the USA will not end up unscathed.  But Damascus at some point in the reasonably near future be destroyed.
Some articles of possibly related interest may include:
Damascus and Syria in Prophecy Will Bashar Assad hold power as he has it? Does the Bible show that Damascus, the capital of Syria, will be destroyed? What will happen to Syria? Will the Syrians support the final King of the South that the Bible tells will rise up? Which scriptures discuss the rise and fall of an Arabic confederation? Does Islamic prophecy predict the destruction of Syria. This is a YouTube video.
Is There A Future King of the South? Some no longer believe there needs to be. Might Egypt, Islam, Iran, Arabs, or Ethiopia be involved? Might this King be called the Mahdi? What does the Bible say?
The Arab and Islamic World In the Bible, History, and Prophecy The Bible discusses the origins of the Arab world and discusses the Middle East in prophecy. What is ahead for the Middle East and those who follow Islam? What about the Imam Mahdi? What lies ahead for Turkey, Iran, and the other non-Arabic Muslims?
Is There an Islamic Antichrist? Is Joel Richardson correct that the final Antichrist will be Islamic and not European? Find out.
The Muslim Brotherhood and the Rise of the King of the South The Bible tells of the formation of a power of nations that are in the Middle East and North Africa that are part of the final "King of the South" (Daniel 11:40-43) The Muslim Brotherhood wishes to have an Islamic empire with basically the same nations. This YouTube video explains what to expect from such a confederation.
Russia: Its Origins and Prophesied Future Russia in prophecy. Where do the Russians come from? What about those in the Ukraine? What is prophesied for Russia and its allies? What will they do to the Europeans that supported the Beast in the end?
Is Russia the King of the North? Some claim it is. But what does the Bible teach? Here is a link to a video, also titled Is Russia the King of the North?
Jerusalem: Past, Present, and Future What does the Bible say about Jerusalem and its future? Is Jerusalem going to be divided and eliminated? Is Jesus returning to the area of Jerusalem?
Anglo – America in Prophecy & the Lost Tribes of Israel Are the Americans, Canadians, English, Scottish, Welsh, Australians, Anglo (non-Dutch) Southern Africans, and New Zealanders descendants of Joseph? Where are the lost ten-tribes of Israel? Who are the lost tribes of Israel? What will happen to Jerusalem and the Jews in Israel? Will God punish the U.S.A., Canada, United Kingdom, and other Anglo nations? Why might God allow them to be punished first?
Will the Anglo-Nations be Divided and Have People Taken as Slaves? Will the lands of the United States, United Kingdom, Canada, Australia, and New Zealand be divided? What about Jerusalem? What does Bible prophecy teach? Are there non-biblical prophecies that support this idea? Who will divide those lands? Who will end up with the lands and the people? Here is a link to a video titled Will the USA and other Anglo-nations be Divided and Their People Made Slaves?
Barack Obama, Prophecy, and the Destruction of the United States-Second Edition for Second Obama Term This is a 160 page book for people truly interested in prophecies related to Barack Obama and the United States, including learning about many that have already been fulfilled (which the book documents in detail) and those that will be fulfilled in the future. It also has a chapter about a Republican choice. This book is available to order at www.barackobamaprophecy.com. The physical book can also be purchased at Amazon from the following link: Barack Obama, Prophecy, and the Destruction of the United States: Is Barack Obama Fulfilling Biblical, Islamic Catholic, Kenyan, and other America-Related Prophecies? What About Republican Leaders? Second Edition for Second Obama Term.
Barack Obama, Prophecy, and the Destruction of the United States-Second Term-Amazon Kindle edition. This electronic version is available for only US$2.99. And you do not need an actual Kindle device to read it. Why? Amazon will allow you to download it to almost any device: Please click HERE to download one of Amazon s Free Reader Apps. After you go to for your free Kindle reader and then go to Barack Obama, Prophecy, and the Destruction of the United States-Second Term-Amazon Kindle edition.