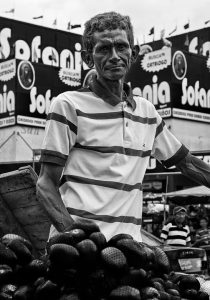 Venezuelan man selling vegetables (Pixabay)

The situation in Venezuela has become untenable for many. Millions have left it for other countries.
But so many have done so, so quickly, that some feel that they are causing problems in other lands.
Someone sent me the following email, in Spanish, which I machine-translated into English (the original Spanish follows):
The streets of the big cities of Colombia are full of Venezuelans and Venezuelans asking for alms. At the corners of the great avenues, at the traffic lights, they stop to beg for alms, to clean the windows of the glass. At the departures of the department stores, they stop to sell candies or cookies, to earn a few pesos, and with them to buy some food. Many of them sleep in the street, in the cracks of houses or buildings, or get a piece in which twelve or fourteen people sleep together, crowded like worms on a leaf of a plant.

The people help you. I have personally helped some of them. Some boys, 19 or 20 years old, stopped to ask for alms or sell candy, when they left the stores where I bought the little I eat. One day they told me that they had stolen all the clothes, in the room in which they slept, because they lived with bad people, vicious people and street kids. I took pity on them and gave them a change of clothes. Then I told them to go to a better quality residence / hotel, not to continue living where they were, that I was going to help them.

Every day they came at night to ask for my help, which was very little, but with which they paid for the piece to which they had moved. Sometimes they asked me for food, and I went and took them to eat somewhere near my residence.

When some time had passed, and I already knew them, I suggested that they go to live in a country house that I have in a village in the mountains of Antioquia, Colombia. It is a humble property, but in it they could find a place to live. They would take care of the property and I, in exchange, could help them with the market and the food, and eventually, if they were dedicated to the work of the field and planted the land, I would use them as my workers.

They said yes, they were willing to go there. I set a date to take them there, twelve hours from Bogotá, where I currently reside. I bought them a cell phone, so they could communicate with me about any need, and I traveled with them to my little house in the country. I installed them in it, I gave them the key to the house, I bought them a market, I gave them the instructions of the case.

In an oversight of mine, they took my jacket, in which I had my two smartphone cell phones, and my wallet. They stole all the money I had in my wallet, and both phones, and they ran away.
They left me stranded and abandoned in that country house, which is half an hour from the nearest town, and twelve hours from Bogotá, where I work. With difficulty I could get communication with a former worker of mine, who lives in another town, three hours away, and asked him to rescue me. I told him everything. He met the boys because he was the one who took us there, to install them. I had to stay a whole week waiting to get money to be able to return to Bogotá, where I work.

This situation has already happened to many people in Colombia. They help these Venezuelans who are in the street, they feel sorry for them, and sadly the payment that is received from them is ingratitude, and things like the one that happened to me. It could have been worse, they would have done something more serious to me, they would have hurt me or killed me. At least they just stole me. With what they took from me I doubt very much that they have come far. Anyway, I did not see them again. I could not retrieve the cell phones and even the numbers of them, because they blocked them. Nobody knows where they went.

For this type of actions many people in Colombia are beginning to think that the national government should expel these refugees. Almost no one helps them, and because of such criminal behavior the Colombians are taking aversion and hatred, and no longer want to collaborate. For the ingratitude of a few will pay all. And every day more grows the number of these people, men and women, mostly young, who came to Colombia to escape the situation in Venezuela. There are many complaints, there are many complaints, there are already
Venezuelans committing crimes against property, stealing bicycles, robbing people in the streets, etc.

This is the sad situation that is occurring. One can be moved by what is happening and what he sees, these people, these young people sleeping in the street and carving garbage and living in the most abject misery. But on the other hand, one has the bad memory of the ingratitude of those whom one has tried to help, and they pay him in this way.

In truth, because of the behavior of some of these refugees, the attitude of Colombians towards them has begun to change, to the bad. People no longer want to help them, and the heart has hardened those who originally collaborated with them and tried to serve in some way.

This is, at this moment, the situation of the large and medium-sized cities of Colombia, full of these Venezuelan refugees whom almost nobody wants, because of the bad behavior of a few of them.

————————————————————————————-

Las calles de las grandes ciudades de Colombia están llenas de venezolanos y venezolanas pidiendo limosna. En las esquinas de las grandes avenidas, en los semáforos, se paran a pedir limosna, a limpiar las ventanas de los vidrios. En las salidas de los grandes almacenes, se paran a vender confites o galletas, para ganar unos cuantos pesos, y con ellos comprar algo de comida. Muchos de ellos duermen en la calle, en los quicios de las casas o edificios, o consiguen una pieza en la cual duermen doce o catorce personas juntas, hacinados como gusanos en una hoja de una planta.

La gente les ayuda. Yo personalmente le he ayudado a algunos de ellos. Unos muchachos, de 19 o 20 años de edad, se paraban a pedir limosna o a vender confites, a la salida de las tiendas en donde yo compro lo poco que consumo. Un día me dijeron que les habían robado toda la ropa, en la pieza en la cual dormían, porque convivían con gente mala, viciosos y gamines de la calle. Yo me compadecí de ellos y les di una muda de ropa. Después les dije que se pasaran para una  residencia/hotel de mejor calidad, que no siguieran viviendo en donde estaban, que yo les iba a ayudar.

Todos los días venían por la noche a pedirme la ayuda, que era poca en verdad, pero con la cual pagaban la pieza a la cual se habían trasladado. Algunas veces me pidieron comida, y yo fui y los llevé a comer a algún sitio cerca de mi residencia.

Cuando había transcurrido algún tiempo, y ya los conocía, les propuse que se fueran a vivir a una casita de campo que tengo en un pueblo en las montañas de Antioquia, Colombia. Es una propiedad humilde, pero en ella podrían encontrar un sitio para vivir. Me cuidarían la propiedad y yo, a cambio, les podría ayudar con el mercado y los vívieres, y eventualmente, si se dedicaban a las labores del campo y me sembraban la tierra, yo los iba a emplear como trabajadores míos.

Me dijeron que sí, que estaban dispuestos a irse para allá. Puse una fecha para llevarlos hasta allá, a doce horas de Bogotá, en donde resido actualmente. Les compré un teléfono celular, para que pudieran comunicarse conmigo ante cualquier necesidad, y viajé con ellos hasta mi casita en el campo. Los instalé en ella, les di llave de la casa, les compré un mercado, les di las instrucciones del caso.

En un descuido mío, cogieron mi chaqueta, en la cual yo tenia mis dos celulares smartphone, y mi billetera. Me robaron todo el dinero que tenía en la billetera, y los dos teléfonos, y salieron corriendo.

Me dejaron varado y abandonado en esa casa de campo, que queda a media hora del pueblo más cercano, y a doce horas de Bogotá, en donde trabajo. Con dificultad pude conseguir comunicación con un ex-trabajador mío, que reside en otro pueblo, a tres horas de alli, y le pedi que fuera a rescatarme. Le conté todo. Él conoció a los muchachos pues fue él quien nos llevó hasta allí, para instalarlos. Me tuve que quedar toda una semana esperando a conseguir dinero para poder regresarme a Bogotá, en donde laboro.

Esta situación le ha pasado ya a muchas personas en Colombia. Le ayudan a estos venezolanos que están en la calle, se compadecen de ellos, y tristemente el pago que se recibe de ellos es la ingratitud, y cosas como la que me sucedió a mí. Pudo ser peor, me hubieran hecho alguna cosa más grave, me hubieran herido o matado. Por lo menos se limitaron a robarme. Con lo que me quitaron dudo mucho que hayan llegado lejos. De todas maneras yo no los volví a ver. No pude recuperar los teléfonos celulares y ni siquiera los números de los mismos, porque los bloquearon. Nadie sabe para dónde se fueron.

Por este tipo de actuaciones muchas personas en Colombia están comenzando a pensar que el gobierno nacional debería expulsar a estos refugiados. Ya casi nadie les ayuda, y por tales conductas delictivas los colombianos les están cogiendo aversión y odio, y ya no les quieren colaborar. Por la ingratitud de unos pocos van a pagar todos. Y cada día más crece el número de estas personas, hombres y mujeres, en su mayoría jóvenes, que vinieron a Colombia de huída de la situación en Venezuela. Hay muchas quejas, hay muchos reclamos, ya hay venezolanos incurriendo en delitos contra la propiedad, robando bicicletas, atracando a la gente en las calles, etc.

Esta es  la triste situación que se está presentando. A uno le puede conmover lo que está pasando y lo que ve, estas personas, estos jóvenes durmiendo en la calle y esculcando basuras y viviendo en la más abyecta miseria. Pero por otro lado, le queda a uno el mal recuerdo de la ingratitud de aquellos a quienes uno le ha tratado de ayudar, y le pagan de esta manera.

En verdad, por el comportamiento de algunos de estos refugiados, la actitud de los colombianos hacia ellos ha comenzado a cambiar, para mal. La gente ya no quiere ayudarles, y se le ha endurecido el corazón a aquellos que en un principio les colaboraban y trataban de servir de alguna manera.

Esta es, en este momento, la situación de las grandes y medianas ciudades de Colombia, llena de estos refugiados venezolanos a quienes ya casi nadie quiere, en razón del mal comportamiento de unos pocos de ellos.
It is difficult for those in Venezuela and those who escaped it.
And yes, there are many people who are ungrateful even after being helped repeatedly. Despite the machine-translation, the sadness of being hurt by strangers the emailer helped comes through.
Being ungrateful was prophesied for the last days:
1 But know this, that in the last days perilous times will come: 2 For men will be lovers of themselves, lovers of money, boasters, proud, blasphemers, disobedient to parents, unthankful, unholy, 3 unloving, unforgiving, slanderers, without self-control, brutal, despisers of good, 4 traitors, headstrong, haughty, lovers of pleasure rather than lovers of God, 5 having a form of godliness but denying its power. And from such people turn away! (2 Timothy 3:1-5)
A sermon related to giving thanks is also available: Ingratitude and Giving Thanks.
The New Testament teaches:
10 Therefore, as we have opportunity, let us do good to all, especially to those who are of the household of faith. (Galatians 6:10).

16 Behold, I send you out as sheep in the midst of wolves. Therefore be wise as serpents and harmless as doves. 17 But beware of men, (Matthew 10:16-17a)
Those Venezuelans who were assisted were not of the household of faith. And even some people who claim they are can also turn against those who help them.
Anyway, this crisis has affected not only Venezuelans, but many others. The Venezuelans (and those who try to help them) remain in my prayers.
Venezuela, itself, may have the greatest amount of oil reserves of any country. And even if it is only second or third, it has enough, that from a physical perspective, to solve many of its economic problems if it would take another look at its policies and correct many of them.
Ultimately, I believe that Venezuela will change and some of those who left it will return. Venezuela will likely have some prosperity with trade from the rising Babylonian Beast power, but that will be temporal.
Venezuela, like the rest of the world, needs repentance and the Kingdom of God.
Some items of possibly related interest may include:
Mexico, Central America, South America, Brazil, and the Caribbean in Prophecy [Español: México, América central, Suramérica, Brasil y el Caribe en la profecía] [Português: México, América Central, Ámérica do Sul, e Brasil na profecia] What will happen to those of Latin America? Will they have prosperity? Will they cooperate with Europe? Will they suffer in the future? What role might the various Caribbean nations/territories play?
Is God Calling You? This booklet discusses topics including calling, election, and selection. If God is calling you, how will you respond? Here is a link to a related sermon: Could God be Calling You?
Christian Repentance Do you know what repentance is? Is it really necessary for salvation? A related sermon is also available titled: Real Christian Repentance.
The Bible Condemns Homosexuality "Same-sex marriage" for "gays" and lesbians is becoming more acceptable to many. What does the Bible teach about homosexuality and the LGBTQ agenda? Can homosexuals change? A related video sermon is titled: What Does the Bible Really Teach about Homosexuality?
Pornography: A scourge on society Is pornography harmless fun? Does the Bible teach anything about it? What are the views of some involved with it? A related sermons is titled: Pornography, False Comfort, and False Religion. Here a shorter YouTube video Pornography: Harmless Fun or a Scourge on Society?
British and American Moral Decay Public nudity is becoming more prevalent in the Anglo-Saxon lands. What are some of the consequences?
Does God Have a 6,000 Year Plan? What Year Does the 6,000 Years End? Was a 6000 year time allowed for humans to rule followed by a literal thousand year reign of Christ on Earth taught by the early Christians? Does God have 7,000 year plan? What year may the six thousand years of human rule end? When will Jesus return? 2027 or 20xx? There is also a video titled 6000 Years: When will God's Kingdom Come? Here is a link to the article in Spanish: ¿Tiene Dios un plan de 6,000 años?
When Will the Great Tribulation Begin? 2019, 2020, or 2021? Can the Great Tribulation begin today? What happens before the Great Tribulation in the "beginning of sorrows"? What happens in the Great Tribulation and the Day of the Lord? Is this the time of the Gentiles? When is the earliest that the Great Tribulation can begin? What is the Day of the Lord? Who are the 144,000? Here is a version of the article in the Spanish language: ¿Puede comenzar la Gran Tribulación en 2018 o 2019? ¿Es el Tiempo de los Gentiles? You can also see the English language sermon videos: The Great Tribulation from the Mount of Olives and Can the Great Tribulation begin before 2020? A shorter and newer video is: Might the Great Tribulation start in 2019?
The Times of the Gentiles Has there been more than one time of the Gentiles? Are we in it now or in the time of Anglo-America? What will the final time of the Gentiles be like? A related sermon is available and is titled: The Times of the Gentiles.
Just What Do You Mean — Repentance? Do you know what repentance is? Have you truly repented? Repented of what? Herbert W. Armstrong wrote this as a booklet on this important subject.
The Gospel of the Kingdom of God This free online pdf booklet has answers many questions people have about the Gospel of the Kingdom of God and explains why it is the solution to the issues the world is facing. Here are links to three related sermons: The World's False Gospel, The Gospel of the Kingdom: From the New and Old Testaments, and The Kingdom of God is the Solution.