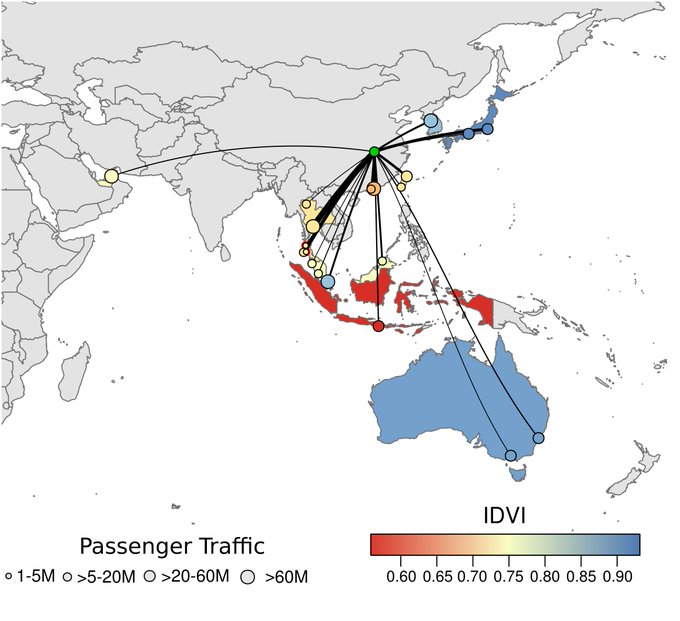 Top 20 flight routes from Wuhan China with data on the Infectious Disease Vulnerability Index for each country (rti.org)

A new strain of the corona virus is causing concern:
China Confirms Coronavirus Tied to 4 Deaths Can Be Transmitted Among People

January 21, 2020

Chinese health experts have confirmed that a new coronavirus that has now killed four people is contagious, raising fears that the virus could spread quickly among people.

China's National Health Commission said the virus, which causes a type of pneumonia, can be transmitted person-to-person and not just from animals to people, the official Xinhua news agency reported.

Earlier Monday, Chinese health officials confirmed 136 new cases of the newly discovered virus — a huge spike — over the past three days, including the first cases in the capital, Beijing, and Shanghai.

Heath officials in the central Chinese city of Wuhan, where the outbreak began, say the number of cases now exceeds 200, with most of the confirmed cases described as mild. The latest confirmed fatality is an 89-old man in Wuhan.

South Korean health officials said Monday they confirmed a case in a 35-year-old woman who flew from Wuhan to Incheon, South Korea. Thailand and Japan have also confirmed cases.

Indonesia's Health Ministry says it has increased health screenings of passengers from China at airports and ports to try to prevent the spread of the virus into Indonesia. The ministry's disease control and prevention director general, Anung Sugihantono, told VOA that the Health Ministry is monitoring travelers, particularly those from China, with a thermal scan as well as distributing health alert cards.

On Friday, the U.S. Centers for Disease Control and Prevention started screening passengers arriving from Wuhan at three U.S. airports in San Francisco, Los Angeles, and New York. Airports in Japan, Thailand, South Korea and Singapore are also doing the same.

Chinese and U.S. health officials are particularly concerned because many of the 1.4 billion Chinese citizens are expected to travel for the Lunar New Year holiday that starts Jan. 25, both inside China and beyond.

A coronavirus is one of a large family of viruses that can cause illnesses ranging from the common cold to the deadly Severe Acute Respiratory Syndrome. SARS, which also started in China, killed nearly 800 people globally during an outbreak nearly 20 years ago.

Chinese health experts say they know little about the new strain, dubbed 2019-nCoV. They suspect the outbreak started in a Wuhan seafood market, which also sold other animals such as poultry, bats, marmots and wild game meat. The World Health Organization has said an animal source seemed to be "the most likely primary source" with "some limited human-to-human transmission occurring between close contacts." https://www.voanews.com/east-asia-pacific/china-confirms-coronavirus-tied-4-deaths-can-be-transmitted-among-people

January 21, 2020

LONDON (Reuters) – Global shares took a beating on Tuesday, wiping out all gains made at the start of the week as mounting concerns about a new strain of coronavirus in China sent a ripple of risk aversion through markets.

Authorities in China confirmed that a new virus could be spread through human contact, reporting 15 medical staff had been infected and a fourth person had died.

Safe-haven bonds and the yen gained as investors were reminded of the economic damage done by the SARS virus in 2002-2003, particularly given the threat of contagion as hundreds of millions travel for the Lunar New Year holidays.

"I'm not an expert in the pandemics, but you can look at previous examples like the SARS outbreak which also originated from Asia," said Cristian Maggio, Head of Emerging Markets Strategy at TD Securities in London.

Noting that China had initially downplayed the full extent of the SARS outbreak, he said "I think the market might be fearing something similar." https://www.investing.com/news/stock-market-news/asia-shares-feel-a-chill-as-china-virus-risks-mount-2063409

Xi Warns Party Officials: Anyone Who Covers Up Coronavirus Will Be "Nailed To Pillar Of Shame"

January 21, 2020

As millions of Chinese prepare to travel for the Chinese New Year holiday on Saturday, deaths are piling up at a steady but alarming rate from the virus, which claimed its sixth victim on Monday, according to the mayor of Wuhan, the central-Chinese city where the virus was initially detected, before spreading to Shanghai, Beijing and elsewhere around the country.

As the Communist Party leaders panic, an edict has been handed down from Beijing warning local officials that, when it comes to this virus, the usual corruption, fraud and dissembling endemic to China's political system will not be tolerated.

According to the South China Morning Post, Beijing on Tuesday warned party functionaries not to lie about the spread of the coronavirus, warning that anyone caught withholding information would be severely punished and "nailed on the pillar of shame for eternity."

Chang An Jian, the official social media account of the Central Political and Legal Affairs Commission – Beijing's top political body responsible for law and order – ran a commentary on Tuesday telling cadres not to forget the painful lessons of Sars and to ensure timely reporting of the current situation.

More than 700 people were killed around the world by the severe acute respiratory syndrome outbreak in 2002-03, which originated in China.

"Anyone who puts the face of politicians before the interests of the people will be the sinner of a millennium to the party and the people," the commentary read.

"Anyone who deliberately delays and hides the reporting of [virus] cases out of his or her own self-interest will be nailed on the pillar of shame for eternity," it added.

The official party edict came straight from President Xi Jinping himself. https://www.zerohedge.com/geopolitical/xi-warns-party-officials-anyone-who-covers-coronavirus-will-be-nailed-pillar-shame

January 21, 2020

WUHAN, China (AP) — Face masks sold out and temperature checks at airports and train stations became the new norm as China strove Tuesday to control the outbreak of a new coronavirus that has reached four other countries and territories and threatens to spread further during the Lunar New Year travel rush.

Anxiety grew both at home and abroad after Chinese government expert Zhong Nanshan confirmed fears on state television late Monday that the virus can spread from human to human.

Six people have died and 291 have been infected in China, the National Health Commission said Tuesday. https://apnews.com/91a4b52778f1d0baeb1ef6856287671d
The Chinese New Year is widely popular and because of travel, it is an international concern that this strain of the coronavirus will spread. Even though the USA is not shown on the map at the beginning of this post, it is concerned. Why? Wikipedia reports that:
Between 60,000 and 65,000 people travel from Wuhan to the United States every year, with January being a peak.[83] At San Francisco International, Los Angeles International, and John F. Kennedy International Airport in New York, the three US airports with direct flights from Wuhan, arriving passengers would be screened for symptoms of the virus ahead of the Chinese New Year peak travel season. accessed 01/21/20
The US Centers for Disease Control has the following information online about the outbreak:
Novel Coronavirus in China …

There is an outbreak of pneumonia in Wuhan, China, caused by a novel (new) coronavirus.
Reportedly, most patients have had links to a large seafood and live animal market. Health officials closed the market on January 1, 2020, for cleaning and disinfection.
Limited person-to-person spread may occur.
Travelers to Wuhan, China, should avoid animals (alive or dead), animal markets, and contact with sick people.
Travelers from Wuhan to the United States may be asked questions about their health and travel history upon arrival.
The situation is evolving. This notice will be updated as more information becomes available.

What is the current situation?

A novel (new) coronavirus is causing an outbreak in the city of Wuhan, Hubei Province, China. Symptoms of this illness include fever, cough, and difficulty breathing. Most patients have been linked to the Wuhan South China Seafood City (also called the South China Seafood Wholesale Market and the Hua Nan Seafood Market). In addition to seafood, the market sells chickens, bats, cats, marmots, and other wild animals. On January 1, 2020, Chinese health officials closed the market for cleaning and disinfection.

Coronaviruses are a large family of viruses. There are several known human coronaviruses that usually only cause mild respiratory disease, such as the common cold. However, at least twice previously, coronaviruses have emerged to infect people and cause severe disease, such as has been seen with severe acute respiratory syndrome (SARS) and Middle East respiratory syndrome (MERS).The cases in the Wuhan pneumonia outbreak have tested negative for both SARS and MERS.

Chinese health officials have reported more than 40 cases of pneumonia; several patients had severe illness, and 2 people have died. Cases were identified between December 8, 2019, and January 8, 2020. Both patients who died were older adults and one of the two patients had known serious underlying medical conditions.

Chinese health officials have monitored several hundred close contacts, including health care workers, for illness and found no additional cases. Some patients in the outbreak reportedly have not had exposure to animal markets, suggesting that some limited person-to-person spread may be occurring. All the characteristics of this virus and how it may affect people are still unclear.

In response to this outbreak, several countries and territories in the region are reported to have implemented health screening of travelers arriving from Wuhan. Some cases have been exported to other countries in the region.

On arrival to the United States, travelers from Wuhan may undergo health screening, including having their temperature taken and filling out a symptom questionnaire. Travelers with symptoms (fever, cough, or difficulty breathing) will have an additional health assessment. https://wwwnc.cdc.gov/travel/notices/watch/novel-coronavirus-china accessed 01/21/20

Where Do Coronaviruses Come From?

Coronaviruses are common in many different species of animals, including camels and bats. Rarely, these coronaviruses can evolve and infect humans and then spread between humans. Recent examples of this include SARS-CoV and MERS-CoV. https://www.cdc.gov/coronavirus/index.html accessed 01/21/20

Situation Summary

The Centers for Disease Control and Prevention (CDC) is closely monitoring an outbreak caused by a novel (new) coronavirus first identified in Wuhan City, Hubei Province, China. Chinese authorities identified the new coronavirus, which has resulted in more than 200 confirmed human infections in China and exported cases in Thailand, Japan, and South Koreaexternal icon. The outbreak in Wuhan, China has been linked to a large seafood and animal market, suggesting a possible zoonotic origin to the outbreak. https://www.cdc.gov/coronavirus/2019-ncov/index.html accessed 01/21/20
Many versions of the flu originate in China. As a matter of fact, in order to guess what version of the flu will hit (so a vaccine can be made) researchers usually go to southern China. Its intense animal rearing, with cross involvement with animals such as swine, is normally associated with new strains of the flu. Something similar may have caused the Wuhan coronavirus to be produced.
The old WCG published the following about disease:
Parallel prophecies found in the Old Testament clearly indicate why man will continue to suffer from the ravages of disease. Notice this cause-and ­effect relationship as outlined in the 28th chapter of Deuteronomy: "But if you will not obey the voice of the Lord your God," warns man's Creator, "the Lord will make the pestilence cling to you until He has consumed you from off the land, which you go to possess. The Lord will smite you with consumption [wasting, degenerative disease], with fever and inflammation [possibly infectious contagions)…. and the tumors, the scurvy [deficiency disease] and the itch, of which you cannot be healed. The Lord will smite you with madness [mental disorders] and blindness and dismay of heart [emotional trauma]" (verses 15, 21-22, 27-28, The Amplified Bible).

Misgovernment, greed and oppression over the course of nearly 6000 years of history have saddled the human race with the unwanted burden of disease. For instance, man's proclivity to crowd into disease — prone cities is indicative of this problem. And it is interesting to note that Bible prophecy seems to indicate that this crowd-at­all-costs policy will eventually backfire on the human race. Notice Leviticus 26:25: "… And when ye are gathered together within your cities, I will send the pestilence among you… ." Also Ezekiel 7:15: "The sword is without, and the pestilence and the famine within: he that is in the field shall die with the sword; and he that is in the city, famine and pestilence shall devour him." (Ritter G. Pestilence in Prophecy. Good News, November 1975)
Jesus Himself warned that the "signs" of the end of the age would include pestilences:
7…And there will be famines, pestilences, and earthquakes in various places. 8 All these are the beginning of sorrows. (Matthew 24:6-8)

11 And there will be great earthquakes in various places, and famines and pestilences; and there will be fearful sights and great signs from heaven. (Luke 21:11)
Whether or not the new coronavirus strain will truly be pestilential will be seen. I first reported about the potential of coronarviruses back in 2013 (see Coronavirus: A new risk for humans?).
The new strain is becoming an international concern.
Prophesied pestilences are coming.
Some items of possibly related interest may include:
Fourth Horseman of the Apocalypse What is the pale horse of death and pestilences? What will it bring and when? Some related videos may include Amphibian Apocalypse: Threat to Humans? and Zombie Deer Disease is Here! Are the 10 Plagues on Egypt Coming? Here is a version of the article in Spanish: El cuarto jinete de Apocalipsis, el caballo pálido de muerte y pestilencia.
The Gospel of the Kingdom of God This free online pdf booklet has answers many questions people have about the Gospel of the Kingdom of God and explains why it is the solution to the issues the world is facing. Here are links to three related sermons: The World's False Gospel, The Gospel of the Kingdom: From the New and Old Testaments, and The Kingdom of God is the Solution.
Differences Between Islam and the Continuing Church of God What are some of the main differences? Are there any similarities? A video of related interest is titled: Islam: Any Christian Concerns or Similarities?
GMOs and Bible Prophecy What are GMOs? Since they were not in the food supply until 1994, how could they possibly relate to Bible prophecy? Do GMOs put the USA and others at risk? Here is a related YouTube video GMO Risks and the Bible.
Chimeras: Has Science Crossed the Line? What are chimeras?  Has science crossed the line? Does the Bible give any clues? A video of related interest is Half human, half pig: What's the difference?
Four Horsemen of the Apocalypse What do each of the four horseman of the Apocalypse represent? Have they began their ride? Did Jesus discuss the any of this? Might their rides coincide with the "beginning of sorrows? Do they start their ride prior to the Great Tribulation? Did Nostradamus or any other 'private prophets' write predictions that may mislead people so that they may not understand the truth of one or more of the four horseman? There is also a related YouTube video titled The Four Horsemen of the Apocalypse.
Does God Have a 6,000 Year Plan? What Year Does the 6,000 Years End? Was a 6000 year time allowed for humans to rule followed by a literal thousand year reign of Christ on Earth taught by the early Christians? Does God have 7,000 year plan? What year may the six thousand years of human rule end? When will Jesus return? 2027 or 20xx? There is also a video titled 6000 Years: When will God's Kingdom Come? Here is a link to the article in Spanish: ¿Tiene Dios un plan de 6,000 años?
When Will the Great Tribulation Begin? 2020, 2021, or 2022? Can the Great Tribulation begin today? What happens before the Great Tribulation in the "beginning of sorrows"? What happens in the Great Tribulation and the Day of the Lord? Is this the time of the Gentiles? When is the earliest that the Great Tribulation can begin? What is the Day of the Lord? Who are the 144,000? Here is a version of the article in the Spanish language: ¿Puede la Gran Tribulación comenzar en el 2020 o 2021? ¿Es el Tiempo de los Gentiles? You can also see the English language sermon videos: The Great Tribulation from the Mount of Olives and Can the Great Tribulation begin before 2020? A shorter and newer video is: Could the Great Tribulation Begin in 2020?