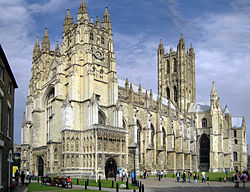 Canterbury Cathedral (Hans Musil)
The new Anglican Archbishop of Canterbury was announced today:
Friday, November 9, 2012

LONDON — Bishop Justin Welby, the new archbishop of Canterbury and spiritual head of the world's estimated 77 million Anglicans, pledged Friday to seek reconciliation in some of the most contentious issues of gender and sexuality that have split the Anglican Communion. http://www.nytimes.com/2012/11/10/world/europe/bishop-of-durham-appointed-as-archbishop-of-canterbury.html

Friday, November 9, 2012

Welby said he is "utterly optimistic" about the future of the Church of England…

Welby pledged to re-examine his own thinking on homosexuality while speaking out against exclusion and homophobia."I know I need to listen very attentively to the LGBT communities and examine my own thinking prayerfully and carefully," he said…Welby's appointment is expected to seal a vote in favor of allowing women bishops at a special meeting of the Church of England's General Synod held in London later this month…

American-born Christina Rees, a leading member of the Church of England's General Synod and the Archbishops' Council, said that while Welby takes a traditional approach on same-sex marriage, he is nonetheless flexible and a man prepared to change his mind to do the right thing.  http://www.washingtonpost.com/national/on-faith/new-archbishop-of-canterbury-justin-welby-inherits-a-divided-anglican-communion/2012/11/09/c080d14a-2a8a-11e2-aaa5-ac786110c486_story.html
The Telegraph out of the UK actually calls Justin Welby an "Alpha male."  I would not hold to that view as Justin Welby seems to not be willing to stand strongly behind enough biblical principles.   The Bible does not, for example, make allowances to change positions on homosexual unions or making women bishops.  Justin Welby also seems to have an ecumenical bent, which hopefully, he will not be willing to keep bending towards.
Justin Welby replaces Rowan Williams who announced his retirement earlier this year (please see Anglican Archbishop Rowan Williams Resigns).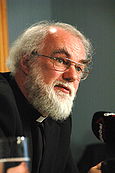 Rowan Williams
 The newly-appointed Archbishop is in a tough spot, but Justin Welby should stand for biblical principles.  Instead he is going to apparently compromise more.   He knows that his church has compromised on many doctrines and these compromises have gotten many to look to Rome–a place that the Anglicans got many (if not most) of their doctrines from originally.   But the majority of its more "conservative" leadership voted against returning to Rome in July 2009–but things may change if too many become disenfranchised with the moves he will make.
The reality is that individuals who profess Christ should make up their own mind and not violate their consciences (cf Romans 14:5,12; 1 Timothy 4:1-3; Philippians 2:12) nor standards to conform to the world's values (1 John 2:15).  The Bible is clear: "do not be conformed to this world" (Romans 12:2).  In today's "politically-correct" environment many (and not just Anglicans) are.
Overall, the Anglican Church is becoming more irrelevant in the UK and elsewhere.  It is not likely that the next archbishop will change that (though he might take a stand against what is going on with Rome in the future).  But it would be nice if he would hold more towards biblical, not modern societal, values.
Some articles of possibly related interest may include:
God Created Marriage Some falsely claim that God did not create marriage and that fornication is fine.  What does the Bible really teach?
LCG: Homosexuals Gaining Ground "Same-sex marriage" for "gays" and lesbians is becoming more acceptable to many. What does the Bible teach about homosexuality?  Can homosexuals change?
Women and the New Testament Church Were women important in the New Testament Church? Which women and how were they involved?
Anglo – America in Prophecy & the Lost Tribes of Israel Are the Americans, Canadians, English, Scottish, Welsh, Australians, Anglo (non-Dutch) Southern Africans, and New Zealanders descendants of Joseph? Where are the lost ten-tribes of Israel? Who are the lost tribes of Israel? What will happen to Jerusalem and the Jews in Israel? Will God punish the U.S.A., Canada, United Kingdom, and other Anglo nations? Why might God allow them to be punished first?
Hope of Salvation: How the Genuine Church of God differ from most Protestants How the real Church of God differs from mainstream/traditional Protestants, is perhaps the question I am asked most by those without a Church of God background.
The Similarities and Dissimilarities between Martin Luther and Herbert W. Armstrong This article clearly shows some of the doctrinal differences between in the two. At this time of doctrinal variety and a tendency by many to accept certain aspects of Protestantism, the article should help clarify why the genuine Church of God is NOT Protestant. Do you really know what the Protestant Reformer Martin Luther taught and should you follow his doctrinal example?