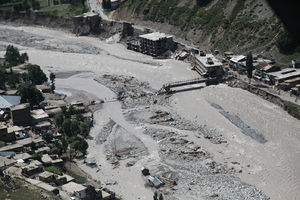 Extreme weather is hitting various parts of the world:
Extreme Weather Wreaks Havoc in Texas, Mexico

May 26, 2015

Recovery teams in Texas are searching for 12 members of two families who are missing after the rain-swollen Blanco River carried a vacation home off its foundation and slamming it into a bridge.

Storms in the American heartland have caused flooding and tornadoes that have killed at least eight people in Oklahoma and Texas.  More than 1,000 homes have been damaged or destroyed in Texas, and thousands of residents are displaced.

Across the border in Mexico, people are cleaning up in Ciudad Acuna after a tornado killed at least 13 people in the city.  The twister also flattened hundreds of homes.

The city of Houston had as much as 25 centimeters of rainfall in some areas Monday into Tuesday.  Many people were stranded overnight at a Houston sports arena and others are confined to their homes waiting for floodwaters to subside.  http://www.voanews.com/

May 26, 2015

The death toll in the heatwave sweeping India has reached nearly 800 with temperatures nearing 50C (122F) in some areas.

Most deaths have taken place in the southern states of Telangana and Andhra Pradesh, where more than 750 people have died since last week.

Reports say 24 people have died from the heat in West Bengal and Orissa.

Hospitals are on alert to treat heatstroke patients and authorities have advised people to stay indoors.  http://www.bbc.com/news/world-asia-india-32880180
God controls the weather and sometimes provides extreme weather for correction.  Notice the following:
The Bible makes plain who is in control of the weather! "Fire and hail, snow and clouds; stormy wind, fulfilling His word" (Ps . 148:8 , RAV).

God intervenes in weather to work out his purposes among nations…

Plagues of disastrous weather are a warning to humanity. Weather for the most part operates according to natural laws. Damaging weather patterns sometimes develop. God simply may not choose to intervene to stop them because of nations' various sins and idolatry.

The Bible reveals God also directly intervenes to cause weather plagues to warn certain nations. "I have smitten you with blasting and mildew . .. yet have ye not returned unto me, saith the Lord" (Amos 4:9). He, in his great purpose, may also allow Satan-the god of this world (II Cor. 4:4)-to have a role in producing calamitous weather, for man's ultimate learning (see Job, chapter 1). (Schroeder D. CHAOTIC WEATHER Return of the dust bowl? Plain Truth. 1984, pp. 19-20)
The Bible repeatedly warns, especially in the Hebrew scriptures, that various sins will result in destructive weather (see Weather Blessings and Sorrows). Weather is not as random as most seem to want to believe.
Back in 2009, in a book, I mentioned the following was about to happen:
Considering all of the natural disasters such as earthquakes, floods, food shortages, and economic problems in the past few years, perhaps this would be a good time to explain that the Bible shows that these problems were expected to occur prior to the great tribulation. Those outside the Bible have sometimes referred to a time such as this as a time of transition or chaos. …

There will be a generation that will experience end-time events, beginning with "sorrows," including the Great Tribulation, heavenly signs, and finally the return of Jesus Christ (Matthew 24:5-34). …

Mark recorded the same account of this time from his perspective:

3 Now as He sat on the Mount of Olives opposite the temple, Peter, James, John, and Andrew asked Him privately, 4 "Tell us, when will these things be? And what will be the sign when all these things will be fulfilled?" 5 And Jesus, answering them, began to say: "Take heed that no one deceives you. 6 For many will come in My name, saying, 'I am He,' and will deceive many. 7 But when you hear of wars and rumors of wars, do not be troubled; for such things must happen, but the end is not yet. 8 For nation will rise against nation, and kingdom against kingdom. And there will be earthquakes in various places, and there will be famines and troubles. These are the beginnings of sorrows. 9 But watch out for yourselves, for they will deliver you up to councils, and you will be beaten in the synagogues. You will be brought before rulers and kings for My sake, for a testimony to them. 10 And the gospel must first be preached to all the nations. 11 But when they arrest you and deliver you up, do not worry beforehand, or premeditate what you will speak. But whatever is given you in that hour, speak that; for it is not you who speak, but the Holy Spirit…" (Mark 13:3–11).

Thus, in both Matthew and Mark it is clear that a time called "the beginning of sorrows" precedes the Great Tribulation.

Notice that in Mark's account he uses the term troubles. Troubles would seem to include economic and political problems, in addition to those specifically mentioned, such as wars, famines, natural disasters, and pestilences. …

| | |
| --- | --- |
| Odd weather patterns result in food shortages and natural disasters. | Matthew 24:7 |
| The world is actually in a berserk transition, as the real age of peace is not yet here. It may be a period of chaos. It is the beginning of sorrows. | Matthew 24:8 |

(Thiel B. 2012 and the Rise of the Secret Sect. Nazarene Books, 2009)
The above was published because it was consistent with Bible prophecy. We have been seeing odd weather patterns and the United Nations and others are concerned about related food shortages.
Extreme weather should be a wake-up call to repent.
The warnings from the Bible are going out, but many will ignore them. Will you?
Some items of possibly related interest may include:
Weather Blessings and Sorrows Are weather problems a warning? What should be done? What does the Bible teach about weather? What about floods, droughts, heat, earthquakes, tornadoes, and solar storms? Here is a related YouTube video Does God Use Weather? A related item in the Spanish language would be Bendiciones y maldiciones del clima.
The Bible, Christians, and the Environment How should Christians view the environment? Does the Bible give any clues? What are some of the effects of air, water, and land pollution? Is environmental pollution a factor in autism and death? Do pollutants seem to double the autism risk? What will Jesus do? A YouTube video is available titled Air Pollution, Autism, and Prophecy.
India, Its Biblical Past and Future: Any Witness? The Bible discusses the origins of those of Indian heritage.  This article quotes the Bible and also discusses some of the witness to India throughout history and what is happening in the 21st century (including those in Bangladesh, Pakistan, and Sri Lanka).
India and the Beast of Revelation 13 Do biblical, Catholic, and even Hindu prophecies suggest that many in India will follow, for a while, the Beast and False Prophet/Antichrist? Here is link to a related YouTube video Will People in India Worship the Beast of Revelation 13?
When You Sin: Do You Really Repent? This is an article by Charles F. Hunting. A related sermon is Confess to God and truly repent.
Just What Do You Mean — Repentance? Do you know what repentance is? Have you truly repented? Repented of what? Herbert W. Armstrong wrote this as a booklet on this important subject.
Overcoming Sin What is sin? How are Christians suppose to overcome it? Here is also a link to a video titled How to Overcome Sin.
Mexico, Central America, South America, Brazil, and the Caribbean in Prophecy [Español: México, América central, Suramérica, Brasil y el Caribe en la profecía] [Português: México, América Central, Ámérica do Sul, e Brasil na profecia] What will happen to those of Latin America? Will they have prosperity? Will they cooperate with Europe? Will they suffer in the future? What role might the various Caribbean nations/territories play?
Anglo – America in Prophecy & the Lost Tribes of Israel Are the Americans, Canadians, English, Scottish, Welsh, Australians, Anglo-Saxon (non-Dutch) Southern Africans, and New Zealanders descendants of Joseph? Where are the lost ten-tribes of Israel? Who are the lost tribes of Israel? What will happen to Jerusalem and the Jews in Israel? Will God punish the U.S.A., Canada, United Kingdom, and other Anglo-Saxon nations? Why might God allow them to be punished first? Here is a link to the Spanish version of this article: Anglo-América & las Tribus Perdidas de Israel. Information is also in the YouTube sermons titled Where are the Ten Lost Tribes? Why does it matter? and British are the Covenant People. A short YouTube of prophetic interest may be Barack Obama and the State of the Apocalypse.
Will the Anglo-Saxon Nations be Divided and Have People Taken as Slaves? Will the lands of the United States, United Kingdom, Canada, Australia, and New Zealand be divided? What about Jerusalem? What does Bible prophecy teach? Are there non-biblical prophecies that support this idea? Who will divide those lands? Who will end up with the lands and the people? Here is a link to a video titled Will the USA and other Anglo-nations be Divided and Their People Made Slaves? Here is a related item in the Spanish language ¿Serán divididas las naciones anglosajonas?
Market Collapse then New World Order in 2015? This is a video. A long-time financial adviser named Harvey Organ claims that claims that because of insufficient gold in the central banks of USA and UK, that Shanghai would bring about exposing this and that this would lead to a massive, overnight, rise in the price of gold and silver, diminished value of their currencies. He states a market collapse will occur before the end of 2014, that the petroyuan will replace the petrodollar, and that a Chinese led New World Order will be in place for 2015. Is this possible? Where does the leader of the 'New World Order' come from? What does the Bible teach?
Project Prophecy: Economic Collapse Starting in 2015? Jim Rickards once worked for the CIA and also was once part of a a USA government program called called 'Project Prophecy.' He has a video were he claims that starting in 2015, the USA may have economic collapse resulting in a 25-Year Great Depression. He mainly cites debt figures and claims advises alternatives to the USA dollar which he says will collapse? What did Rand Paul state? Can the USA dollar collapse?
World War III: Steps in Progress Are there surprising actions going on now that are leading to WWIII? Might a nuclear attack be expected? Does the Bible promise protection to all or only some Christians? How can you be part of those that will be protected? A related video would be Is World War III About to Begin? Can You Escape?
When Will the Great Tribulation Begin? 2015, 2016, or 2017? Can the Great Tribulation begin today? What happens before the Great Tribulation in the "beginning of sorrows"? What happens in the Great Tribulation and the Day of the Lord? Is this the time of the Gentiles? When is the earliest that the Great Tribulation can begin? What is the Day of the Lord? Who are the 144,000? Here is a version of the article in the Spanish language: ¿Puede comenzar la Gran Tribulación en 2014 o 2015? ¿Es el Tiempo de los Gentiles? You can also see the English language sermon video: The Great Tribulation from the Mount of Olives.
Can the Great Tribulation Begin in 2015? When will the Great Tribulation begin? Can it begin in 2015 as some have indicated? What are the biblical requirements that precede the Great Tribulation? What did Jesus teach would happen prior to the Great Tribulation. Are there definite clues in the Book of Daniel that Christians should look out for? Is there a King of the North or a King of the South yet? Where does the 'prince' of Daniel 9:26-27 come from? What about 'blood moons'? Dr. Thiel videoed this on the Mount of Olives where Jesus specifically discussed events leading up to the Great Tribulation in Matthew 24.
Can those in the USA/UK see the Handwriting on the Wall? Is everything fine in the USA/UK or is it like the days of Noah? Can we learn from the handwriting that appeared on a wall thousands of years ago? Here is a link to a related YouTube video Can you see the 'Handwriting on the Wall'?
Who is the King of the West? Why is there no Final End-Time King of the West in Bible Prophecy? Is the United States the King of the West? Here is a version in the Spanish language: ¿Quién es el Rey del Occidente? ¿Por qué no hay un Rey del Occidente en la profecía del tiempo del fin?