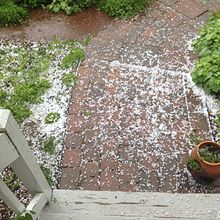 Accumulated Hail (Photo by 59Ballons)
Colorado has been battling rough weather:
June 5, 2015

Hail the size of grapefruit, heavy rainfall, and multiple tornadoes caused damage and flooding across parts of the Rockies and Plains overnight into Friday, officials and meteorologists said.

Seven tornadoes were reported in Colorado and one in Kansas, according to the National Weather Service.

The worst hit was the town of Berthoud, Colorado, where up to 25 homes were affected, with more than 12 severely damaged. Trees were uprooted, but the Associated Press reported there were no injuries.

Don Grabosky, who lives just west of Berthoud, told NBC News that a tornado tore through his shed and destroyed his neighbor's home, but stopped short of his own house.

"You just wouldn't believe how many hailstones we had," he said. "And the continuous roar of the lightning and thunder. It was just awful." http://www.nbcnews.com/news/weather/rockies-plains-hit-grapefruit-sized-hail-tornadoes-flooding-n370361
Of course, hail, thunderstorms, and tornadoes are not new. But are we seeing more severe weather and 'natural' disasters?
A reader sent me a link to the following:
June 5, 2015

Dear Cecil:

Have there been more natural disasters than usual in recent years? Or are there just more videos of them on YouTube?

— Haley Block

Cecil replies:

For once, our answer is a pretty clear yes. According to the World Meteorological Organization, humanity experienced nearly five times as many natural disasters (3,496) in the first decade of this century as we did during the 1980s (743). …

As a species and a planet we're more vulnerable to cataclysmic events than in the past…

Floods and megastorms represented 89 percent of all disasters between 1970 and 2012. Heat waves are responsible for a much larger proportion of deaths in the last decade than ever before, and some of the deadliest killers of the past half-century were droughts in East Africa.

And over that same 42-year period, damage from storms, droughts, and flooding (in that order) have cost the most money — more than 80 percent of overall disaster losses worldwide. …

According to the University of Colorado, roughly 403 million people live in places with significant seismic hazard. It only makes sense that the death tolls are increasing. …

So yes, there are more disasters, and they're hitting us harder.  http://www.straightdope.com/columns/read/3232/are-there-more-natural-disasters-now-than-ever-before
God controls the weather and sometimes provides extreme weather for correction. Notice the following:
7 Praise the Lord from the earth,
You great sea creatures and all the depths;
8 Fire and hail, snow and clouds;
Stormy wind, fulfilling His word; (Psalms 148:7-8, NKJV throughout unless otherwise indicated)

26 "Behold, God is great, and we do not know Him; Nor can the number of His years be discovered. 27 For He draws up drops of water, Which distill as rain from the mist, 28 Which the clouds drop down And pour abundantly on man. 29 Indeed, can anyone understand the spreading of clouds, The thunder from His canopy? 30 Look, He scatters His light upon it, And covers the depths of the sea. 31 For by these He judges the peoples; He gives food in abundance. 32 He covers His hands with lightning, And commands it to strike. 33 His thunder declares it, The cattle also, concerning the rising storm. (Job 36:26-33)

17 He casts out His hail like morsels;
Who can stand before His cold?
18 He sends out His word and melts them;
He causes His wind to blow, and the waters flow.  (Psalms 147:17-18)
As the Book of Job records above, cold and snowy weather is sometimes used by God for correction. The following shows that God sometimes uses hail and snow for punishment:
22 "Have you entered the treasury of snow, Or have you seen the treasury of hail, 23 Which I have reserved for the time of trouble, For the day of battle and war?  (Job 38:22-23)
Weather is not as random as most seem to want to believe.
The Bible repeatedly warns, especially in the Hebrew scriptures, that various sins will result in destructive weather (see Weather Blessings and Sorrows).
Back in 2009, in a book, I mentioned the following was about to happen:
| | |
| --- | --- |
| Odd weather patterns result in food shortages and natural disasters. | Matthew 24:7 |
| The world is actually in a berserk transition, as the real age of peace is not yet here. It may be a period of chaos. It is the beginning of sorrows. | Matthew 24:8 |

(Thiel B. 2012 and the Rise of the Secret Sect. Nazarene Books, 2009)
The above was published because it was consistent with Bible prophecy.
Extreme weather should be a wake-up call to repent.
The warnings from the Bible are going out, but many will ignore them. Will you?
Some items of possibly related interest may include:
Weather Blessings and Sorrows Are weather problems a warning? What should be done? What does the Bible teach about weather? What about floods, droughts, heat, earthquakes, tornadoes, and solar storms? Here is a related YouTube video Does God Use Weather? A related item in the Spanish language would be Bendiciones y maldiciones del clima.
The Bible, Christians, and the Environment How should Christians view the environment? Does the Bible give any clues? What are some of the effects of air, water, and land pollution? Is environmental pollution a factor in autism and death? Do pollutants seem to double the autism risk? What will Jesus do? A YouTube video is available titled Air Pollution, Autism, and Prophecy.
India, Its Biblical Past and Future: Any Witness? The Bible discusses the origins of those of Indian heritage. This article quotes the Bible and also discusses some of the witness to India throughout history and what is happening in the 21st century (including those in Bangladesh, Pakistan, and Sri Lanka).
India and the Beast of Revelation 13 Do biblical, Catholic, and even Hindu prophecies suggest that many in India will follow, for a while, the Beast and False Prophet/Antichrist? Here is link to a related YouTube video Will People in India Worship the Beast of Revelation 13?
When You Sin: Do You Really Repent? This is an article by Charles F. Hunting. A related sermon is Confess to God and truly repent.
Just What Do You Mean — Repentance? Do you know what repentance is? Have you truly repented? Repented of what? Herbert W. Armstrong wrote this as a booklet on this important subject.
Overcoming Sin What is sin? How are Christians suppose to overcome it? Here is also a link to a video titled How to Overcome Sin.
Mexico, Central America, South America, Brazil, and the Caribbean in Prophecy [Español: México, América central, Suramérica, Brasil y el Caribe en la profecía] [Português: México, América Central, Ámérica do Sul, e Brasil na profecia] What will happen to those of Latin America? Will they have prosperity? Will they cooperate with Europe? Will they suffer in the future? What role might the various Caribbean nations/territories play?
Anglo – America in Prophecy & the Lost Tribes of Israel Are the Americans, Canadians, English, Scottish, Welsh, Australians, Anglo-Saxon (non-Dutch) Southern Africans, and New Zealanders descendants of Joseph? Where are the lost ten-tribes of Israel? Who are the lost tribes of Israel? What will happen to Jerusalem and the Jews in Israel? Will God punish the U.S.A., Canada, United Kingdom, and other Anglo-Saxon nations? Why might God allow them to be punished first? Here is a link to the Spanish version of this article: Anglo-América & las Tribus Perdidas de Israel. Information is also in the YouTube sermons titled Where are the Ten Lost Tribes? Why does it matter? and British are the Covenant People. A short YouTube of prophetic interest may be Barack Obama and the State of the Apocalypse.
Will the Anglo-Saxon Nations be Divided and Have People Taken as Slaves? Will the lands of the United States, United Kingdom, Canada, Australia, and New Zealand be divided? What about Jerusalem? What does Bible prophecy teach? Are there non-biblical prophecies that support this idea? Who will divide those lands? Who will end up with the lands and the people? Here is a link to a video titled Will the USA and other Anglo-nations be Divided and Their People Made Slaves? Here is a related item in the Spanish language ¿Serán divididas las naciones anglosajonas?
Market Collapse then New World Order in 2015? This is a video. A long-time financial adviser named Harvey Organ claims that claims that because of insufficient gold in the central banks of USA and UK, that Shanghai would bring about exposing this and that this would lead to a massive, overnight, rise in the price of gold and silver, diminished value of their currencies. He states a market collapse will occur before the end of 2014, that the petroyuan will replace the petrodollar, and that a Chinese led New World Order will be in place for 2015. Is this possible? Where does the leader of the 'New World Order' come from? What does the Bible teach?
Project Prophecy: Economic Collapse Starting in 2015? Jim Rickards once worked for the CIA and also was once part of a a USA government program called called 'Project Prophecy.' He has a video were he claims that starting in 2015, the USA may have economic collapse resulting in a 25-Year Great Depression. He mainly cites debt figures and claims advises alternatives to the USA dollar which he says will collapse? What did Rand Paul state? Can the USA dollar collapse?
World War III: Steps in Progress Are there surprising actions going on now that are leading to WWIII? Might a nuclear attack be expected? Does the Bible promise protection to all or only some Christians? How can you be part of those that will be protected? A related video would be Is World War III About to Begin? Can You Escape?
When Will the Great Tribulation Begin? 2015, 2016, or 2017? Can the Great Tribulation begin today? What happens before the Great Tribulation in the "beginning of sorrows"? What happens in the Great Tribulation and the Day of the Lord? Is this the time of the Gentiles? When is the earliest that the Great Tribulation can begin? What is the Day of the Lord? Who are the 144,000? Here is a version of the article in the Spanish language: ¿Puede comenzar la Gran Tribulación en 2014 o 2015? ¿Es el Tiempo de los Gentiles? You can also see the English language sermon video: The Great Tribulation from the Mount of Olives.
Can the Great Tribulation Begin in 2015? When will the Great Tribulation begin? Can it begin in 2015 as some have indicated? What are the biblical requirements that precede the Great Tribulation? What did Jesus teach would happen prior to the Great Tribulation. Are there definite clues in the Book of Daniel that Christians should look out for? Is there a King of the North or a King of the South yet? Where does the 'prince' of Daniel 9:26-27 come from? What about 'blood moons'? Dr. Thiel videoed this on the Mount of Olives where Jesus specifically discussed events leading up to the Great Tribulation in Matthew 24.
Can those in the USA/UK see the Handwriting on the Wall? Is everything fine in the USA/UK or is it like the days of Noah? Can we learn from the handwriting that appeared on a wall thousands of years ago? Here is a link to a related YouTube video Can you see the 'Handwriting on the Wall'?
Who is the King of the West? Why is there no Final End-Time King of the West in Bible Prophecy? Is the United States the King of the West? Here is a version in the Spanish language: ¿Quién es el Rey del Occidente? ¿Por qué no hay un Rey del Occidente en la profecía del tiempo del fin?