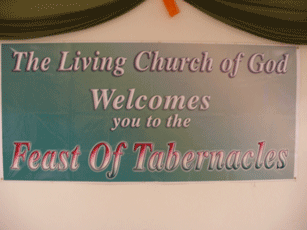 Banner at 2007 Feast of Tabernacles in Tobago
The Living Church of God has announced many of its sites for the Feast of Tabernacles (a major Fall pilgrimage) in 2010:
Feast of Tabernacles 2010

Feast preparation is once again hitting high gear! USA sites have been finalized and contracts signed, and the Festival Office will be having an organizational Web meeting with coordinators next week on January 27. We are planning to have early International registration in February for brethren in International areas and for those who might want to transfer to an International site this year. We will announce the early International registration date soon.

In the meantime, we wanted to announce the Feast sites that have been finalized for 2010:

USA Sites

Anchorage, AK

Branson, MO

Cobleskill, NY

Helen, GA

New Braunfels, Texas,

Newport, OR

Panama City, FL

Prescott, AZ

Wisconsin Dells, WI

Canadian Sites

Rocky Harbor, Newfoundland

Mount Orford, Quebec

Penticton, British Columbia

International Sites (this list is not exhaustive—other sites not on this list are still being finalized)

Argentina, Islas del Delta

Australia, Victor Harbor (South Australia)

Chile, El Quisco

France, Hyères (Provence d'Azur)

Guatemala, Quetzaltenango

Indonesia, Batu

Jamaica, Montego Bay

Malaysia, Penang

Martinique (French West Indies)

Mexico, Tolantongo (Hidalgo)

New Zealand, Nelson (South Island)

Papua New Guinea, Wewak

Philippines, Baguio City

Philippines, Davao City

South Africa, Still Bay (Western Cape)

Sri Lanka

Tobago, Crown Point

United Kingdom, Llangollen (Wales)

Vanuatu, Orap

Experienced Interpreters Needed

Experienced Spanish-English simultaneous interpreters are needed to serve at the Argentina and Guatemala Feast of Tabernacles sites this year. If you are able and willing to volunteer to serve in this capacity at either of these two sites, please contact Madeleine Lincoln-Strange at mlincoln@lcg.org or call 704-844-1960, ext. 217.—Mario Hernandez
I should, perhaps, point out that there will probably also be sites, as there were in previous years, in places such as India, Myanmar, Nigeria, Barbados, Kenya, Peru, and possibly Thailand and elsewhere.
The www.cogl.org website will eventually have some additional Feast Site information that is not in this article. It is another source that you should visit.
The first service for the Feast of Tabernacles would be after sunset on the 22nd of September and the last service normally would be on the afternoon of the 30th of September in 2010.
Some articles of possibly related interest may include:
The Feast of Tabernacles: A Time for Christians? Is this pilgrimage holy day still valid? Does it teach anything relevant for today's Christians?
LCG 2010 Feast of Tabernacles' Information Here is information on many Feast of Tabernacles locations for this year.  Details are expected to be added as they become available.
Is There "An Annual Worship Calendar" In the Bible? This paper provides a biblical and historical critique of several articles, including one by WCG which states that this should be a local decision. What do the Holy Days mean? Also you can click here for the calendar of Holy Days.
Did Early Christians Observe the Fall Holy Days? Did they? Did Jesus? Should you?
There are Many COGs: Why Support the Living Church of God? This is an article for those who wish to easily sort out the different COGs. It really should be a MUST READ for current and former WCG members or any interested in supporting the faithful church. It also explains a lot of what the COGs are all about.