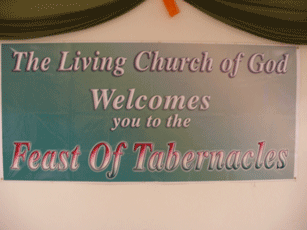 Banner at 2007 Feast of Tabernacles in Tobago
On Friday, April 25th, I received the hard copy of the United Church of God's Festival Planning Brochure for 2008 and an email of the pdf version of the Living Church of God's Festival Planner for 2008.
Combined, these two groups may have more actual Feast of Tabernacle attendees than the other COGs combined.
Here are reports from both groups for previous years:
"All together at the 62 sites around the world, 20,476 attended the Feast with United" (United Brethren Enjoy Feast at 62 Sites. United News. November 2007, p.1).
"More than 7,100 Living Church of God brethren kept God's Feast of Tabernacles and Last Great Day in 30 countries and at 45 sites around the world." (2006 Feast of Tabernacles Reports. Living Church News. Nov-Dec 2006).
In 2008, the Feast of Tabernacles will begin the evening of October 13 and, including the Last Great Day, run through the evening of October 21st.
The Living Church of God announced the following list:
Feast of Tabernacles 2008

Argentina—Sierra de la Ventana
Australia—Albany
Australia—The Entrance
Barbados—Christ Church
Canada—Charlottetown, Prince Edward Island
Canada—Lethbridge, Alberta
Canada—Orford, Quebec
France—Evian
Guatemala—Antigua
Guyana—Awarewaunau and Georgetown
Indonesia—Batu
Jamaica—Ocho Rios
Kenya—Kisii City
Malaysia—Melaka
Mexico—Huatusco
New Zealand—Lake Taupo
Papua New Guinea—Wewak
Philippines—Baguio City, Davao City, Don Carlos, and Maranding
South Africa—Glentana
Sri Lanka
Tobago
United Kingdom—Llangollen, Wales
United States—Branson, Missouri
United States—New Braunfels, Texas
United States—Newport, Oregon
United States—Prescott, Arizona
United States—Sunset Beach, North Carolina
United States—Wisconsin Dells, Wisconsin
Vanuatu—Orap
There will probably also be LCG sites, as there were in previous years, in places such as India, Myanmar, Nigeria, and possibly Thailand and elsewhere.
UCG has Feast sites in many (but not all) of the same nations, and even the same cities in some cases, as LCG (this occurs, because there are many Differences between the Living Church of God and United Church of God–differences that many are not aware of). UCG also has some unique countries of its own with Feast sites in places such as Mauritius, Rwanda, Togo, and Tonga.
Online registration for United States and Canadian sites for the Living Church of God will begin on May 4. Watch for more information in The World Ahead and on the MyLCG website, www.cogl.org.
I just read a moment ago that UCG members were to provide a hard copy of their registration forms to their local ministers yesterday–so hopefully none of them received their Planner later than I did–unless of course, they decide instead to go to a LCG site :).
Anyway, since travel is almost always required for the Fall Festivals, planning should begin now for those interested in actually attending.
Some articles of possibly related interest may include:
The Feast of Tabernacles: A Time for Christians? Is this pilgrimage holy day still valid? Does it teach anything relevant for today's Christians?
Did Early Christians Observe the Fall Holy Days? Did they? Did Jesus? Should you?
Is There "An Annual Worship Calendar" In the Bible? This paper provides a biblical and historical critique of several articles, including one by WCG which states that this should be a local decision. What do the Holy Days mean? Also you can click here for the calendar of Holy Days.
LCG 2008 Feast of Tabernacles' Information Here is information on many Feast of Tabernacles locations for this year.