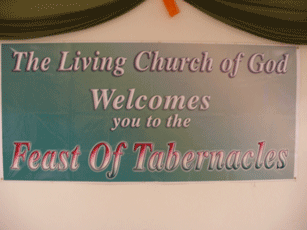 Banner at 2007 Feast of Tabernacles in Tobago
The Living Church of God has announced many of its site for the Feast of Tabernacles (a major Fall pilgrimage) in 2012:
We are pleased to announce the following 2012 U.S. Feast sites and coordinators. There is no information on the www.cogl.org web site about these sites yet, but there will be soon. Registration should start in early February.
Chattanooga, Tennessee

Coordinator: Mr. James Sweat

Kauai, Hawaii

Coordinator: Mr. Jim Meredith

Texas (to be determined)

Coordinator: Mr. Dan Hall

Lake of the Ozarks, Missouri

Coordinator: Mr. Wallace Smith

Newport, Oregon

Coordinator: Mr. Glen Gilchrist

Panama City, Florida

Coordinator: Mr. Jack Lowe

San Luis Obispo, California

Coordinator: Mr. Rodger Bardo

Tannersville, Pennsylvania

Coordinator: Mr. Jonathan McNair

Vail, Colorado

Coordinator: Mr. Ben Whitfield

Virginia Beach, Virginia

Coordinator: Mr. Rod McNair

Wisconsin Dells, Wisconsin

Coordinator: Mr. Phil West

The following Feast sites for International areas are also being planned (as of January 5, 2012):

Argentina

Australia – Mandurah, WA

Australia – Victor Harbor, SA

Barbados – Christ Church

Burma – Sakangyi

Burma – Kalaymyo

Canada – Kimberly, BC

Canada – Niagra region, ON

Canada – Shawinigan, QC

Canada – Liverpool, NS

Chile

Colombia

Costa Rica

England – Buxton

France

Guatemala

Guyana – Georgetown

Haiti

India – Imphal

Indonesia – Batu

Jamaica – Montego Bay

Kenya – Isibania

Malaysia – Melaka

Martinique

Mexico

New Zealand – Bay of Islands

Papua New Guinea – Wewak

Peru

Philippines – Baguio City

Philippines – Davao City

Philippines – Maranding

Philippines – Don Carlos

South Africa – Glentana

Sri Lanka

Thailand – Mae Sot

Tobago – Crown Point

Vanuatu – Orap
Somewhere between 40 to 50 (and perhaps more!) sites are expected. For detailed information about some of what was available in 2011, please see the article LCG 2011 Feast of Tabernacles' Information.
The first service for the Feast of Tabernacles would be after sunset on the 30th of September and the last service normally would be on the afternoon of the 8th of October in 2011.
Some articles of possibly related interest may include:
The Feast of Tabernacles: A Time for Christians? Is this pilgrimage holy day still valid? Does it teach anything relevant for today's Christians?
LCG 2012 Feast of Tabernacles' Information Here is information on many Feast of Tabernacles locations for this year. Details are expected to be added as they become available.
Is There "An Annual Worship Calendar" In the Bible? This paper provides a biblical and historical critique of several articles, including one by WCG which states that this should be a local decision. What do the Holy Days mean? Also you can click here for the calendar of Holy Days.
Did Early Christians Observe the Fall Holy Days? Did they? Did Jesus? Should you?
There are Many COGs: Why Support the Living Church of God? This is an article for those who wish to easily sort out the different COGs. It really should be a MUST READ for current and former WCG members or any interested in supporting the faithful church. It also explains a lot of what the COGs are all about.