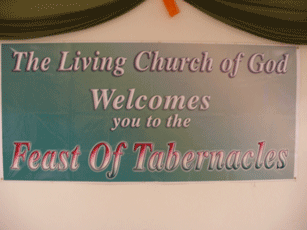 Banner at 2007 Feast of Tabernacles in Tobago
The Living Church of God has announced an additional site for the Feast of Tabernacles (a major Fall pilgrimage) in 2011.  So here is the International and USA lists:
International Feast Sites…

Below is the updated list of 2011 International Feast sites finalized as of this writing.  Stay tuned for more Festival Office updates!

Australia—Victor Harbor

Barbados—Christ Church

Canada—Penticton

Canada—Orford

Canada—Eastern Canada

France—Hyères

Guatemala—Antigua

Guyana—Georgetown

Haiti—Port-au-Prince

Indonesia—Batu

Jamaica—Montego Bay

Kenya—Isibania

Malaysia—Langkawi

Martinique—Sainte-Luce

New Zealand—Nelson

Nigeria—Lagos

Papua New Guinea

Philippines—Baguio City

Philippines—Davao City

Philippines—Don Carlos

Philippines—Maranding

Sri Lanka—Bentota

South Africa—Stillbai

Trinidad and Tobago—Crown Point

United Kingdom—Buxton

Vanuatu—Orap…
2011 USA Feast Sites Set!

As we pass the shortest day of the year in this part of the world, we are well on our way to planning for the Feast of Tabernacles, 2011! United States Feast sites have been selected and contracts have been signed (international sites are still being finalized). The Feast sites in the United States in 2011 will be:

Branson, MO

Chattanooga, TN

Cobleskill, NY

Glenwood Springs, CO

New Braunfels, TX

Newport, OR

Panama City, FL

Sonora, CA

Wisconsin Dells, WI…– Festival Office
There will probably also be sites, as there were in previous years, in places such as India, Myanmar, Peru, Columbia Chile, Argentina, Brazil, and possibly Thailand and elsewhere. Somewhere between 40 to 50 (and perhaps more!) sites are expected. For detailed information about some of what was available in 2010, please see the article LCG 2010 Feast of Tabernacles' Information.
The first service for the Feast of Tabernacles would be after sunset on the 12th of October and the last service normally would be on the afternoon of the 20th of October in 2011.
Some articles of possibly related interest may include:
The Feast of Tabernacles: A Time for Christians? Is this pilgrimage holy day still valid? Does it teach anything relevant for today's Christians?
LCG 2010 Feast of Tabernacles' Information Here is information on many Feast of Tabernacles locations for this year. Details are expected to be added as they become available.
Is There "An Annual Worship Calendar" In the Bible? This paper provides a biblical and historical critique of several articles, including one by WCG which states that this should be a local decision. What do the Holy Days mean? Also you can click here for the calendar of Holy Days.
Did Early Christians Observe the Fall Holy Days? Did they? Did Jesus? Should you?
There are Many COGs: Why Support the Living Church of God? This is an article for those who wish to easily sort out the different COGs. It really should be a MUST READ for current and former WCG members or any interested in supporting the faithful church. It also explains a lot of what the COGs are all about.