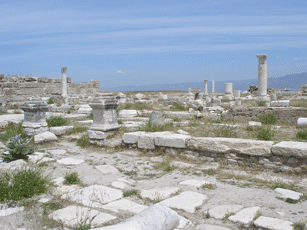 Ancient Laodicea

Abigail Cartwright posted the following letter allegedly from UCG's Victor Kubik:
Dear fellow ministers and employees,

We are sad to inform you that we have relieved Larry Salyer of his ministerial duties. He was suspended after he held meetings in the congregations he pastors after services in which he openly criticized the leadership of the Church. This is unacceptable conduct by a minister and the action is what has always been taken against anyone who openly speaks to our brethren in such a manner.

Roy Holladay, regional pastor, was sent to Texarkana, Texas and Ruston, Louisiana to speak to the congregations and let the brethren know of Larry Salyer?s suspension. Roy Holladay mistakenly announced, though, that Larry Salyer?s ministerial credentials were removed. While Ministerial Services can relieve someone of their duties, it is only the Council of Elders that can remove credentials. Roy realized he made a mistake in wording and apologized to Larry Salyer. He also contacted the elders in both congregations and asked them to notify the brethren of this error.
She also posted the following response from Larry Salyer:
In the midst of great confusion in the United Church of God and especially in the small congregations of Texarkana, Texas and Ruston, Louisiana, it seems appropriate to share the latest events of which I am a witness and a participant. Let me give you a little history before you try to make sense of the message copied below.

On Sabbath, October 9, I chose to bring the brethren up to date on what is going on in the Church. Actually, I had committed to them before the Feast that I would discuss the latest information coming out of the Home Office when we got home from the Feast…

On Thursday evening I returned home to find a message from Denny and Vic asking me to call. When I returned the call Friday morning, I got Denny only. Just let me add that during that phone call Denny said, (very nearly verbatim quote here) "Larry, you have put me in an awkward position. I have to suspend you from ministerial duties until you have talked with Roy Holladay. Roy will come back and write up a report." He indicated that after that it would be determined what comes next.

For the record I will add here, that I said to Denny ( a long time friend and fellow evangelist in WCG), "Denny, you said I had put you in an awkward position. Let me state here, as one evangelist to another, that I believe you and Roy and others have put me in an awkward position. As a shepherd, I have a responsibility to my flock to help them discern truth and error."

At that point Denny expressed again that he would have to suspend me until I had talked to Roy.
"Denny" would be Dennis Luker, UCG's current president.
Larry Salyer was once part of WCG and then GCG.  While in GCG he helped organize what I consider to be an improper takeover of that organization.  The takeover essentially resulted in GCG filing for a type of bankruptcy.  And about that time, Larry Salyer and some of his supporters ended up going to the United Church of God.  He was responsible for certain aspects of UCG's public proclamation programs until the Spring of 2010 when Council of UCG had issues with him, the then UCG president (Clyde Killough), and others.
UCG has always had governance issues, but more since the Spring of 2010 than almost any other period since its formation in 1995.  UCG was formed by WCG ministers who decided against continuing with the form of governance they had publicly advocated prior to forming UCG.
Some articles of possibly related interest may include:
Polycarp, Herbert W. Armstrong, and Roderick C. Meredith on Church Government What form of governance did the early church have? Was it hierarchical? Which form of governance would one expect to have in the Philadelphia remnant? The people decide and/or committee forms, odd dictatorships, or the same type that the Philadelphia era itself had?
Unity: Which COG for You? Why so many groups? Why is there lack of unity in the Churches of God? Has it always been this way? What can/should be done about it?
Differences between the Living Church of God and United Church of God This article provides quotes information from the two largest groups which had their origins in WCG as well as commentary.
There are Many COGs: Why Support the Living Church of God? This is an article for those who wish to more easily sort out the different COGs. It really should be a MUST READ for current and former WCG/GCI members or any interested in supporting the faithful church. It also explains a lot of what the COGs are all about.