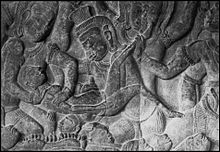 Bas-relief at Angkor Wat depicting a demon performing an ancient abortion.
The USFDA has decided to greatly increase access to the 'Plan B' pill, including dropping the age requirement to 15:
May 1, 2013

The "morning after" pill, designed to induce abortion immediately after sex, will now be available without a prescription to any female 15 and over.  This, my friends, is bigger than Roe v. Wade…

Obamacare will also make the pill free.  I suppose that will be the only over-the-counter drug that health insurance will cover.

But do you see what this means?  Forget "contraception" (efforts to prevent conception).  Who will even bother with that anymore?  This moves us into a new phase of birth control that is post-conception, targeting the developing child after he or she is conceived.  What shall we call this approach? Don't let anyone get away with calling it "contraception."  It is "contrafetus," or "contrachild."

This routinizes abortion, making it happen so early that it won't seem so horrible.   http://www.patheos.com/blogs/geneveith/2013/05/the-morning-after-abortion-pill-over-the-counter/

(CNN) — The U.S. Food and Drug Administration announced Tuesday that it approved the availability of the Plan B One-Step emergency contraception pill without a prescription for women 15 and older…

According to the new FDA decision, Plan B One-Step will now be labeled to reflect that proof of age is required to purchase it, and it cannot be sold where age cannot be verified…

If there has been fertilization, Plan B may prevent a fertilized egg from embedding in the uterus. But if the egg has already been implanted in the uterus, the morning-after pill will not work.

Emergency contraceptives are intended for use within 72 hours after sex but are most effective if taken within 24 hours.  http://www.cnn.com/2013/04/30/health/morning-after-pill/

The Food and Drug Administration approved the use of Plan B One-Step for women aged 15 and older without a prescription…Plan B One-Step, also known as the "morning after pill,"  http://www.cbsnews.com/8301-204_162-57582218/plan-b-one-step-approved-for-use-without-a-prescription-for-women-15-and-older/
Last September, the New York City's Department of Education has began offering "morning after" contraceptive pills to students in a pilot program at 13 of the city's high schools who were as young as 14 (NYC's New Abortion Program for 14 Year-Olds).  Instead of advocating biblical standards of morality, many government leaders continue to look for ways that encourage even more immorality.
And while the 'morning after' pill is now going to be more available and pushed on women, it still is a type of abortificant.
As far as the horrors of abortion, notice the following related to the practices of an abortion clinic in Philadelphia:
Philadelphia (CNN) — Jurors in the murder trial of Philadelphia abortion doctor Kermit Gosnell ended their first day of deliberations, Tuesday without a verdict.

Deliberations will resume Wednesday morning.

Gosnell, 72, is accused of killing babies by using scissors to cut their spinal cords. Authorities allege that some of the infants were born alive and viable during the sixth, seventh and eighth months of pregnancy.

Gosnell originally faced first-degree murder charges in the deaths of seven babies and a count of third-degree murder in the death of Karnamaya Mongar, 41. Mongar died of an anesthetic overdose during a second-trimester abortion…Gosnell also is accused of reusing unsanitary instruments; performing procedures in filthy rooms, including some in which litter boxes and animals allegedly were present at the time; and allowing unlicensed employees — including a teenage high school student — to perform operations and administer anesthesia.  http://www.cnn.com/2013/04/30/justice/pennsylvania-abortion-doctor-trial/index.html

Dr. Gosnell, who is now 72, "never turned away a desperate troubled young lady," said McMahon.

"Abortion…isn't pretty," he told the jury.

However, in his closing argument, prosecutor Ed Cameron said that Dr. Gosnell provided "back-alley abortions" that took place at a gruesome version of a "Henry Ford model of business — an assembly line" at the clinic.

Cameron said that Dr. Gosnell murdered infants who showed signs of life despite being aborted by cutting their spines with scissors and causing subsequent suffocation. And Dr. Gosnell lacked the "basic humanity" to handle aborted fetuses "properly," the prosecutor said, referring to fetuses found at the site in soft drink coolers and to witnesses' accounts of their being put into the garbage disposal and clogging a facility toilet.  http://www.medscape.com/viewarticle/803391

The case, which has reignited passions over the thorny issues surrounding abortion rights, went to the jury of seven women and five men on Tuesday. Dr. Kermit Gosnell, 72, is charged with four counts of first-degree murder in connection with the deaths of four babies that the prosecution contends were delivered alive during late-term abortions, then killed when their spines were cut with surgical scissors. The defense argues that Gosnell was aborting fetuses…

Gosnell performed thousands of abortions in his Women's Medical Society Clinic, in a career that spanned three decades…prosecutor Cameron said. "Are you human?" Cameron asked Gosnell during the closing phase, "to med these women up and stick knives in the backs of babies?" According to the defense, Gosnell injected every patient with Digoxin, which is used to abort the fetus. The paperwork and testimony shows that Gosnell used the drug on each patient so that the fetuses must have been dead when removed from the womb. The testimony from the former employees, who said the fetuses were alive…http://www.latimes.com/news/nation/nationnow/la-na-nn-abortion-doctors-murder-case-goes-to-jury-in-philadelphia-20130430,0,4879969.story
Abortion is more than not pretty, it is horrible.  Partially because the public is somewhat outraged about this Philadelphia case and other aspects of 'partial-birth' abortions, US President Obama went out promoting abortion in the last week (see Obama pushing abortion access, but what is the truth about late term abortions?)–this seems to be a priority for him.
.
Last night, I read a version of the following in our local paper, but was originally published in the New York Times:
PHILADELPHIA — They are known as Baby Boy A, Baby C, Baby D and Baby E, all of whom prosecutors call murdered children and the defense calls aborted fetuses — the very difference in language encapsulating why anti-abortion advocates are so passionate about drawing attention to the trial of Dr. Kermit Gosnell…
To anti-abortion leaders, the accounts have the power to break through decades of hardened positions in the abortion wars, not just because of the graphic details but because they raise the philosophical issue of why an abortion procedure performed in utero is legal, but a similar act a few minutes later, outside the womb, is considered homicide.
The distinction "is maybe a 15-minute or half-hour time frame and 10 inches of physical space," said Michael Geer, the president of the Pennsylvania Family Institute, an anti-abortion group. "I think it's going to resurrect a debate about the humanity of the unborn child."…
Baby D, a clinic worker testified, was delivered into a toilet by a woman waiting for Dr. Gosnell and it appeared to make swimming motions before one of the doctor's assistants pulled it out and cut its neck.
Two workers said they heard Baby E crying before Dr. Gosnell cut its spine with scissors. The prosecutor quoted a worker: "It made noises, a whine like my baby." http://www.nytimes.com/2013/04/30/us/trial-abortion-doctor-kermit-gosnell.html?_r=0
The reality is that abortion is horrible. Abortion kills a human baby. And yes, while the 'morning after pill' is intended to make it appear less horrible, murdering babies is still murdering babies.
Do not Americans realize that since the 1973 Roe vs. Wade pro-abortion ruling by the US Supreme Court that the USA has gone from being a creditor nation to the the most indebted nation that the world has ever seen?
There are terrible consequences for sin, and instead of properly discouraging sexual immorality, compounding it with chemical abortion increases the tendency towards sin. Two wrongs do not make a right. This does not bode well for the USA.
The great tribulation is coming and biblically is expected to hit the USA and its Anglo-related allies first (cf. Daniel 11:39).
Some articles of possibly related interest may include:
Abortion, the Bible, and a Woman's Right to Choose Do you know what the Bible teaches on this? Has the Roman Catholic Church allowed abortions? What about the real Church of God? Some may also, or instead, wish to view the YouTube video Abortion, the Bible, and US Debt.
God Created Marriage Some falsely claim that God did not create marriage and that fornication is fine.  What does the Bible really teach?
Why Marriage? Soon Obsolete? This is a booklet from Herbert Armstrong on this important topic.
Love, Marriage, and Sex It is important to get them in the right order.
The Ten Commandments Reflect Love, Breaking them is Evil Some feel that the ten commandments are a burden. Is that what Jesus, Paul, Peter, James, and John taught?
When Will the Great Tribulation Begin? 2013, 2014, or 2015? Can the Great Tribulation begin today? What happens before the Great Tribulation in the "beginning of sorrows"? What happens in the Great Tribulation and the Day of the Lord? Is this the time of the Gentiles? When is the earliest that the Great Tribulation can begin? What is the Day of the Lord? Who are the 144,000? See also the video Can the Great Tribulation Begin in 2013?
Barack Obama, Prophecy, and the Destruction of the United States-Second Edition for Second Obama Term This is a 160 page book for people truly interested in prophecies related to Barack Obama and the United States, including learning about many that have already been fulfilled (which the book documents in detail) and those that will be fulfilled in the future. It also has a chapter about a Republican choice. This book is available to order at www.barackobamaprophecy.com. The physical book can also be purchased at Amazon from the following link: Barack Obama, Prophecy, and the Destruction of the United States: Is Barack Obama Fulfilling Biblical, Islamic Catholic, Kenyan, and other America-Related Prophecies? What About Republican Leaders? Second Edition for Second Obama Term.
Barack Obama, Prophecy, and the Destruction of the United States-Second Term-Amazon Kindle edition. This electronic version is available for only US$2.99. And you do not need an actual Kindle device to read it. Why? Amazon will allow you to download it to almost any device: Please click HERE to download one of Amazon s Free Reader Apps. After you go to for your free Kindle reader and then go to Barack Obama, Prophecy, and the Destruction of the United States-Second Term-Amazon Kindle edition.