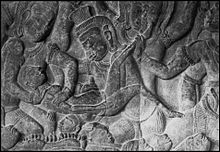 Bas-relief at Angkor Wat depicting a demon performing an ancient abortion.
In older times, abortions involved external brutality, but now they have gone high-tech for school children in New York City:
24 September 2012

(CBS News) NEW YORK – New York City's Department of Education has begun offering "morning after" contraceptive pills to students in a pilot program at 13 of the city's high schools.

CBS Station WCBS reports that, in an effort to combat teen pregnancy, school nurse offices have been stocked with Plan B emergency contraception…

The birth control will be available to students as young as 14 without parental notification.

The Department of Education has sent notes to parents alerting them about the new program and information on how to opt out. Just one to two percent of parents have opted out of the program, the DOE said.

New York City schools already distribute free condoms to students.  http://www.cbsnews.com/8301-204_162-57518735/some-nyc-schools-to-offer-morning-after-pills/
Instead of advocating biblical standards of morality, many government leaders continue to look for ways that encourage even more immorality.
Do not Americans realize that since the 1973 Roe vs. Wade pro-abortion ruling by the US Supreme Court that the USA has gone from being a creditor nation to the the most indebted nation that the world has ever seen?
There are terrible consequences for sin, and instead of properly discouraging sexual immorality, compounding it with chemical abortion increases the tendency towards sin.  Two wrongs do not make a right.  This does not bode well for the USA.
The great tribulation is coming and will likely hit the USA and its Anglo-related allies first.
Some articles of possibly related interest may include:
Abortion, the Bible, and a Woman's Right to Choose Do you know what the Bible teaches on this? What do the Living Church of God and the Church of Rome teach?
The Ten Commandments Reflect Love, Breaking them is Evil Some feel that the ten commandments are a burden. Is that what Jesus, Paul, Peter, James, and John taught?
When Will the Great Tribulation Begin? 2012, 2013, or 2014? Can the Great Tribulation begin today? What happens before the Great Tribulation in the "beginning of sorrows"? What happens in the Great Tribulation and the Day of the Lord? Is this the time of the Gentiles? When is the earliest that the Great Tribulation can begin? What is the Day of the Lord? Who are the 144,000?
Barack Obama, Prophecy, and the Destruction of the United States This is a 160 page book for people truly interested in prophecies related to Barack Obama and the United States, including learning about many that have already been fulfilled (which the book documents in detail and at least one involves his abortion rights advocacy) and those that will be fulfilled in the future. It also has a chapter about Mitt Romney. This book is available to order at www.barackobamaprophecy.com. The physical book can also be purchased at Amazon from the following link:  Barack Obama, Prophecy, and the Destruction of the United States: Is Barack Obama Fulfilling Biblical, Islamic, Catholic, Kenyan, and other America-Related Prophecies? What About Mitt Romney?
Barack Obama, Prophecy, and the Destruction of the United States–Amazon Kindle edition. This electronic version is available for only US$2.99. And you do not need an actual Kindle device to read it. Why? Amazon will allow you to download it to almost any device: Please click HERE to download one of Amazon's Free Reader Apps.  After you go to for your free Kindle reader and then go to Barack Obama, Prophecy, and the Destruction of the United States–Amazon Kindle edition.)