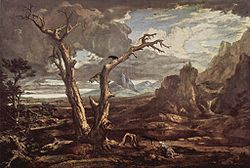 "Elijah in the wilderness"
Someone from the Christian Church of God of Grand Junction, Colorado sent me a paper that included the following:
A Prophet is an inspired preacher, with particular insight into subjects related to current events and bible prophesy. A true prophet would inject into the prophecy stream a correlation between practical fact and world conditions. One such is regarded as a person through whom God is directly working. (Jas. 5:10; Luke 11:49; Rev. 10:7) As in 1st Cor.14:29-37 we read of what was spoken of as a relatively normal situation, messages by two and more 'prophets' during a service. In this described situation, it involved possible multi-lingual presentations; that these local 'prophets' were self-controlled, (logical / sensible) and weren't necessarily officially 'ordained' by any authority structure. Verse 37 alludes to even a self-assessed situation!
While I would have written the above differently, it does show that some in the COG recognize that the New Testament does discuss prophets as well as some of what they would be expected to do.
Earlier, the Chicagoland Church of God sent out a magazine and the cover story article was titled Need Prophets More than Prophecy (see Shepherd's Voice: COG needs more prophets).
As far as the need for prophets, this is interesting as my research has led me to realize that all the Laodicean COG groups that I am aware of have major flaws in understanding prophecy. So much so, unless they heed Jesus' advice to repent (Revelation 3:14-20), they will not possibly know when the Great Tribulation will begin.
One thing that I have noticed is that the Laodiceans, as well as those of the Sardis Church, misunderstand end time prophecy.
As far as prophetic misunderstandings in various claimed COG groups that I have personally denounced, here is an abbreviated list:
Some will come up with their preferred rational as why not to agree with the position of the Continuing Church of God (CCOG) on these matters. Yet, on most of those points, the old WCG taught what I believe that the Bible teaches on them (on the few that it did not, one is consistent with a November 1979 Herbert W. Armstrong writing and on the others, a former adviser to HWA told me that HWA would have agreed with me on those as well, as one of them he had not investigated and some others were not issues when he was alive).
It should be noted that leaders in the Living Church of God and/or the United Church of God confirmed to me personally that I was biblically correct on all the above points, despite the fact that their respective churches hold to several of the errors pointed out above.  Those who rely too much on a compromised ministry (Ezekiel 34:7-10) to teach them prophecy that is not truly in accordance with scripture need to realize that according to Jesus' words in Revelation 2 & 3 and Luke 21, only relatively few Christians will be protected from the hour of trial that will come upon the whole world.
There are also more prophetic differences that other COG groups have from the Bible. The reality is that without the right emphasis on the final phase of the work, holding the Bible in sufficiently high regard, practicing Philadelphian love, and ignoring one anointed like Elisha, the COG groups that ignore prophetic warnings are doing so to their peril.
While some discount prophecy, notice what Jesus admonished His faithful to do:
 35 For it will come as a snare on all those who dwell on the face of the whole earth.  36 Watch therefore, and pray always that you may be counted worthy to escape all these things that will come to pass, and to stand before the Son of Man. (Luke 21:35-36)
Are we not a lot closer to the end now than when Jesus stated that?  Should you not be watching world events as properly explained in the light of Bible prophecy?
The various Laodiceans will not properly understand end time prophecy, and that will contribute to them NOT fleeing when they should (cf. Matthew 24:15-21; Revelation 12:14-17).
A video of related interest is titled 17 Laodicean Errors in Prophecy.
In the Continuing Church of God:
19 We have also a more sure word of prophecy; whereunto ye do well that ye take heed, as unto a light that shineth in a dark place, until the day dawn, and the day star arise in your hearts:

20 Knowing this first, that no prophecy of the scripture is of any private interpretation.

21 For the prophecy came not in old time by the will of man: but holy men of God spake as they were moved by the Holy Ghost. (2 Peter 1:19-21, KJV)
A detailed article about prophets in the Church of God is How To Determine If Someone is a True Prophet of God. That article not only has scriptures, it also has historical COG writings that should help people who will believe the truth to be able to see the truth.
Years ago, I also gave a sermon titled How to determine if someone is a true prophet of God and it is available at the ContinuingCOG YouTube channel. Some may also find it of interest.
Some items of possibly related interest may include:
How To Determine If Someone is a True Prophet of God There are many false prophets, yet many overlook what the Bible teaches about how to recognize a true one. How can Christians determine who is a true prophet? This article contains a scripture-based checklist to assist with this determination.
How to determine if someone is a true prophet of God This is a sermon on YouTube addressing a subject that most in the Church of God do not seem to have looked into very much. It discusses scriptures and dispels some improper assertions that some associated with the COG have made about prophets in this time.
Elijah: Past and Prophesied Information about the original Elijah and some information about the Elijah-related prophecies.
The Elijah Heresies Does the Bible teach that there will be a future Elijah? Must it be Herbert W. Armstrong?
Why Be Concerned About False and Heretical Leaders? There have been many false leaders–here is some of why you should be concerned about them.
Who Are The Two Witnesses? What is their job? What does the Bible reveal? What has the Church of God taught on this subject? Might even Roman Catholic prophecies give some clues here?
The Final Phase of the Work What is the final phase of the work? Who will lead it? Do you have the courage to support it? Here is a related YouTube video titled The Final Phase of the Work. The written article has been translated into Spanish La Fase Final de la Obra.
The Bible, Peter, Paul, John, Polycarp, Herbert W. Armstrong, Roderick C. Meredith, and Bob Thiel on Church Government What form of governance did the early church have? Was it hierarchical? Which form of governance would one expect to have in the Philadelphia remnant? The people decide and/or committee forms, odd dictatorships, or the same type that the Philadelphia era itself had? What are some of the scriptural limits on ecclesiastical authority? Do some commit organizational idolatry? Here is a Spanish language version La Biblia, Policarpo, Herbert W. Armstrong, y Roderick C. Meredith sobre el gobierno de la Iglesia. Here is a link to a sermon titled Church Governance.
The Philadelphia Church Era was predominant circa 1933 A.D. to 1986 A.D. The old Radio Church of God and old Worldwide Church of God, now the remnant of that era is basically the most faithful in the Church of God, like who hold to the beliefs and practices of the Continuing Church of God.
The Laodicean Church Era has been predominant circa 1986 A.D. to present. The Laodiceans are non-Philadelphians who mainly descended from the old WCG or its offshoots. They do not properly understand the work or biblical prophecies and will face the Great Tribulation if they do not repent.
Continuing Church of God The group striving to be most faithful amongst all real Christian groups to the word of God. To see how CCOG has done so far, here is a sermon Continuing Church of God (CCOG) first year anniversary: What has been accomplished? Here is a written link to a version of that sermon in the Spanish language: Aniversario del primer año de la Continuación de la Iglesia de Dios: ¿Qué se ha cumplido?
CCOG.ASIA We in the Continuing Church of God also have the url www.ccog.asia which has a focus on Asia and has various articles in Mandarin Chinese as well as some in English, plus some items in other Asian languages. 我们在继续神的教会也提供此网址 www.ccog.asia, 关注于亚洲并且有各种各样的中英文文章,其中一些用菲律宾语翻译的文章也正在进行中,准备添加到这个网站中。
CCOG.IN This is a website targeted towards those of Indian heritage. It has a link to an edited Hindi translation of The Mystery of the Ages and is expected to have more non-English language materials in the future.
CCOG.EU This is a website targeted toward Europe. It has materials in more than one language (currently it has English, Dutch, and Serbian, with links also to Spanish) and it is intended to have additional language materials added.
CDLIDD.ES La Continuación de la Iglesia de Dios. This is the Spanish language website for the Continuing Church of God.
PNIND.PH Patuloy na Iglesya ng Diyos. This is the Philippines website Continuing Church of God. It has information in English and Tagalog.