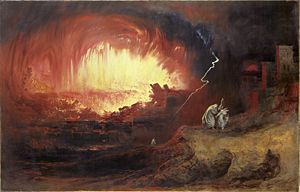 Artist's rendering of the destruction of Sodom and Gomorrah

Many are noticing problems with the faulty US Supreme Court decision.  James Dobson wrote:
I fear judgment befalling America
Even though Friday's re-definition of marriage by the U. S. Supreme Court was anticipated, I have found myself grieving over its implications for my country and for Western civilization itself. This radical decree will have a devastating affect on every dimension of culture.
I grieve most for what it will do to our children, our grandchildren and future generations. They will be taught that right is wrong and wrong is right, and that the teachings of Scripture are unreliable and inaccurate. How outrageous it is that boys and girls barely out of babyhood are already being introduced in some schools to perverse adult behavior.
Soon, public school textbooks throughout the country will be re-written and re-illustrated to conform to today's ruling. It matters not that these revisions will contradict the beliefs and convictions of their parents. It will soon become the law of the land.
Many more vulnerable kids will grow up in homes with same-sex parents, obviously lacking either masculine or feminine role models. They are the real victims of the Court's ruling.   http://www.wnd.com/2015/06/i-fear-judgment-befalling-america/#K1uDdWvgUMSPt1LC.99
It will be worse than he wrote.  The time will come relatively soon when disaster will hit the USA and it will be no more.
Here is something that a reader sent to me today related to the Supreme Court ruling:
It is hard to overstate the significance of the Obergefell decision [Obergefell v. Hodges] — and the seriousness of the challenges it presents to orthodox Christians and other social conservatives. Voting Republican and other failed culture war strategies are not going to save us now.

Discerning the meaning of the present moment requires sobriety, precisely because its radicalism requires of conservatives a realistic sense of how weak our position is in post-Christian America.

The alarm that the four dissenting justices sounded in their minority opinions is chilling. Chief Justice John Roberts and Justice Antonin Scalia were particularly scathing in pointing out the philosophical and historical groundlessness of the majority's opinion. Justice Scalia even called the decision "a threat to democracy," and denounced it, shockingly, in the language of revolution.

It is now clear that for this Court, extremism in the pursuit of the Sexual Revolution's goals is no vice. True, the majority opinion nodded and smiled in the direction of the First Amendment, in an attempt to calm the fears of those worried about religious liberty. But when a Supreme Court majority is willing to invent rights out of nothing, it is impossible to have faith that the First Amendment will offer any but the barest protection to religious dissenters from gay rights orthodoxy.

Indeed, Chief Justice Roberts and Justice Samuel Alito explicitly warned religious traditionalists that this decision leaves them vulnerable. Alito warns that Obergefell "will be used to vilify Americans who are unwilling to assent to the new orthodoxy," and will be used to oppress the faithful "by those who are determined to stamp out every vestige of dissent."

The warning to conservatives from the four dissenters could hardly be clearer or stronger. So where does that leave us?

For one, we have to accept that we really are living in a culturally post-Christian nation. The fundamental norms Christians have long been able to depend on no longer exist. To be frank, the court majority may impose on the rest of the nation a view widely shared by elites, but it is also a view shared by a majority of Americans. There will be no widespread popular resistance to Obergefell. This is the new normal.

For another, LGBT activists and their fellow travelers really will be coming after social conservatives. The Supreme Court has now, in constitutional doctrine, said that homosexuality is equivalent to race. The next goal of activists will be a long-term campaign to remove tax-exempt status from dissenting religious institutions. The more immediate goal will be the shunning and persecution of dissenters within civil society. After today, all religious conservatives are Brendan Eich, the former CEO of Mozilla who was chased out of that company for supporting California's Proposition 8. …

Obergefell is a sign of the times, for those with eyes to see. This isn't the view of wild-eyed prophets wearing animal skins and shouting in the desert. It is the view of four Supreme Court justices, in effect declaring from the bench the decline and fall of the traditional American social, political, and legal order.

We live in interesting times.  http://time.com/3938050/orthodox-christians-must-now-learn-to-live-as-exiles-in-our-own-country/
I have written for some time to expect revenge/persecution from the LGBT lobby towards those who hold to a truly biblical view of this matter.  Others are beginning to also realize this.
Here is something also to consider that a different reader sent me today:
June 26, 2015, a day of national tragedy, the Supreme Court of the United States rendered what should rank as the worst decision of the Supreme Court of the United States in the lifetime of every living American (rivaled only by Roe v. Wade) and at least one of the two or three worst decisions since the Court's inception (compare the Dred Scott case).

Five lawless judges (all four Democrat-appointed judges: Obama's Sotomayor and Kagan; Clinton's Ginsburg and Breyer; and one traitor appointed by Reagan: Kennedy) defeated four Constitution-abiding judges (four of the five Republican-appointed judges: Bush Jr.'s Roberts and Alito; Bush Sr's Thomas; and Reagan's Scalia) to foist "gay marriage" on all 50 states. Five unelected lawyers have acted as legislators and imposed their arbitrary and extreme leftwing ideology on all the American people, culminating the judicial tyranny over the past two years that has preempted the democratic process.


Chief Justice Roberts is right in declaring this ruling to be "an act of will, not legal judgment…. Just who do we think we are?" Justice Scalia is right in saying that this ruling is "a threat to American democracy." Justice Alito is right in warning that the decision "will be used to vilify Americans who are unwilling to assent to the new orthodoxy…. The implications [of comparing traditional marriage laws to laws that denied equal treatment for African-Americans and women] will be exploited by those who are determined to stamp out every vestige of dissent."


Unless this decision can be reversed soon through the next two presidential elections and the retirement/replacement of renegade SCOTUS judges (Ginsburg, Kennedy, and Breyer are the first up), this will turn out to be the greatest American tragedy for the civil liberties of persons of faith, for the cause of sexual purity in the United States, and for the lives of persons struggling with same-sex attraction. Prepare for a reign of persecution and abuse of people of faith as hateful, ignorant, and discriminatory "bigots" and the moral equivalent of racists in every area of life in which people of faith intersect with the secular realm, individually and in their religious institutions, with a profound negative impact as well within most mainline denominations.

As individuals, people of faith will be aggressively indoctrinated, fined, denied advancement, fired, intimidated, and subjected to ceaseless verbal abuse in public and private schools, at institutions of higher learning, at places of employment in public and private sectors, and throughout the main communication organs of the media and entertainment industry. Their institutions and businesses will be set on a collision course with the state: denied government funding, contracts, and loans; denied accreditation and tax-exempt status; and subjected to government harassment.  …

Gender confusion in the young will be regularly promoted by the government, schools, and media. Along with it will come an increase not only in homosexual or transgender identification but also in homosexuality itself. Following in the wake of that will be the attendant, disproportionately high rates of measurable harm associated with homosexual practice, including high sexually transmitted infection rates and high numbers of sex partners over the course of life (mostly for males; marriage won't tame this but rather will be redefined to accommodate an "openness" to other sexual liaisons), as well as high relational turnover and the mental health complications that come from such breakups (especially for females; marriage won't stop that either but rather will be redefined to view such short-term "marriages" as the new norm).  http://www.robgagnon.net/homosexSCOTUSgaymarriage.htm

Yes, this ruling by the US Supreme Court was one of its worst and will have even more negative ramifications than many other faulty rulings.  More persecution of those who oppose the homosexual agenda will come.  More will sadly succumb to the tragedies of being involved in the homosexual movement (some of which are listed in the article The Bible Condemns Homosexuality).  Disaster will come to the USA.  Some will be weather related and a major one will be the military loss of the nation.
As far as the next US President, should it be Hillary Clinton, she intends to enforce the faulty Supreme Court decision unless she repents.  Notice some of her comments about all of this:
6/27/15

Hillary Clinton celebrated the Supreme Court's ruling on same-sex marriage Friday evening at a Virginia Democratic Party fundraiser that may as well have been a Clinton campaign rally.

"This morning love triumphed in the highest court in our land," she said, before quoting from the majority decision passed down earlier Friday, and allowed same-sex couples to marry. "They ask for equal dignity in the eyes of the law and the Constitution grants them that right."

Clinton took aim at her Republican opponents, chiding them for their objections to the Supreme Court's rulings on both same-sex marriage and, earlier in the week, the Affordable Care Act.

Many of the Republican candidates "seemed determined to lead us right back into the past," she said. Without naming him, Clinton called out Wisconsin Gov. Scott Walker, who has yet to announce his bid for the Oval Office, for his suggestion of a constitutional amendment to reinstate the power of the states to define marriage.

"Instead of trying to turn back the clock," Clinton said to applause, "they should be joining us in saying loudly and clearly no, no to discrimination once and for all."

Her message for Republican candidates on Obamacare: "move on."  http://www.cbsnews.com/news/hillary-clinton-celebrates-supreme-court-ruling-on-same-sex-marriage/
Hillary Clinton wants to push the homosexual agenda.
The Bible tells of an early event that occurred in the towns of Sodom and Gomorrah between three thousand and four thousand years ago:
24 Then the Lord rained brimstone and fire on Sodom and Gomorrah, from the Lord out of the heavens. 25 So He overthrew those cities, all the plain, all the inhabitants of the cities, and what grew on the ground. (Genesis 19:24-25)
And why did it happen?
7 as Sodom and Gomorrah, and the cities around them in a similar manner to these, having given themselves over to sexual immorality and gone after strange flesh, are set forth as an example, suffering the vengeance of eternal fire. (Jude 7)
Homosexuality is a form of sexual immorality that involves going after "strange flesh."
Why mention this in the 21st century?
Because God turned:
6…the cities of Sodom and Gomorrah into ashes, condemned them to destruction, making them an example to those who afterward would live ungodly (2 Peter 2:6)
Thus, the destruction of Sodom and Gomorrah were to serve as an example to those who would live as they did. Yet despite biblical warnings, many modern leaders are endorsing so-called homosexual "rights" and "same-sex marriage." The Bible, however, warns about such leaders:
12…Those who lead you cause you to err, And destroy the way of your paths. (Isaiah 3:12)

16 For the leaders of this people cause them to err, And those who are led by them are destroyed (Isaiah 9:16).
So, leaders that ignore what the Bible teaches are leading others toward destruction.  Sodom and Gomorrah were destroyed as an example–the USA will be destroyed and this acceptance of the homosexual agenda is part of the reason why.
Of course, not everyone in Sodom and Gomorrah were homosexuals as those that strictly practice that could not reproduce. Yet, notice that the destruction that hit their cities destroyed all that were there and notice that something like this is to happen again according to Jesus:
26 And as it was in the days of Noah, so it will be also in the days of the Son of Man: 27 They ate, they drank, they married wives, they were given in marriage, until the day that Noah entered the ark, and the flood came and destroyed them all. 28 Likewise as it was also in the days of Lot: They ate, they drank, they bought, they sold, they planted, they built; 29 but on the day that Lot went out of Sodom it rained fire and brimstone from heaven and destroyed them all. (Luke 17:26-29)
Various ones can pretend that increasing "homosexual rights" is acceptable, but the Bible suggests otherwise. A marriage as the above indicates, as do other scriptures (e.g. Matthew 19:4-5), is between a man and woman (for more details see God Created Marriage). Not two of the same sex.
Homosexual acts are clearly prohibited in the Bible:
22 You shall not lie with a male as with a woman. It is an abomination.  (Leviticus 18:22)

13 If a man lies with a male as he lies with a woman, both of them have committed an abomination. (Leviticus 20:13)
Those who try to claim that the Bible does not clearly condemn homosexuality are intentionally misreading what it actually teaches. The Bible prohibits and condemns homosexual behavior–the Bible calls it an abomination!
Notice also the following:
9 The look on their countenance witnesses against them, And they declare their sin as Sodom; They do not hide it. Woe to their soul! For they have brought evil upon themselves. (Isaiah 3:9)

13 The fear of the Lord is to hate evil; Pride and arrogance and the evil way And the perverse mouth I hate.  (Proverbs 8:13)

18 Pride goes before destruction, And a haughty spirit before a fall.  (Proverbs 16:18)

49 Look, this was the iniquity of your sister Sodom: She and her daughter had pride, fullness of food, and abundance of idleness; neither did she strengthen the hand of the poor and needy. 50 And they were haughty and committed abomination before Me; therefore I took them away as I saw fit. (Ezekiel 16:49-50)
So the Bible shows that Sodom was destroyed for many things including its pride and the committing of abominations. Homosexuality is an abomination and a sin.  Yesterday, US President Obama declared that Americans should be PROUD of the anti-biblical ruling that the US Supreme Court made (see US Supreme Court declares in favor of homosexual marriage, in spite of the Constitution).
God still does not approve of pride or homosexual abominations. Various ones in the USA and elsewhere "declare their sin as Sodom."
Perhaps it should be mentioned that "cross-dressing" is also condemned as an abomination:
5 A woman shall not wear anything that pertains to a man, nor shall a man put on a woman's garment, for all who do so are an abomination to the Lord your God. (Deuteronomy 22:5)
Much associated with the homosexual agenda is an abomination to God. And that agenda is also targeting children (see Cross-dressing and other assaults against your children.  What should you do?).
The Supreme Court ruling brings to mind the following from Habakkuk:
4 And justice never goes forth.
For the wicked surround the righteous;
Therefore perverse judgment proceeds.  (Habakkuk 1:4)
Disaster hit those the above was speaking of.  But the principle has future application.
The USA will, within the next couple of decades, be no more.  Disaster will befall the USA.
Some items of possibly related interest may include:
The Bible Condemns Homosexuality "Same-sex marriage" for "gays" and lesbians is becoming more acceptable to many. What does the Bible teach about homosexuality? Can homosexuals change? A related video sermon is titled What Does the Bible Really Teach about Homosexuality?
Cross-dressing and other assaults against your children. What should you do? Is there an agenda to turn your children and/or grandchildren away from biblical morality and towards practices promoted by homosexuals? What does the Bible teach about cross-dressing? What should parents do? If there is an agenda, what has been going on? There is also a YouTube video on this, titled Cross dressing and Other Assaults Against Your Children.
Weather Blessings and Sorrows Are weather problems a warning? What should be done? What does the Bible teach about weather? What about floods, droughts, heat, earthquakes, tornadoes, and solar storms? Here is a related YouTube video Does God Use Weather? A related item in the Spanish language would be Bendiciones y maldiciones del clima.
Love, Marriage, and Sex It is important to get them in the right order.
God Created Marriage Some falsely claim that God did not create marriage and that fornication is fine. What does the Bible really teach? Here is a version in Mandarin Chinese 神创造婚姻.
Making Your Marriage Work Marriage is not always easy, but it pictures a divine relationship. How can you make your marriage work? Here is a link to the video sermon: You Can Make YOUR Marriage Work.
Pornography: A scourge on society Is pornography harmless fun? Does the Bible teach anything about it? What are the views of some involved with it? Here is a link to a YouTube video Pornography: Harmless Fun or a Scourge on Society?
British and American Moral Decay Public nudity is becoming more prevalent in the Anglo-Saxon lands. What are some of the consequences?
Can those in the USA/UK see the Handwriting on the Wall? Is everything fine in the USA/UK or is it like the days of Noah? Can we learn from the handwriting that appeared on a wall thousands of years ago? Here is a link to a related YouTube video Can you see the 'Handwriting on the Wall'?
Anglo – America in Prophecy & the Lost Tribes of Israel Are the Americans, Canadians, English, Scottish, Welsh, Australians, Anglo-Saxon (non-Dutch) Southern Africans, and New Zealanders descendants of Joseph? Where are the lost ten-tribes of Israel? Who are the lost tribes of Israel? What will happen to Jerusalem and the Jews in Israel? Will God punish the U.S.A., Canada, United Kingdom, and other Anglo-Saxon nations? Why might God allow them to be punished first? Here is a link to the Spanish version of this article: Anglo-América & las Tribus Perdidas de Israel. Information is also in the YouTube sermons titled Where are the Ten Lost Tribes? Why does it matter? and British are the Covenant People. A short YouTube of prophetic interest may be Barack Obama and the State of the Apocalypse.
Will the Anglo-Saxon Nations be Divided and Have People Taken as Slaves? Will the lands of the United States, United Kingdom, Canada, Australia, and New Zealand be divided? What about Jerusalem? What does Bible prophecy teach? Are there non-biblical prophecies that support this idea? Who will divide those lands? Who will end up with the lands and the people? Here is a link to a video titled Will the USA and other Anglo-nations be Divided and Their People Made Slaves? Here is a related item in the Spanish language ¿Serán divididas las naciones anglosajonas?
British are the Covenant People What do 'British' and 'Britain' mean in Hebrew? Are the descendants of the Anglo-Saxons people of the covenant? Does the British royal family connect to the throne of David? What does the Bible teach? What does history show us? Is there any DNA evidence related to British-Israelism? When did Christianity make it to the British Isles? Could Jeremiah have made it to the British Isles? What type of Christians made it to the British Isles? Did the last King of England believe in British Israelism?
When Will the Great Tribulation Begin? 2015, 2016, or 2017? Can the Great Tribulation begin today? What happens before the Great Tribulation in the "beginning of sorrows"? What happens in the Great Tribulation and the Day of the Lord? Is this the time of the Gentiles? When is the earliest that the Great Tribulation can begin? What is the Day of the Lord? Who are the 144,000? Here is a version of the article in the Spanish language: ¿Puede comenzar la Gran Tribulación en 2014 o 2015? ¿Es el Tiempo de los Gentiles? You can also see the English language sermon video: The Great Tribulation from the Mount of Olives.
Prophecies of Barack Obama? Reasons why Barack Obama is apocalyptic and reasons why Barack Obama is not the Antichrist. This article includes many biblical and non-biblical prophecies, from around the world, that seem to discuss Barack Obama. Did Nostradamus predict Barack Obama dealing with the Antichrist?  Might Barack Obama set the stage for the kings of the North and South as at least one Shiite prophecy suggests?  Read it and decide for yourself if President Obama seems to be fulfilling various prophecies. Watch also the YouTube Barack Obama and the State of the Apocalypse.
Hillary Clinton in Prophecy  Prophecy, Hillary Clinton? Are there prophecies that Hillary Clinton may fulfill?  Are there any prophecies that she has already helped fulfill?  Could Hillary Clinton be apocalyptic?  Could Hillary Clinton be the final Antichrist? A video of related interest is titled Hillary Clinton and Bible Prophecy.
Continuing Church of God The group striving to be most faithful amongst all real Christian groups to the word of God.