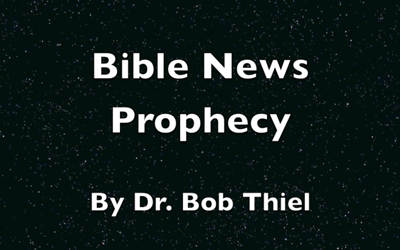 The Continuing Church of God is pleased to announce the following video on our Bible New Prophecy YouTube channel:
Pope Francis' 2nd encyclical is titled 'Laudato Si.' In it, he goes over his views related to environmental, economic, social, moral, agricultural, and spiritual issues. He advocates international cooperation to solve various problems he believes are affecting humanity. Is that Pope's agenda the solution? What about the Kingdom of God? does the Bible teach?
Two written articles of related interest is include Laudato Si: Will Pope Francis' economic actions match his words? and Laudato Si: A call for a one-world government?
Here is a link to our video: Laudato Si: Pope's Agenda or Kingdom of God?
Some items of possibly related interest may include:
United Nations: Humankind's Last Hope or New World Order? Is the UN the last hope for humanity? Or might its goals end up with sinister results? A related video would be United Nations and Vatican Are Planning the New World Order.
Why Should American Catholics Fear Unity with the Orthodox? Are the current ecumenical meetings a good thing or will they result in disaster? Is doctrinal compromise good? Here is a link to a related video Should you be concerned about the ecumenical movement?
Will the Interfaith Movement Lead to Peace or Sudden Destruction? Is the interfaith movement going to lead to lasting peace or is it warned against? A video sermon of related interest is: Will the Interfaith Movement lead to World War III? and a video sermon is also available: Do You Know That Babylon is Forming?
Is Evolution Probable or Impossible? This short article clearly answers what 'pseudo-scientists' refuse to acknowledge. Here is a link to a YouTube video titled Is There Another View of Evolution? and another titled Quickly Disprove Evolution as the Origin of Life.
Weather Blessings and Sorrows Are weather problems a warning? What should be done? What does the Bible teach about weather? What about floods, droughts, heat, earthquakes, tornadoes, and solar storms? Here is a related YouTube video Does God Use Weather? A related item in the Spanish language would be Bendiciones y maldiciones del clima.
The Bible, Christians, and the Environment How should Christians view the environment? Does the Bible give any clues? What are some of the effects of air, water, and land pollution? Is environmental pollution a factor in autism and death? Do pollutants seem to double the autism risk? What will Jesus do? A YouTube video is available titled Air Pollution, Autism, and Prophecy.
Pope Francis: Could this Marian Focused Pontiff be Fulfilling Prophecy? Pope Francis has taken many steps to turn people more towards his version of 'Mary.' Could this be consistent with biblical and Catholic prophecies? This article documents what has been happening. There is also a video version titled Pope Francis: Could this Marian Focused Pontiff be Fulfilling Prophecy?
Feast of the Immaculate Conception? Did early Christians teach Mary had an immaculate conception and led a sinless life?
Origin of the Marian Dogmas: Where Do Catholic Scholars Say The Four Dogmas of Mary Came From?
Assumption of Mary Did Mary die? Was she taken to heaven on August 15th? What is known? What does the Bible show?
Could Pope Francis be the Last Pope and Antichrist? According to some interpretations of the prophecies of the popes by the Catholic saint and Bishop Malachy, Pope Francis I is in the position of "Peter the Roman," the pontiff who reigns during tribulations until around the time of the destruction of Rome. Do biblical prophecies warn of someone that sounds like Peter the Roman? Could Francis I be the heretical antipope of Catholic private prophecies and the final Antichrist of Bible prophecy? This is a YouTube video.
The Gospel of the Kingdom of God was the Emphasis of Jesus and the Early Church Did you know that? Do you even know what the gospel of the kingdom is all about? You can also see a YouTube video sermon The Gospel of the Kingdom.
Where is the True Christian Church Today? This free online pdf booklet answers that question and includes 18 proofs, clues, and signs to identify the true vs. false Christian church. Plus 7 proofs, clues, and signs to help identify Laodicean churches. A related sermon is also available: Where is the True Christian Church? Here is a link to the booklet in the Spanish language: ¿Dónde está la verdadera Iglesia cristiana de hoy?
Continuing History of the Church of God This pdf booklet is a historical overview of the true Church of God and some of its main opponents from c. 31 A.D. to 2014. Two related sermon links would include Continuing History of the Church of God: c. 31 to c. 300 A.D. and Continuing History of the Church of God: 4th-16th Centuries. In Spanish: Marque aquí para ver el pdf folleto: Continuación de la Historia de la Iglesia de Dios.
CCOG.ORG Continuing Church of God The group striving to be most faithful amongst all real Christian groups to the word of God.
CCOG.ASIA We in the Continuing Church of God also have the url www.ccog.asia which has a focus on Asia and has various articles in Mandarin Chinese as well as some in English, plus some items in other Asian languages. 我们在继续神的教会也提供此网址 www.ccog.asia, 关注于亚洲并且有各种各样的中英文文章,其中一些用菲律宾语翻译的文章也正在进行中,准备添加到这个网站中。 Here is a link to our Statement of Beliefs in Mandarin Chinese 继续神的教会的信仰声明.
CCOG.IN This is a website targeted towards those of Indian heritage. It has a link to an edited Hindi translation of The Mystery of the Ages and is expected to have more non-English language materials in the future.
CCOG.EU This is a website targeted toward Europe. It has materials in more than one language (currently it has English, Dutch, and Serbian, with links also to Spanish) and it is intended to have additional language materials added.
CCOG.NZ This is a website targeted towards New Zealand and other British-descended dominated lands.
CDLIDD.ES La Continuación de la Iglesia de Dios. This is the Spanish language website for the Continuing Church of God and has articles in español/castellano.
PNIND.PH Patuloy na Iglesya ng Diyos. This is the Philippines website Continuing Church of God. It has information in English and Tagalog.
ContinuingCOG channel. Dr. Thiel has produced YouTube video sermons for this channel. Note: Since these are sermon-length, they can take a little longer to load than other YouTube videos.
Bible News Prophecy online radio. This is an audio version of the Bible News Prophecy videos. It is also available as a mobile app.
Bible News Prophecy channel. Dr. Thiel has produced many YouTube videos for the BibleNewsProphecy channel. And you can find them at that channel.