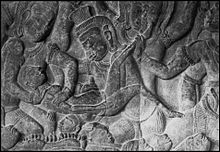 Bas-relief at Angkor Wat depicting a demon performing an ancient abortion.
Though various leaders tried, Texas politicians failed to pass a bi:
June 26, 2013
AUSTIN, Texas (AP) — Hundreds of jeering protesters helped stop Texas lawmakers from passing one of the toughest abortion measures in the country, shouting down Senate Republicans and forcing them to miss a midnight deadline to pass the bill…
If signed into law, the measures would close almost every abortion clinic in Texas, a state 773 miles wide and 790 miles long with 26 million people. A woman living along the Mexico border or in West Texas would have to drive hundreds of miles to obtain an abortion if the law passes. The law's provision that abortions be performed at surgical centers means only five of Texas' 42 abortion clinics are currently designated to remain in operation.  http://www.boston.com/lifestyle/health/2013/06/25/texas-abortion-bill-falls-after-challenge/GZK8e9NBkpOaBdPdjGAd8I/story.html
Abortion is premeditated murder and no woman has to have an abortion. Abortion kills a human baby.  It is unfortunate that leaders in Texas failed in their efforts to greatly reduce this crime against the unborn.
The Bible makes it clear that David and Jeremiah were human and known before to God while they were in the womb prior to being born:
For You formed my inward parts; You covered me in my mother's womb. I will praise You, for I am fearfully and wonderfully made; Marvelous are Your works, And that my soul knows very well. My frame was not hidden from You, When I was made in secret, And skillfully wrought in the lowest parts of the earth. Your eyes saw my substance, being yet unformed. And in Your book they all were written, The days fashioned for me,When as yet there were none of them (Psalm 139:13-16, NKJV throughout except when otherwise noted).

Then the word of the LORD came to me, saying:

5 "Before I formed you in the womb I knew you;
Before you were born I sanctified you;
I ordained you a prophet to the nations" (Jeremiah 1:4-5).
Do not Americans realize that since the 1973 Roe vs. Wade pro-abortion ruling by the US Supreme Court that the USA has gone from being a creditor nation to the the most indebted nation that the world has ever seen?
There are terrible consequences for sin, and instead of properly discouraging sexual immorality, directly or at least indirectly the USA funds killing babies.
This does not bode well for the USA. The Bible is against murder and those who approve of it and other sins:
28 And even as they did not like to retain God in their knowledge, God gave them over to a debased mind, to do those things which are not fitting; 29 being filled with all unrighteousness, sexual immorality, wickedness, covetousness, maliciousness; full of envy, murder, strife, deceit, evil-mindedness; they are whisperers, 30 backbiters, haters of God, violent, proud, boasters, inventors of evil things, disobedient to parents, 31 undiscerning, untrustworthy, unloving, unforgiving, unmerciful; 32 who, knowing the righteous judgment of God, that those who practice such things are deserving of death, not only do the same but also approve of those who practice them. (Romans 1:28-32)
Directly, or indirectly, sin should not have governmental approval.
The great tribulation is coming and biblically is expected to hit the USA and its Anglo-related allies first (cf. Daniel 11:39).
Some articles of possibly related interest may include:
Abortion, the Bible, and a Woman's Right to Choose Do you know what the Bible teaches on this? Has the Roman Catholic Church allowed abortions? What about the real Church of God? Some may also, or instead, wish to view the YouTube video Abortion, the Bible, and US Debt.
God Created Marriage Some falsely claim that God did not create marriage and that fornication is fine. What does the Bible really teach?
Why Marriage? Soon Obsolete? This is a booklet from Herbert Armstrong on this important topic.
Love, Marriage, and Sex It is important to get them in the right order.
The Ten Commandments Reflect Love, Breaking them is Evil Some feel that the ten commandments are a burden. Is that what Jesus, Paul, Peter, James, and John taught?
When Will the Great Tribulation Begin? 2013, 2014, or 2015? Can the Great Tribulation begin today? What happens before the Great Tribulation in the "beginning of sorrows"? What happens in the Great Tribulation and the Day of the Lord? Is this the time of the Gentiles? When is the earliest that the Great Tribulation can begin? What is the Day of the Lord? Who are the 144,000? See also the video Can the Great Tribulation Begin in 2013?
Barack Obama, Prophecy, and the Destruction of the United States-Second Edition for Second Obama Term This is a 160 page book for people truly interested in prophecies related to Barack Obama and the United States, including learning about many that have already been fulfilled (which the book documents in detail) and those that will be fulfilled in the future. It also has a chapter about a Republican choice. This book is available to order at www.barackobamaprophecy.com. The physical book can also be purchased at Amazon from the following link: Barack Obama, Prophecy, and the Destruction of the United States: Is Barack Obama Fulfilling Biblical, Islamic Catholic, Kenyan, and other America-Related Prophecies? What About Republican Leaders? Second Edition for Second Obama Term.
Barack Obama, Prophecy, and the Destruction of the United States-Second Term-Amazon Kindle edition. This electronic version is available for only US$2.99. And you do not need an actual Kindle device to read it. Why? Amazon will allow you to download it to almost any device: Please click HERE to download one of Amazon s Free Reader Apps. After you go to for your free Kindle reader and then go to Barack Obama, Prophecy, and the Destruction of the United States-Second Term-Amazon Kindle edition.