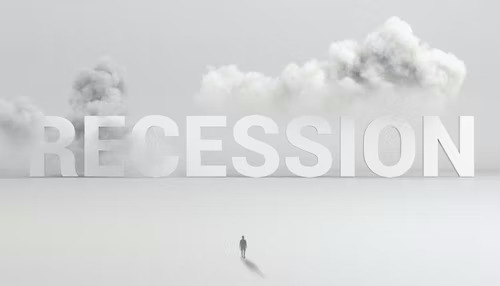 (Unsplash photo)
The EU says Europe is in a recession:
EU Says Recession Is Here and Inflation Shock Will Linger On

November 11, 2022

The euro zone faces a grim winter as a recession bites just as double-digit inflation grips the region and war rages nearby, according to the European Commission.

European Union officials in Brussels on Friday slashed their forecast for growth next year, predicting barely any expansion, and raised all their projections for consumer prices. They reckon the economy is now shrinking and will keep contracting during the first quarter.
European Commission forecasts see consumer prices rising an annual 8.5% in 2022, 6.1% in 2023, 2.6% in 2024. …

The economy confronting them is buckling under the crushing weight of inflation that reached a new euro-era high of 10.7% in October. The Commission reckons price growth will now average 8.5% this year and 6.1% in 2023 — both markedly higher predictions than made in July.  …

The Commission cautioned too that plenty can go awry again in 2023.

"The economic outlook remains surrounded by an exceptional degree of uncertainty as Russia's war of aggression against Ukraine continues and the potential for further economic disruptions is far from exhausted," officials said. "The largest threat comes from adverse developments on the gas market and the risk of shortages, especially in the winter of 2023-24." https://www.bloomberg.com/news/articles/2022-11-11/eu-says-recession-is-now-here-and-inflation-shock-will-linger-on
Some believe that the situation is even worse and that Europe will face massive financial problems in 2023-2024 (e.g., see 'The European Debt Crisis 2023-2024,' Russia, and predictions by Herbert W. Armstrong).
We are getting closer to the time for the 6,000 years for humanity to rule apart from God ending (see also Does God Have a 6,000 Year Plan? What Year Does the 6,000 Years End?)–and that means that Europe looks to have to go through one or more crises so it can reorganize and give its power to the coming totalitarian Beast (Revelation 17:12-13)  3 1/2 years before Jesus returns.
That said, Hungary is blaming EU's policies related to sanctions against Russia:
November 11, 2022

Hungarian Foreign Minister Peter Szijjarto went off on "failed" and backfired US and European sanctions on Russia in an English language interview published this week.

"The sanctions which have been introduced by the European Union [against] Russia have failed. It's a total failure," Szijjarto told Jordan's Roya News in a televised appearance. He decried that the biggest impact was felt negatively by EU member states and further that the sanctions have not achieved any of their stated goals.

In his most blistering criticism aimed at EU decision-makers, the top Hungarian diplomat described, "It was said by the European Commission that the sanctions will help us to conclude this war as soon as possible and that it will bring Russia's economy to its knees. What's the outcome? It's totally the opposite."

Instead, he warned the economic war still being waged against Moscow is only resulting in escalation on the battlefield, as well as escalating inflation at home. "The war is becoming more and more brutal … And, in the meantime, the European economy is suffering very badly," he said, observing too that Europe is now enduring a "tremendous energy crisis" and rising food prices. https://www.zerohedge.com/markets/hungary-explains-huge-impact-total-failure-anti-russia-sanctions-europeans
As long-time readers of this COGwriter Church of God News page are aware, I have long warned about costs associated with sanctions–we even put out a video related to it (watch US Sanctions and Tariffs leading to New World Order?).
Interestingly, many in the EU actually blame the USA for their economic problems. Notice that in September, the head of the US Federal Reserve thinks he may help cause a recession:
Powell's stark message: Inflation fight may cause recession

September 22, 2022
Notice that last month, Europe raised concerns that the USA was messing up its finances leading to a recession:
Here Comes The Open Revolt: A Reeling Europe Lashes Out At The Fed For "Bringing Us To A World Recession"

October 11, 2022

As a result of the Fed's relentless tightening blitz, which on November 2 will have hiked rates by 75bps on four occasions in just 96 trading days, the fastest tightening campaign since Volcker, both US capital markets (the S&P 500 is down -24%, for the 4th worst year on record, only 1931, 1974, and 2002 were worse; and 10Y TSYs are down -17% for the worst year on record… 1987 second worse, and bonds were down -10%) and the US economy have been left reeling.

However, the damage in the US – whose economy is relatively isolated from the knock-on (or is that out) effects of the soaring global reserve currency – are nothing compared to the devastation unleashed by the Fed in the form of the soaring dollar and exploding interest rates. …

Josep Borrell, the high representative of the 27-member EU bloc, lashed out all too publicly at the Fed when he said that central banks (across Europe where the recession will be far, far worse than in the US) are being forced to follow the Fed's multiple rate rises to prevent their currencies from slumping against the dollar, and compared the US central bank's influence to Germany's dominance of European monetary policy before the creation of the euro. …

"Everybody has to follow, because otherwise their currency will be [devalued]," Borrell said to an audience of EU ambassadors, the FT reported. "Everybody is running to increase interest rates, this will bring us to a world recession." https://www.zerohedge.com/economics/here-comes-open-revolt-reeling-europe-lashes-out-fed-bringing-us-world-recession
Yes, Europe is blaming the USA, and not just Russia, for economic crises.
As mentioned here many times before, interestingly, the late Pastor General of the old Worldwide Church of God, Herbert W. Armstrong, had a view about banking matters and European unity. Here is something he said in a sermon on July 7, 1984:
And I can see now, the event that is going to trigger the formation of the reunification in Europe; the resurrection of the medieval Holy Roman Empire that we've been looking forward to that is prophesied to come…

But I believe that some event is going to happen suddenly just like out a blue sky that is going to shock the whole world and is going to cause the nations in Europe to realize they must unite! … Well now I think I can see what may be the very event that is going to trigger…that is the economic situation in the world…

The whole banking structure in the United States is a network all jointed together. But not only that, one nation has to deal with other nations and imports and exports. And so they have to have a means of transforming money from one nation to another. And so the banking structure is international and interwoven…

Now when the financial structure breaks down, all civilization is going to break down…
So, an economic or banking crisis is what Herbert W. Armstrong concluded would drive Europe to unite.
And yes, Europe will unite against the USA as well as its British-descended allies.
The Bible shows that Europe will have a "great army" (Daniel 11:25; watch also PESCO and a Great European Army) and a conquering empire with "many ships" (cf. Daniel 11:29-43)–the Bible also shows that the world will marvel at the military prowess of Europe (Revelation 13:3-4) not too many years from now.
Of course, may people want to believe that despite WWI, WWII, and previous massive wars, that Europe would never start WWIII. Yet, this overlooks a biblical prophecy:
5 O Assyrian, the rod of mine anger, and the staff in their hand is mine indignation. 6 I will send him against an hypocritical nation, and against the people of my wrath will I give him a charge, to take the spoil, and to take the prey, and to tread them down like the mire of the streets.

7 Howbeit he meaneth not so, neither doth his heart think so; but it is in his heart to destroy and cut off nations not a few.

8 For he saith, Are not my princes altogether kings? 9 Is not Calno as Carchemish? is not Hamath as Arpad? is not Samaria as Damascus? 10 As my hand hath found the kingdoms of the idols, and whose graven images did excel them of Jerusalem and of Samaria; 11 Shall I not, as I have done unto Samaria and her idols, so do to Jerusalem and her idols? (Isaiah 10:5-11, KJV)
The USA is sometimes prophetically referred to as Samaria (and sometimes as Manasseh) in biblical prophecy (for details, watch USA in Prophecy: Samaria). So, even though Germanic-led Europe (referred to as Assyria above) does not seem to wish to do this (Isaiah 10:7), according to biblical prophecy it will come to pass. The USA will be defeated (cf. Daniel 11:39; see also USA in Prophecy: The Strongest Fortresses).
Europe is experiencing economic problems. Some believe that they will dramatically worsen in 2023-2024.
More food price inflation, not just affecting Europe, is coming (Revelation 6:5-6).
The idea of inflation only lingering is overly optimistic, at least when it comes to food prices around the world.
Much is happening!
The USA, with many of its policies, is setting the stage for Europe to turn completely against it.
And, let me add that Europe will not forgive the UK for Brexit either.
Some items of possibly related interest may include:
Europa, the Beast, and Revelation Where did Europe get its name? What might Europe have to do with the Book of Revelation? What about "the Beast"? Is an emerging European power "the daughter of Babylon"? What is ahead for Europe? Here is a link to a video titled: Can You Prove that the Beast to Come is European?
European Technology and the Beast of Revelation Will the coming European Beast power would use and develop technology that will result in the taking over of the USA and its Anglo-Saxon allies? Is this possible? What does the Bible teach? Here is a related YouTube video: Military Technology and the Beast of Revelation.
Germany's Assyrian Roots Throughout History Are the Germanic peoples descended from Asshur of the Bible? Have there been real Christians in Germanic history? What about the "Holy Roman Empire"? There is also a You-Tube video sermon on this titled Germany's Biblical Origins.
Germany in Biblical and Catholic Prophecy Does Assyria in the Bible equate to an end time power inhabiting the area of the old Roman Empire? What does prophecy say Germany will do and what does it say will happen to most of the German people? Here is a version of the article in the Spanish language: Alemania en la profecía bíblic. Here are links to two English language sermon videos Germany in Bible Prophecy and The Rise of the Germanic Beast Power of Prophecy.
Who is the King of the North? Is there one? Do biblical and Roman Catholic prophecies for the Great Monarch point to the same leader? Should he be followed? Who will be the King of the North discussed in Daniel 11? Is a nuclear attack prophesied to happen to the English-speaking peoples of the United States, Great Britain, Canada, Australia, and New Zealand? When do the 1335 days, 1290 days, and 1260 days (the time, times, and half a time) of Daniel 12 begin? When does the Bible show that economic collapse will affect the United States? In the Spanish language check out ¿Quién es el Rey del Norte? Here are links to two related videos: The King of the North is Alive: What to Look Out For and The Future King of the North.
The Great Monarch: Biblical and Catholic Prophecies Is the 'Great Monarch' of Catholic prophecies endorsed or condemned by the Bible? Two sermons of related interest are also available: Great Monarch: Messiah or False Christ? and Great Monarch in 50+ Beast Prophecies.
Satan's Plan Does Satan have a plan? What is it? Has it already been successful? Will it be successful in the future? Here are links to a two-part sermon series: What are Some of the Parts of Satan's Plan? and Satan's Plan is More Dramatic than Many Realize.
Four Horsemen of the Apocalypse What do each of the four horseman of the Apocalypse represent? Have they began their ride? Did Jesus discuss the any of this? Might their rides coincide with the "beginning of sorrows? Do they start their ride prior to the Great Tribulation? Did Nostradamus or any other 'private prophets' write predictions that may mislead people so that they may not understand the truth of one or more of the four horseman? There is also a related YouTube video titled Sorrows and the Four Horsemen of the Apocalypse.
CCOG on vaccines Pestilences are coming. Is it ever appropriate for Christians to get vaccinated?
Fourth Horseman of the Apocalypse What is the pale horse of death and pestilences? What will it bring and when? Here is a link to a related sermon:
Fourth Horseman, COVID, and the Rise of the Beast of Revelation. Here is a version of that sermon in Spanish: El Cuarto Caballo, El COVID y El Surgimiento de la Bestia del Apocalipsis. Some shorter related videos may include Amphibian Apocalypse: Threat to Humans? and Zombie Deer Disease is Here! Are the 10 Plagues on Egypt Coming? Here is a version of the article in Spanish: El cuarto jinete de Apocalipsis, el caballo pálido de muerte y pestilencia.
Four Horsemen of the Apocalypse What do each of the four horseman of the Apocalypse represent? Have they began their ride? Did Jesus discuss the any of this? Might their rides coincide with the "beginning of sorrows? Do they start their ride prior to the Great Tribulation? Did Nostradamus or any other 'private prophets' write predictions that may mislead people so that they may not understand the truth of one or more of the four horseman? There is also a related YouTube video titled Sorrows and the Four Horsemen of the Apocalypse.
Does God Have a 6,000 Year Plan? What Year Does the 6,000 Years End? Was a 6000 year time allowed for humans to rule followed by a literal thousand year reign of Christ on Earth taught by the early Christians? Does God have 7,000 year plan? What year may the six thousand years of human rule end? When will Jesus return? 2031 or 20xx? There is also a video titled 6000 Years: When will God's Kingdom Come? Here is a link to the article in Spanish: ¿Tiene Dios un plan de 6,000 años?
Might the U.S.A. Be Gone by 2028? Could the USA be gone by the end of 2028 or earlier? There is a tradition attributed to the Hebrew prophet Elijah that humanity had 6,000 years to live before being replaced by God's Kingdom. There are scriptures, writings in the Talmud, early Christian teachings that support this. Also, even certain Hindu writings support it. Here is a link to a related video: Is the USA prophesied to be destroyed by 2028? In Spanish: Seran los Estados Unidos Destruidos en el 2028?
Anglo – America in Prophecy & the Lost Tribes of Israel Are the Americans, Canadians, English, Scottish, Welsh, Australians, Anglo-Saxon (non-Dutch) Southern Africans, and New Zealanders descendants of Joseph? Where are the lost ten-tribes of Israel? Who are the lost tribes of Israel? What will happen to Jerusalem and the Jews in Israel? Will God punish the U.S.A., Canada, United Kingdom, and other Anglo-Saxon nations? Why might God allow them to be punished first? Here is a link to the Spanish version of this article: Anglo-América & las Tribus Perdidas de Israel. Information is also in the YouTube sermons titled Where are the Ten Lost Tribes? Why does it matter? and British are the Covenant People. A short YouTube of prophetic interest may be: Are Chinese threats against Australia for real?
When Will the Great Tribulation Begin? 2022, 2023, or 2024? Can the Great Tribulation begin today? What happens before the Great Tribulation in the "beginning of sorrows"? What happens in the Great Tribulation and the Day of the Lord? Is this the time of the Gentiles? When is the earliest that the Great Tribulation can begin? What is the Day of the Lord? Who are the 144,000? Here is a version of the article in the Spanish language: ¿Puede la Gran Tribulación comenzar en el 2020 o 2021? ¿Es el Tiempo de los Gentiles? A related video is: Great Tribulation: 2026 or 2027? A shorter video is: Can the Great Tribulation start in 2022 or 2023? Here is a video in the Spanish language: Es El 2021 el año  de La Gran Tribulación o el Grande Reseteo Financiero.
Who Was Herbert W. Armstrong? How is He Viewed Today? Includes quotes from the 1973 edition of The Autobiography of Herbert W. Armstrong and explains who he was and how he should be viewed today.