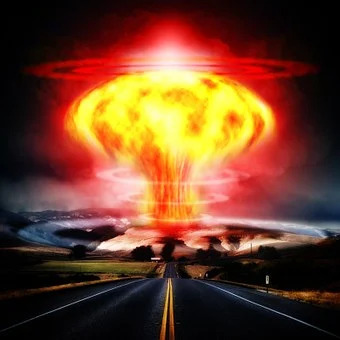 Nuclear options can be quite destructive (Pixabay photo)
Tensions between China and the USA remain. China has again hinted it may dump its vast amount of US Treasury notes:
China may dump U.S. Treasuries as Sino-U.S. tensions flare: Global Times

September 4, 2020

"China will gradually decrease its holdings of U.S. debt to about $800 billion under normal circumstances," Xi Junyang, a professor at the Shanghai University of Finance and Economics, was quoted as saying on Thursday, without giving a detailed timeframe.

"But of course, China might sell all of its U.S. bonds in an extreme case, like a military conflict."

China, the second largest non-U.S. holder of Treasuries, held $1.074 trillion in June, down from $1.083 trillion the previous month, according to latest official data. …

Dropping to $800 billion from the current level could mean shrinking its holdings by more than 25%. Analysts say large-scale Chinese selling, often referred to as the "nuclear option", could trigger turmoil on global financial markets.

Another reason the state newspaper cited was the potential default risk in the United States as the debt of the world's largest economy has surged sharply to about the same size of its gross domestic product …

China is heavily exposed to the U.S. dollar and dollar-denominated assets. Its official foreign exchange reserves stood at $3.154 trillion at the end of July. https://www.reuters.com/article/us-china-economy-treasury/china-may-dump-u-s-treasuries-as-sino-u-s-tensions-flare-global-times-idUSKBN25V179
China has made similar threats in the past, and this is one that could be catastrophic to the economy of the USA. That is why sometimes the expression "nuclear option" is mentioned in this context.
Notice the following from a couple of years ago:
March 23, 2018

China's ambassador to the U.S. wouldn't rule out the possibility of the Asian nation scaling back purchases of Treasuries in response to tariffs imposed by President Donald Trump.

"We are looking at all options," Ambassador Cui Tiankai told Bloomberg Television, when asked whether China would consider reduced purchases of U.S. Treasuries. "That's why we believe any unilateral and protectionist move would hurt everybody, including the United States itself. It would certainly hurt the daily life of American middle-class people, and the American companies, and the financial markets."

China is America's biggest foreign creditor. It held $1.17 trillion in Treasuries as of January, or about 19 percent of all foreign holdings of U.S. government securities.

The U.S. can ill-afford to see weaker demand for its debt from its major buyers. With budget deficits rising in coming years and tax cuts approved in December expected to hurt revenue, the Treasury has to sell more securities to pay the government's expenses. https://www.bloomberg.com/news/articles/2018-03-23/china-s-ambassador-doesn-t-rule-out-reducing-treasury-purchases
While many are seemingly oblivious to rising US debt (as the various COVID stimulus debt bailouts are demonstrating to the world), the USA does not want China to sell off its USA debt.
Here is something I wrote about US debt and China in my book Donald Trump and America's Apocalypse:
The USA is walking a dangerous line on its debt that will not end well.

Let us also consider that there is a prophecy in Habakkuk, written about 2600 years ago, about debt which is preceded by the following:

2 Then the Lord answered me and said:

"Write the vision And make it plain on tablets, That he may run who reads it. (Habakkuk 2:2)

The Bible says that the 'debt prophecy' in Habakkuk 2 is so significant that those who read it should run—essentially that they should take steps because the results will be horrific. Donald Trump and many other American politicians have not run away from increasing U.S.A. debt—that will be to the nation's peril.

The Bible warns about something that will happen to a heavily indebted nation. Notice what the Hebrew seer Habakkuk wrote over 2,600 years ago:

3 For the vision is yet for an appointed time; But at the end it will speak, and it will not lie. Though it tarries, wait for it; Because it will surely come, It will not tarry … 5 Indeed, because he transgresses by wine, He is a proud man … 6 "Will not all these take up a proverb against him, And a taunting riddle against him, and say, 'Woe to him who increases What is not his—how long? And to him who loads himself with many pledges'? 7 Will not your creditors rise up suddenly? Will they not awaken who oppress you? And you will become their booty. 8 Because you have plundered many nations, All the remnant of the people shall plunder you…" (Habakkuk 2:2-3,6–8).

Notice that what is to happen is so bad, that people who read the prophecy should run, when it is time for it to be fulfilled. Since that prophecy is to be fulfilled at the appointed time of the end, it is still for the future, but perhaps not too far distant in the future. No nation has ever been in as much total debt as the U.S.A.

Interestingly, in the past, one foreign creditor, China, has raised concerns about the U.S. debt that are so serious, that its potential dumping of that debt has been called China's "nuclear option" (Gertz B, China Debt Threat. Washington Times, March 2, 2011) against the U.S.A.—an option that involves no military intervention, but that could greatly harm the U.S.A. (Thiel B. Donald Trump and America's Apocalypse. Nazarene Books, 2017)
The USA must know that China is looking at what to do with US debt.
However, I do NOT expect the Chinese to try to dump it all now. But the time will come when Habakkuk 2 will be fulfilled.
China, along with Russia, Venezuela, Iran, North Korea, and others (yes, including Europe and India) are working to push aside the USA's dollar and the USA's economic dominance.
The Bible shows that another power–a European one–will dominate the world economy after the USA is conquered (cf. Daniel 11:39)–but only for a time (cf. Revelation 18).
Changes in the international order are happening.
US President Trump, the Federal Reserve, and the Congress of the USA are all assisting in accelerating some of those changes.
Ultimately, that will not end well for the USA (cf. Daniel 11:39; Habakkuk 2:6-8).
There is a major cost to USA debt, but most people and most politicians are seemingly oblivious to it.
Some items of possibly related interest may include:
China, Its Biblical Past and Future, Part 1: Genesis and Chinese Characters Where did the Chinese people come from? Japeth, Javan, Magog? Is there evidence that the Chinese peoples must have known about various accounts in the Book of Genesis up until their dispersion after the Tower of Babel? What do Chinese writings and characters help show? What about the Garden of Eden, Noah's Flood, and the Tower of Babel? Here is a link to a version of this article in Spanish: ¿Prueban los caracteres chinos la exactitud de la Biblia? A related sermon is also available: China's biblical past and prophetic actions.
China, Its Biblical Past and Future, Part 2: The Sabbath and Some of God's Witness in China When did Christianity first come to China? What about the Apostle Thomas? Did Confucius say anything to get the Chinese to possibly consider Christianity? Is there early evidence that they observed the seventh day sabbath? What about the Ten Commandments? What type of Church of God witness has there been to China? What has been happening with China that ties it together with prophecies in Revelation? What about the 200 million man army and Armageddon? What about the Belt and Road Initiative and end time Babylon the Great? A related sermon is also available: China's biblical past and prophetic actions. Watch also China's Silk Road and Babylon the Great.
Asia in Prophecy What is Ahead for Asia? Who are the "Kings of the East"? What will happen to nearly all the Chinese, Russians, Indians, and others of Asia? China in prophecy, where? Who has the 200,000,000 man army related to Armageddon? Two YouTube video are Is China THE Threat to the United States of America? and China: A King of the East.
WTO/TTIP and the Babylonian Beast Will international trade agreements like WTO/TTIP/CETA lead to the fulfillment of end time prophecies concerning the Babylonian Beast power that the Book of Revelation warns against? What does the Bible teach? A related video would be WTO Trade Deal and the Rise of the European Beast Power. Two other videos of related interest may be Trade Wars: Are COG warnings coming to pass? and Trade Disputes: CCOG Warnings Are Coming to Pass.
Trade Wars: Are COG warnings coming to pass? Trade issues, tariffs, and talk of trade wars are in the news. Can trade wars lead to World War III like they did to World War II? Are the events going on with the USA, UK, Asia, and Europe consistent with warnings published by the true Church of God (COG) over the past several years and decades? Do Germany and China hope to take advantage of trade frictions involving the Trump Administration and the Trans-Pacific Partnership agreement? What about Mexico and South America? Does the Bible teach that Europe will become a major trading power? Will the final European Babylonian trading power be destroyed? Dr. Thiel addresses these issues and more in this video.
20 items to prophetically watch in 2020 Much is happening. Dr. Thiel points to 20 items to watch (cf. Mark 13:37) in this article. Here is a link to a related sermon: 20 Prophetic Items to Watch in 2020.
US Dollar being challenged by Gold-Petro-Yuan The US dollar has been the world's primary reserve currency for decades. Is this about to change? What is going on with the Chinese yuan and oil and gold? What do the BRICS nations want? What did Venezuela do? Do the Europeans want to dislodge the US dollar as the world's primary reserve currency? Does US debt play any role? Does the Bible tell us what will happen to the USA and its dollar? What happens if the USA loses its status? Will gold outlast the US dollar? Dr. Thiel addresses those issues and more in this video.
Gentile Cryptocurrency Proposal Two Russian leaders have called for a BRICS-wide and/or EAEU-wide cryptocurrency. This is hoped to be used to replace the US dollar for international trade. BRICS stands for Brazil, Russia, India, China, and South Africa. The BRICS nations represent 3.6 billion people. The EAEU includes Russia, Armenia, Belarus, Kazakhstan, and Kyrgyzstan. Will Gentiles rise up? Are there any prophetic ramifications of what these nations are looking to do? This is a video.
World War III: Steps in Progress Are there surprising actions going on now that are leading to WWIII? Might a nuclear attack be expected? Does the Bible promise protection to all or only some Christians? How can you be part of those that will be protected? A related video would be Is World War III About to Begin? Can You Escape?
Just What Do You Mean — Repentance? Do you know what repentance is? Have you truly repented? Repented of what? Herbert W. Armstrong wrote this as a booklet on this important subject.
USA in Prophecy: The Strongest Fortresses Can you point to scriptures, like Daniel 11:39, that point to the USA in the 21st century? This article does. Two related sermon are available: Identifying the USA and its Destruction in Prophecy and Do these 7 prophesies point to the end of the USA?
Who is the King of the West? Why is there no Final End-Time King of the West in Bible Prophecy? Is the United States the King of the West? Here is a version in the Spanish language: ¿Quién es el Rey del Occidente? ¿Por qué no hay un Rey del Occidente en la profecía del tiempo del fin? A related sermon is also available: The Bible, the USA, and the King of the West.
Who is the King of the North? Is there one? Do biblical and Roman Catholic prophecies for the Great Monarch point to the same leader? Should he be followed? Who will be the King of the North discussed in Daniel 11? Is a nuclear attack prophesied to happen to the English-speaking peoples of the United States, Great Britain, Canada, Australia, and New Zealand? When do the 1335 days, 1290 days, and 1260 days (the time, times, and half a time) of Daniel 12 begin? When does the Bible show that economic collapse will affect the United States? In the Spanish language check out ¿Quién es el Rey del Norte? Here are links to two related videos: The King of the North is Alive: What to Look Out For and The Future King of the North.
The Great Monarch: Biblical and Catholic Prophecies Is the 'Great Monarch' of Catholic prophecies endorsed or condemned by the Bible? Two sermons of related interest are also available: Great Monarch: Messiah or False Christ? and Great Monarch in 50+ Beast Prophecies.
Does God Have a 6,000 Year Plan? What Year Does the 6,000 Years End? Was a 6000 year time allowed for humans to rule followed by a literal thousand year reign of Christ on Earth taught by the early Christians? Does God have 7,000 year plan? What year may the six thousand years of human rule end? When will Jesus return? 2027 or 20xx? There is also a video titled 6000 Years: When will God's Kingdom Come? Here is a link to the article in Spanish: ¿Tiene Dios un plan de 6,000 años?
The Great Tribulation: What Happens First? What events have happened? What are some events that are now happening? And what events need to happen for the Great Tribulation to start? Here is a link to a related sermon video: Counting Down to the Great Tribulation.
When Will the Great Tribulation Begin? 2020, 2021, or 2022? Can the Great Tribulation begin today? What happens before the Great Tribulation in the "beginning of sorrows"? What happens in the Great Tribulation and the Day of the Lord? Is this the time of the Gentiles? When is the earliest that the Great Tribulation can begin? What is the Day of the Lord? Who are the 144,000? Here is a version of the article in the Spanish language: ¿Puede la Gran Tribulación comenzar en el 2020 o 2021? ¿Es el Tiempo de los Gentiles? You can also see the English language sermon videos: The Great Tribulation from the Mount of Olives and Can the Great Tribulation begin before 2020? A shorter and newer video is: Could the Great Tribulation Begin in 2020? Here is a link to the Spanish version of that video: ¿Podría la Gran Tribulación comenzar en 2020?
The Times of the Gentiles Has there been more than one time of the Gentiles? Are we in it now or in the time of Anglo-America? What will the final time of the Gentiles be like? A related sermon is available and is titled: The Times of the Gentiles.
Armageddon Who is involved and when will this gathering happen? Here is also a video from Dr. Thiel, from Tel Megiddo in Israel: Armageddon. Other videos include: Armageddon Will it come on Trump's watch?, Iraq, Armageddon, & Prophecy, Freemasonry, Armageddon, and Rome, Is China paving roads to Armageddon?, and Jordan, Petra, and Armageddon.
Europa, the Beast, and Revelation Where did Europe get its name? What might Europe have to do with the Book of Revelation? What about "the Beast"? Is an emerging European power "the daughter of Babylon"? What is ahead for Europe? Here is a link to a video titled: Can You Prove that the Beast to Come is European?
Anglo – America in Prophecy & the Lost Tribes of Israel Are the Americans, Canadians, English, Scottish, Welsh, Australians, Anglo-Saxon (non-Dutch) Southern Africans, and New Zealanders descendants of Joseph? Where are the lost ten-tribes of Israel? Who are the lost tribes of Israel? What will happen to Jerusalem and the Jews in Israel? Will God punish the U.S.A., Canada, United Kingdom, and other Anglo-Saxon nations? Why might God allow them to be punished first? Here is a link to the Spanish version of this article: Anglo-América & las Tribus Perdidas de Israel. Information is also in the YouTube sermons titled Where are the Ten Lost Tribes? Why does it matter? and British are the Covenant People. A short YouTube of prophetic interest may be: Are Chinese threats against Australia for real?
Will the Anglo-Saxon Nations be Divided and Have People Taken as Slaves? Will the lands of the United States, United Kingdom, Canada, Australia, and New Zealand be divided? What about Jerusalem? What does Bible prophecy teach? Are there non-biblical prophecies that support this idea? Who will divide those lands? Who will end up with the lands and the people? Here is a link to a video titled Will the USA and other Anglo-nations be Divided and Their People Made Slaves? Here is a related item in the Spanish language ¿Serán divididas las naciones anglosajonas?
COVID 19 is NOT the End, but could it be TEOTWAWKI? The novel coronavirus called COVID-19 is wreaking havoc around the world. Many states of the USA as well as countries in Europe are on lockdown with shelter in place /shelter in residence requirements. In France, a form is required when you are not at your house. In Spain, drones are being used to warn people who are outside to got back to their homes–does that bring up feelings of 'Big Brother'? Italy, France, and other areas are using police and/or military force to encourage people to stay inside. According to the Bible could this be the end? If not, what has to happen first? Have the second and third of the four horsemen of the Apocalypse started their ride? Could COVID-19 be the fourth horseman? Why or why not? Could we be seeing The End of the World as We Know It (TEOTWAWKI) like the R.E.M.'s 1987 single song discussed? Do Christians need to fear? What did Jesus teach? What did the Psalmist teach? This is a video. Here is a link to a version in the Spanish language: Corona 19 no es el final PERO es el TEOTWAWKI.
Donald Trump in Prophecy Prophecy, Donald Trump? Are there prophecies that Donald Trump may fulfill?  Are there any prophecies that he has already helped fulfill?  Is a Donald Trump presidency proving to be apocalyptic?  Two related videos are available: Donald: 'Trump of God' or Apocalyptic? and Donald Trump's Prophetic Presidency.
Trump Presidency Magic 8 Ball or Bible Prophecy? BBC reported that one might as well use a 'Magic Eight-Ball' to try to predict what will happen in the remaining time of Donald Trump's presidency. What is a 'Magic Eight-Ball'? Dr. Thiel not only explains that, but also briefly goes over 10 biblically-based warnings he wrote would happen if Donald Trump were elected that have already began to come to pass. He also goes over something he wrote back in 2008 that the Trump presidency is also helping lead to fulfillment. Should you trust Bible prophecy or not? Dr. Thiel says that Bible prophecy can be trusted, despite the view of skeptics and others that either overlook or despise the Bible. This is a video.
Donald Trump and America's Apocalypse This 188 page book is for people truly interested in prophecies related to Donald Trump and the United States, including learning about several that have already been fulfilled and those that will be fulfilled in the future. The physical book can be purchased at Amazon for $12.99 from the following link: Donald Trump and America's Apocalypse.
Donald Trump and America's Apocalypse-Kindle Edition This electronic version of the 188 page print edition is available for only US$3.99. And you do not need an actual Kindle device to read it. Why? Amazon will allow you to download it to almost any device: Please click HERE to download one of Amazon s Free Reader Apps. After you go to for your free Kindle reader and then go to Donald Trump and America's Apocalypse-Kindle Edition.